Theatre Performances Take the Stage
What else could be better than movies? Well, live-action theater performances. They are stories told through dialogue between various characters, which do not just act but also help create the story itself.
Every year, Ms. Barrow's theater classes will either come up with a performance of their own or modify a movie that has already been filmed; it will then be presented with its own twist to the Little Cavaliers and children with special needs. This gives an opportunity to the student-actors to gain real-life experience performing in plays with an audience.
Shining in the spotlight on stage, Ms. Barrow's classes performed their practice theater performances on April 6. Throughout the day, her class periods performed "Toy Story," "Aladdin" and "The Not So Good and Evil Place".
Mrs. Barrow prepares her students for these plays by first voting on ideas. Once that is decided, students write the script and have to audition for their chosen characters. When the characters are appointed to each person, the students start by going over each scene, standing up and going over the rendition. Performers are given the script and practice their parts as well as memorize their lines for homework. As time progresses, students are able to go off the book and recite their lines without needing their scripts. 
Preparing for weeks on the show, Ms. Barrow directs the play as students memorize their assigned lines. The students also have dress rehearsals which incorporates a run down the whole play without stopping while changing into designated outfits to match the characters played. This allows students to know how much time they have in between scenes to time their outfit changes.
"It is such an amazing bonding moment for the class, it is wonderful to put together a piece of art and it feels so rewarding to see them perform it to an audience who enjoys watching these performances," Ms. Barrow said.
On April 13, the show kicked off as each of these performances lasts about an hour. Students who are in the International Baccalaureate Theater class and passionate about performing have the opportunity to direct the plays instead of Ms. Barrow.
"I was given the opportunity to direct, "The Not So Good and Evil Place," and the words on the scripts are more than just words on paper. They're a performance to convey a message that can't be told just by reading words, it takes dedication to get these messages across," senior Melissa Requeny said.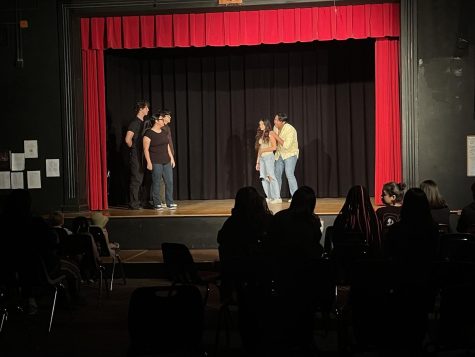 As this specific audience makes its way to the theater room, in the 4000 building, the Little Cavaliers were welcomed with open arms by Ms. Barrow and the cast of the theater performance. Taking a front seat to the stage and enjoying a play that was put together, they are able to feel like they are watching a live-action movie.
"Aladdin has been my favorite Disney movie for the longest time now so bringing him to life on stage was a goal I had to Achieve. Doing this play has allowed me to grow as a performer and do that while making kids happy," senior Diego Urdaneta said.
Putting in their hard work in each and every one of these performances, these plays allow students to grow not just as people but also as artists. Giving the Little Cavaliers a great show, students take a bow and listen to the happy cheers of clapping as Mrs. Barrow ends the theater performance with a red curtain. Afterwards, the Little Cavaliers were able to come up to the students to greet the student actors. As the students bow and the Little Cavaliers clap, the play concludes and all the hard work had finally paid off.
Leave a Comment
Your donation will support the student journalists of Coral Gables Senior High School. Your contribution will help us cover our annual website hosting costs.