Making Students Feel Heard: Gables' Modern Band Sounds Throughout Campus
Before going on maternity leave, Mrs. Espada drummed up the idea of creating a band at Coral Gables Senior High, providing a creative outlet for the Cavaliers. She initially held "tryouts" for students on Tuesdays, giving them the opportunity to showcase their musical talents and aim for a spot in the modern band. After practicing song covers and assigning parts to each auditionee, the band and its members gradually began to form a cohesive unit.
The current group is composed of drummers, Mariana Gutierrez and Lucas Bermudez, bassists, Stalin Ordonez and Alexzander Chaviano, vocalists, Johanna Medina and Daniela Garcia, guitarists, Rebecca Cubilla and William Chacon and a keyboardist, Madison Carvajal.
Cavaliers can hear the modern band playing at "flash mobs" during lunch periods, December's pep rally, Gables' Christmas Show celebrating Hispanic Heritage Month, Black History Month, Bridge for Peace and even performing for the adult education program.
"I personally have always loved the "flash mobs" that occur during lunch. After a long day at school learning, they just help lift your spirits and brighten the atmosphere for everyone," senior Mercedes Deltoro said.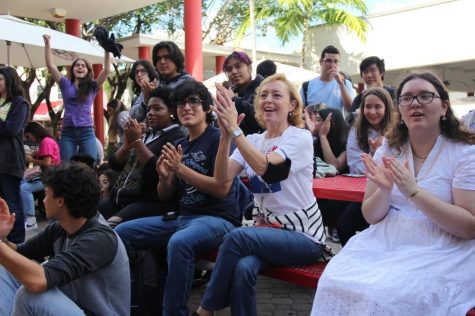 As the lead vocalist on Gables' modern band and choir captain, Medina strives to add creativity to the definition of a Cavalier. The singer takes advantage of the courses Gables offers to its students, such as drumline, orchestra, keyboard, piano and guitar, to demonstrate her passion for music across the campus. She encourages both new and experienced students with a musical interest to join choir or even make their own small band within the class.
"To me, music… It's fun. It's a talent. It's something that you can do when you're feeling down. When you're happy, when you're angry. It's an outlet, and it's probably the easiest way to express yourself. Everyone, no matter what language they speak, can understand," senior Johanna Medina said. 
Others in the band are able to identify with the same passion of being able to express their feelings and opinions by producing sounds and harmonies, which they use to unify crowds. Both the performers and the audience can establish the connection that is one of Gables' proudest elements: school spirit.
The band's drummer, Mariana Gutierrez, has been surrounded by music ever since she could hear, a key factor that fueled her passion for playing the drums and singing for her school's band. Much like her fellow band members, she has always felt the comfort that music has provided throughout her life, a hobby that became part of her identity.
"I think everyone needs it, music helps you cope with a lot, it helps you guide your emotions and really feel them. For a lot of people, music is sort of like a getaway and it truly is necessary for the mind itself. It can relax you, cheer you up, make you sad, everything, it's so complete, " senior Mariana Gutierrez said.
At the critical age that is adolescence, music and the program's openness allows each Cavalier, regardless of their musical experience, to speak their mind and use their talents to highlight important events at Gables as well as its local and global community. The vast presence of music, in the classrooms, events and bands, highlights the creative accents of Gables, underlining the unique appreciation that comes with both playing and listening to music.
Leave a Comment
Your donation will support the student journalists of Coral Gables Senior High School. Your contribution will help us cover our annual website hosting costs.
About the Contributor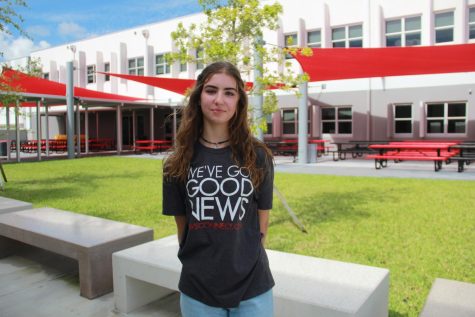 Marina Astorga, CavsConnect Staff Writer
As a freshman in the International Baccalaureate program, Marina Astorga is very excited to be a part of the CavsConnect family so she can pursue her passion...