From Little To Big Cavalier
At Coral Gables Senior High, students typically become a Cavalier on the inaugural day of their freshman year. However, there are a few of our fellow students that have been coming to Gables longer than half of the teachers and staff thanks to our very own Little Cavalier preschool. Run by Ms. Baez and her student helpers, the childcare room has been the place where some kids learned how to say their first words and lost their first tooth. A captivating place indeed.
Freshman Adrian Perez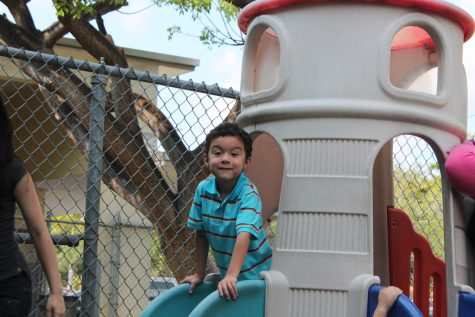 For Adrian Perez, it was practically set in stone for him to return to the Cavalier campus. When Perez was as young as 18 months old, his mother, Ms. Zuniga, the Communication, Arts, Film and Digital Media Academy leader and math teacher, noticed that the childcare program was run by her good friend Ms. Baez and knew her kid would be in good hands. While the school's halls are no longer his playground, navigating through the first day of school as a freshman was no difficult task. Perez was even able to help his friends since he knew his way around Gables like the back of his hand as he had spent most of his childhood as a Little Cavalier.  
"Coming back to Gables has been awesome since I can say that I have already been here before and I am picking up from where I left off," freshman Adrian Perez said.
Today, Perez is involved in Highlights and cross country and intends on joining the different honor societies and volleyball. Looking back to when he was a toddler, Perez misses the simplicity of his life when he had no responsibilities. Still, he feels as though he is prepared for anything the future might have in store for him.
Sophomore Evan Noval 
Varsity football player Evan Noval was also a Little Cavalier himself. Before he was snagging interceptions, Noval was enrolled into childcare before he could even remember. His mother, Ms. Noval, both the Advanced Placement Psychology and World History teacher, thought that the program would be convenient since she could just bring him to work with her. In the event that she needed to reach Noval, he was just a short walk away from her.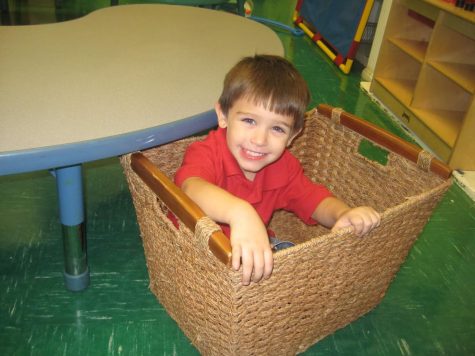 When Noval was a freshman, his first day was bewitching, but in a nostalgic way. Everything looked a little different as the school had changed over time, but he could still recognize it as the place where he made his earliest memories. He found that his first day of school was less nerve-wracking than the average high school freshman experience since the building was so familiar to him.
"Playing football is cool and all, but sometimes I wish I could turn back the clock so I can appreciate those little privileges I had as a child," sophomore Evan Noval said.
Moreover, there is one thing Noval misses from being so young and carefree: nap time. When it comes to toddlers, nap time is crucial in sustaining healthy minds and healthy bodies. Of course, it does not hurt that the teachers get a break while the toddlers sleep. The teachers would set out tons of cots with blankets and pillows for all the kids to go to sleep. While others stayed awake in silence, Noval would take advantage of this time to get some needed sleep after running all day.
Freshman Ashlee Hernandez
Memorable, bittersweet and irreplaceable: three words Ashlee Hernandez uses to describe her experience as a Little Cavalier. When Hernandez was a baby, her mother, Ms. Monzon, one of our cooking and hospitality teachers at Gables, enrolled her daughter in the program. Hernandez remembers spending most of her time playing with all of the toy food and furniture, pretending she was an adult.
"As much as I love being older and having some independence, I would go back in time instantly if it meant I could relive those perfect days. It might've been a long time ago, but I remember it like it was yesterday," freshman Ashlee Hernandez said.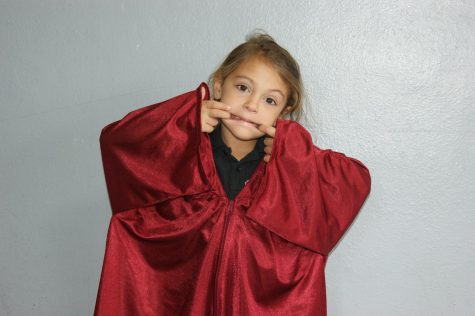 Walking in on day one, Hernandez had a difficult time navigating through Gables' different stairways and hallways. However, this obstacle was no match for her since she had the help of her older friends guiding her. Even so, Hernandez had no trouble finding the theater room. Since she was a Little Cavalier, she has been passionate about performing. She aspires to join Troupe and Gables Players, but more importantly, she is in search of an astrophysics club at Gables. Additionally, Hernandez visits Ms. Baez as often as she can to demonstrate her gratitude for teaching her how to become a respectable person who practices open-mindedness.
Next time you pass by childcare, maybe you will witness the making of a future mighty Cavalier. You can find this classroom in room 4109, where you can also be a part of Ms. Baez's childcare program and teach the toddlers yourself. Though the job has its demands, there is nothing more rewarding than having a little Cavalier grow to thank you for everything they learned from you.
Leave a Comment
Your donation will support the student journalists of Coral Gables Senior High School. Your contribution will help us cover our annual website hosting costs.
About the Contributor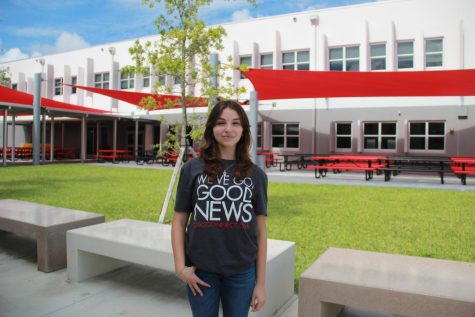 Melissa Hernandez, CavsConnect Staff Writer
Melissa Hernandez is a sophomore in the Academy of Finance at Coral Gables Senior High. Eager to leave Miami on a journey of higher education, she involves...