Leaders on the Field: Lea Bergeot and Victoria Mavarez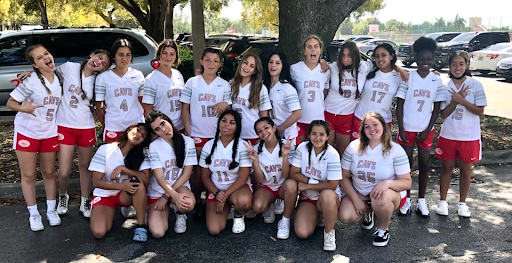 The Coral Gables Senior High girls flag football season has recently begun, and, as the team prepares for their upcoming games, two specific individuals are making sure their support can be felt. Lea Bergeot and Victoria Mavarez work together day-to-day as the team's co-captains.
Lea Bergeot
With her eyes on the flags of the opposing teams' players, senior Lea Bergeot prepares to give her all at the girls flag football game.
The thrill of the competition on the field is what has kept Bergeot playing flag football for seven years. Now, during her senior year of high school, she finds herself holding a leadership position on the team as well as playing rusher on defense, inside receiver, wide receiver on offense, punt team and punt return. As a leader, she recognizes that she must always perform to the best of her abilities and be on her best behavior because fellow team members are looking up to her as an example.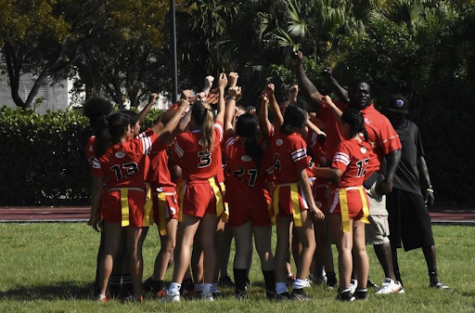 "This team does have dedication and we always work hard until the end, even if we had a rocky start I think this team will keep working hard and can go far," senior Lea Bergeot said.
A day in practice led by Bergeot starts off with team stretching and warm-ups, but her main goal is ensuring every teammate is comfortable so they have the opportunity to open up and bond with each other. With help from the coaches, Bergeot then instructs the team to start drills for offense or defense, either running a scrimmage or practicing their plays for upcoming games.
"During my time on the team she definitely made an impression, she's truly captain material. The way she kept motivating us and keeping us on track kept the team together," senior Sofia Alcaide said.
Although flag football is important to Bergeot, it is not her sole passion. Her interests also lie in kickboxing, painting and dancing. She values being active in life as it motivates her to keep up her energy and stay on task.
Victoria Mavarez
Not only does Gables senior Victoria Mavarez play on the girls flag football team as quarterback on offense, safety on defense and punt return, but her teammates view her with great respect. Although the team does not officially have captains, like Bergeot, Mavarez is viewed as such. Her passion for flag football runs deep as she has been playing since the seventh grade.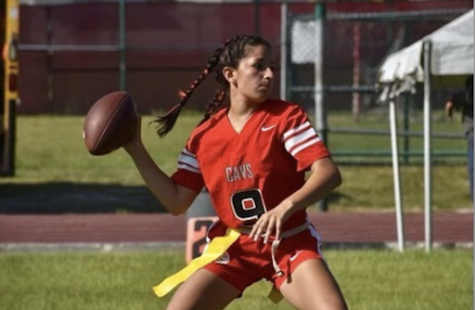 Being in a leadership position can be difficult for Mavarez as she feels the pressure to avoid making any mistakes. She is aware that being perfect is nearly impossible, but she also acknowledges it is important to learn from one's mistakes and improve for the next opportunity that arises. The best part about being seen as a leader is knowing that her teammates can always count on her, on or off the field.
"In order to ensure that I have a nice relationship with my teammates is to communicate with them and support them through anything that happens on the field," senior Victoria Mavarez said.
One of Mavarez's key moments before a game is getting together with the team and reminding each other that, although they are there to win, they are also there to have fun. From Mavarez's point of view, the season is looking up as the newcomers are willing to learn and put in the hard work.
"Vicky is elusive and she has great balance. She's definitely not the slowest person on the field out there, she can go toe to toe with anybody," senior Marcus Antoine-Taffe said.
Outside the field, Mavarez has been riding horses since the age of 12; she has also found herself loving throwing clay on the potter's wheel in order to unwind. In addition to this, photography is a big part of her life, especially when it comes to taking action shots of sports events.
As the season is only starting, Bergeot and Mavarez are preparing to support the team to the best of their abilities. Whether it be during practice, during a game or off the field, they want their teammates to know they will always have their back.