GatorMUN: Building Future Delegates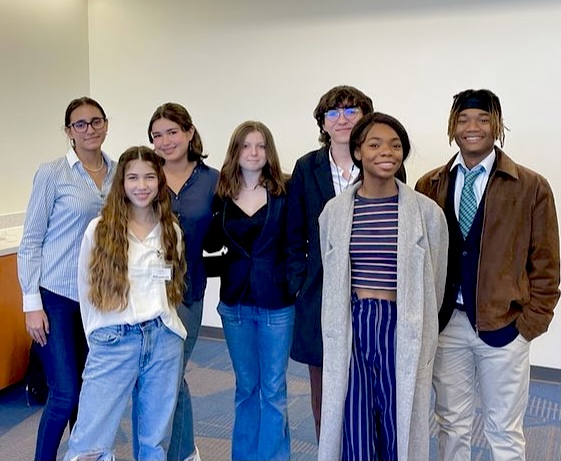 Brimming with students eager to tackle the issues of the future, Coral Gables Senior High holds a special place for those interested in participating in debates. On an eventful trip to Gainesville, students in the school's Model United Nations club attended the Gator MUN conference at the University of Florida.
Model United Nations is exactly what it sounds like: a competition in which students roleplay how the United Nations would operate with different committees each tackling their separate issues such as climate change and world health.
In these conferences, participants can represent a variety of political entities or countries, allowing delegates to learn how to work together with different values and opinions. Gables students took advantage of every opportunity offered at the conference and represented the Cavaliers, returning with two awards.
"I had a great first model UN experience! Honestly, I went in not really sure how I would feel about it and not knowing too much about how it worked, but I ended up really liking it. I loved how much I bonded with all of the other delegates from Gables and spending time with them was one of the best parts of the trip," sophomore Ava Volman said.
For the club, this was the first in-person MUN conference in over a year, making the competition highly anticipated. A combination of seasoned and rookie delegates, ten members of the club left early Friday morning and stayed Jan. 21-23 at the Marriott hotel.
View this post on Instagram
The conference began Friday evening and lasted for about two hours, during which delegates introduced themselves and debated topics relating to their committee. Then, on Saturday they began drafting and voting for resolutions, the written policies and solutions that delegates create within their groups.
On the last day of the conference, participants spent the day enjoying themselves and voting on superlatives within their committee, such as who is best dressed or most likely to become a dictator.
When it came to accolades, the two recipients, Ava Volman and William Hudson, represented their committees and Gables by bringing home a Best Delegate and Outstanding Delegate award.
Volman won Outstanding Delegate in her Micronations committee, which contained several "micronations" with the goal of being recognized by the UN. Throughout the conference, she stood out to her chair by thinking outside the box and bringing originality to her ideas, such as proposing a United Micronations, a proposal the chairs took wholly.
As a first-timer, the sophomore put her best foot forward making sure her speech was clear and eloquent, assuring her a quality performance.
"I like to think I was ambitious and creative with my proposals, resulting in the chair really seeing my abilities as a delegate and how passionate I was about my ideas," sophomore Ava Volman said.
The other award winner, Hudson, won Best Delegate in his committee by ensuring he was well prepared before the conference. In his committee, the junior was well informed, allowing him to speak clearly and concisely, a trait that helped him succeed.
"As I saw my name called for best delegate I was filled with a simultaneous feeling of relief and pride as my great exertion, preparation, and on-the-fly thinking throughout the committee paid off and I now had a tangible prize for my achievements," junior William Hudson said.
MUN provides an opportunity for students to unlock their true potential and excel in public speaking as well as leadership skills. As students go on to college and the professional world, the ability to work with others and guide them will be a true asset. Allowing future delegates to thrive, GatorMUN has placed the world in the hands of students, giving them a taste of what it means to be a leader.