CavsCloset: Gables' Very Own Sustainable Thrift Store
As trends come and go and teenagers begin to grow out of their old wardrobes, clothes often get thrown away and replaced. While combating the recurring issue of clothing waste on a global scale and limiting the sale of fast fashion items seems nearly impossible in a world driven by consumerism, three students at Coral Gables Senior High have decided to become the catalyst for change.
CavsCloset, a project co-founded by sophomores Gabriela McGrath-Moreira, Amalia Garrido and Laura Ridoux consists of collecting old clothes, shoes and accessories and selling them in an on-campus thrift store. Cavaliers can now sustainably give away their used apparel and give it a second life while simultaneously learning about the effects of fast fashion.
The project was created under the Climate Leadership Information Program, an organization under the Climate Leadership Engagement Opportunities Institute. A non-profit organization in Florida founded in 2010, the CLEO Institute addresses climate-related issues and educates others about what they can do to take action against the climate crisis.
After being the founder of the CLIP chapter last year at Gables, McGrath-Moreira strived to create a community of students who could come together to combat climate issues.
"I first discovered CLIP when I was doing my community service project for 8th grade, in which I brought a high school student named Nicole Gazo to my school and she gave a presentation about the climate crisis. After hearing her talk about climate change with such confidence and witnessing her impact she left on the students, my first thought that came to mind was that I wanted the ability to speak like her," sophomore Gabriella McGrath Moreira said.
In addition to promoting climate activism at Gables, part of the program is finding an annual project to promote sustainability and activism which sets into motion right around Earth Day; this is where the idea for CavsCloset was born.
A program centered around protecting the Earth, CavsCloset was first brainstormed by co-founder and CLIP member Garrido. After sharing the idea with fellow member Ridoux they set out to look for something that was relevant to people their age. With the increasing popularity of thrifting in their community, they knew they had found the right issue to tackle.
After gaining approval from Activities Director Mrs. Suarez, the thrift project finally took off. On Nov. 16, CLIP members decorated cardboard boxes which served as bins for students to donate their clothes. Then, in early December, McGrath, Garrido and Ridoux spread the word about CavsCloset to the student body and began to collect donations.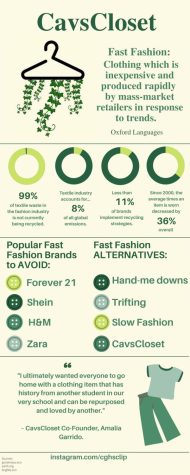 "The impact the thrift project has already made is amazing and we haven't even gotten to the best part which is selling all the clothes. I see this thrift project being an annual activity CLIP does over the years and hopefully becomes a fun event in the school in which we show that if we can create this much of an impact in our school then imagine how much power youth truly have," sophomore Gabriella McGrath Moreira said.
Attempting to turn Earth day into an Earth week, the co-founders will sell the clothes and accessories collected at Gables during both lunches throughout multiple days.
All proceeds from the CavsCloset sales will be sent to the Lotus House, a shelter for women, children and the Lesbian, Gay, Bisexual, Transgender and Queer+ youth community. Also being a thrift store located in Wynwood, the store's donations and resources are allocated towards providing women and children living without homes a shelter, education and secure opportunities.
"We chose the Lotus House because we knew we wanted to donate locally and to a smaller thrift store, as Goodwill can have some bad reputation for its workers and false advertisement of where they allocate the money. We researched a couple different sites and many didn't accept straight up cash and only accepted clothes, but Lotus House did. Plus, we loved the message behind it to help out women and children," sophomore Amalia Garrido said.
Although the venture is just beginning, uniting the youth is the first step into creating change for the future. Striving to make CavsCloset an yearly event, CLIP works towards giving clothes a fresh home and promoting the idea of 'reduce, reuse, recycle' in a new realm.
If you want to learn more about CLIP and their upcoming projects, click here. For specific information on the CavsCloset, click here.
The CavsConnect staff encourages comments and conversation on all of our content. We reserve the right to remove comments that are vulgar, rude, hurtful, or unrelated to the topic.