A Lifetime of Teaching: Mrs. Haun's Last Year at Gables
After the four years she has been teaching at Coral Gables Senior High, the time has come to bid International Baccalaureate Spanish Teacher Mrs. Haun farewell. Although Mrs. Haun has retired in the past and has chosen to return to teaching because of her strong passion, this time around she is certain that her career as an educator has come to an end.
Mrs. Haun, known as Señora Haun to her spanish-speaking students, is trying to make the best of her last year at Gables by teaching five different levels of Spanish. Ranging from Pre-IB Level 3 Spanish, to IB Spanish A, to Advanced Placement Spanish Language and Culture, the list goes on. Mrs. Haun is doing her best to prepare her students for success before the time of her departure arrives.
"Mrs. Haun is one of the kindest souls in IB, whose passion towards teaching creates a joyous environment within class that allows us to pursue more knowledge in language," senior Arianna Boffill said.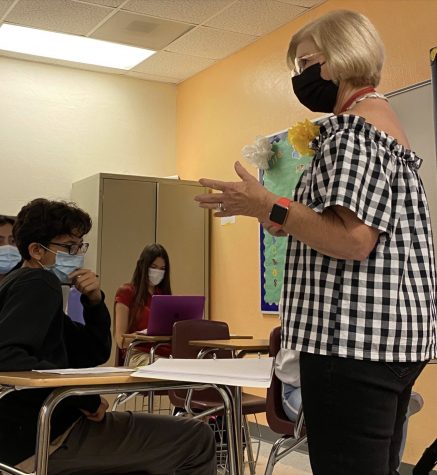 For Mrs. Haun, the students are the best part of being a teacher. In particular, she has become very fond of the class of 2022. In fact, her favorite memory at Gables is having been able to teach students in the class of 2022 throughout all of their four years in high school. Both Mrs. Haun and the class of 2022 began their journey at Gables together, grew together and will now bid their farewells together.
Matching the color of her blouse with her jewelry, shoes, hair accessories and as of late, her mask, is just one of many things Mrs. Haun is known for. She has turned the classroom into her own personal runway and has proved to students that school does not have to be a boring place where one only comes to learn, but a space where students feel motivated to express themselves.
"Mrs. Haun is a very understanding, caring teacher and her classroom is a safe place to go to when you are in need of some support during school hours. Her humor and amazing sense of fashion shouldn't go unnoticed either," senior Heidy Umana said.
From a young age, Mrs. Haun knew she wanted to pursue a career that allowed her to spread knowledge and interact with eager-to-learn individuals. When asked about what inspired her to become a teacher, Mrs. Haun claims she was simply born with the passion for it.
"What inspired me to become a teacher? Well, I don't know. I guess I was just born with the gift of teaching," Mrs. Haun said.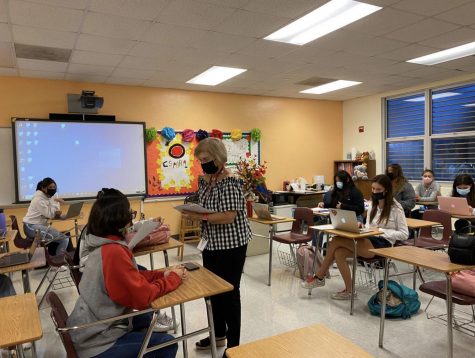 Her teaching career began long before she graduated from Indiana State University with a bachelor's and master's degree in education. She recalls the countless times in her childhood where her imagination would run wild as she sat her dolls in front of her and began to teach.
The passion and interest she had then for teaching lives within her today and it will not fade with her retirement. After this school year is over and she writes the final chapter to her book of 53 years of teaching, Mrs. Haun plans to spend more time with her friends and family. In addition, she will have more time for herself and her hobbies which includes reading, exercising and gardening.
"Mrs. Haun is a teacher that cares deeply for her students and gives them a lot of room for improvement. She, along with her fashion sense, will be missed," junior Yinelys Esquivel said.
In regard to advice for students who might be interested in pursuing a teaching career, Mrs. Haun encourages them wholeheartedly.
"Go for it, take a chance. It will enrich their lives and most importantly, teachers will learn as much as the students. Students will make them see things differently and will make their world complete," Mrs. Haun said.
Although the beloved Spanish teacher bids farewell to Gables, it is safe to say that the kindness, knowledge and fashion inspiration Mrs. Haun has passed down to her students will live on with them and the school forever.