Cool Cav Hobbies: How Cavaliers Decompress
As the 2021-2022 school year floods students with immense social and academic pressure under the tedious transition back to normalcy, students may find themselves craving an outlet to take their mind off the stress from everyday life.
Coral Gables Senior High School students are in constant search of hobbies that help them disconnect from their school work, even if it is only for a few minutes a day. The diversity of Gables is mirrored by its wide variety of students who share unique passions. Whether it be through an extracurricular, club, or personal interest, Cavaliers have taken control of their crafts and turned it into a way to escape the challenges of high school.
---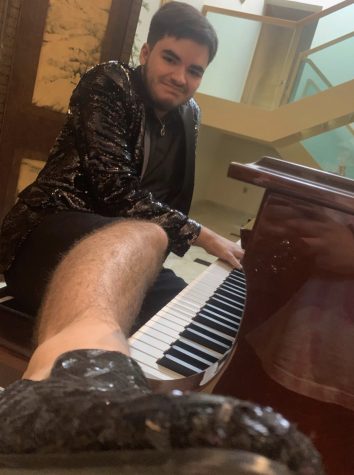 Junior Allan Kaplan
Junior Allan Kaplan finds peace in the midst of his busy schedule by playing the piano and utilizing music as a coping mechanism to deal with stress. A student in the International Baccalaureate program, rigorous workloads and demanding deadlines for assignments such as the Extended Essay have given Kaplan an even stronger desire to turn to music when feeling overwhelmed.
Playing the piano since he was 3 years old, Kaplan was first intrigued by the instrument because of the way his older sister played. Following in the lead of his older sibling, he naturally decided to follow in her footsteps and has been playing ever since.
"I would recommend others to play this instrument because it is relatively easy to pick up and it gives some really good, fundamental lessons about music," junior Allan Kaplan said.
Kaplan describes the piano as an instrument that can tell a story. Everytime he plays, he harnesses the power and emotion of each song. As his fingertips sweep across the keys when he plays a song, he releases joyful and content emotions through his bright smile.
---
Junior Sophia Perez-Estevez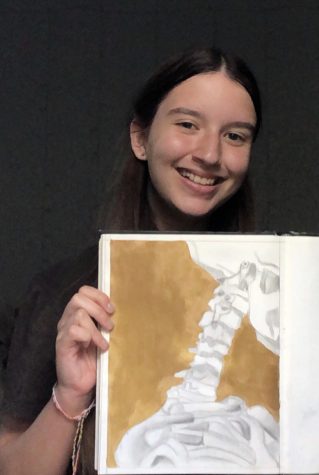 Painting and drawing are how junior Sophia Perez-Estevez channels her creative energy and decompresses. Starting at a young age, Perez-Estevez has gradually been improving her artistic skills over time, leading to the growth of her passion.
The IB junior was fascinated by what art had to offer because as a creative person, she was eager to find a hobby that would bring out her artistic side while allowing her to relax and be proud of her artwork. Perez-Estevez has become emotionally attached to her hobby; when she is bombarded with pressure from her academic studies, drawing transports her to another world and allows her to find peace.
"When I'm finished with a piece, I sort of see how I felt through the process, the mistakes I made, the things I would have changed, makes each piece I create even more special to me," junior Sophia Perez-Estevez said.
---
Senior Leo Lopez
Visual and Performing Arts Academy student senior Leo Lopez plays video games as a hobby. Lopez began playing video games at around 6 years old as a way to bond with his other brother.
At the moment, his favorite video game is "God of War" since he enjoys games that are action-packed and require complex decision making to achieve the goals of the game's protagonist. Lopez describes video games as similar to books in how they both provide an immersing story. Video games are interactive and, although the game is displayed through a virtual screen, the emotions the player experiences when gaming are unique.
"The idea of always being able to turn over a new leaf with your life and not have past choices and actions define who you are is always inspiring," senior Leo Lopez said.
---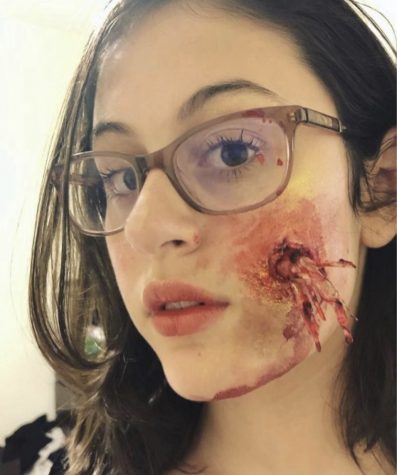 Junior Nicole Gufford
IB junior Nicole Gufford practices makeup daily in order to destress. Gufford started doing makeup about 6 years ago after she felt inspired by multiple YouTubers' techniques and skill and decided she wanted to try them out.
Although Gufford mentions that makeup is an expensive hobby, she advises others to try it out and to welcome mistakes as learning experiences. She personally started her makeup journey with Elmers glue and pens in order to create Halloween themed looks. She highlights that any safe and clean material can be used as a make-up look which means the art is open to everybody.
After practicing makeup for some time, Gufford decided to focus on special effects makeup because of how complex its designs are. The branch of special effects makeup has endless possibilities, some of its most popular creations being adding bleeding wounds and bruises in order to make a movie scene more realistic. Gufford elaborated on how she loves a challenge and special effects makeup gives her the opportunity to show her talent while distracting her from worries that stem from academics.
"I connect with myself by using makeup as an escape, I need to be careful and precise, but I know that I do not have to be perfect," junior Nicole Gufford said.
---
Senior Ana Maestre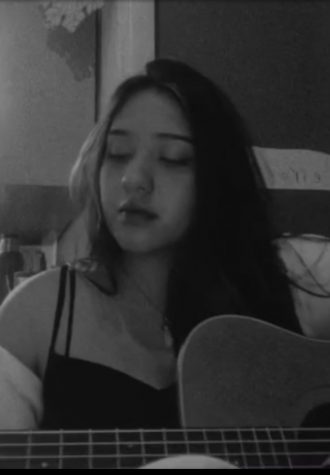 In her free time, Ana Maestre creates covers for songs while playing the guitar. Unlike other students who discovered their passions as young children, she took up this hobby recently during quarantine.
Maestre realized that singing and playing the guitar could be used as a therapeutic tool, since it allows her to heal by letting all her emotions out in a beautiful way. A prime example would be when Maestre sung Billie Eilish's song "Happier than Ever" since she believes that this song has a powerful message while being extremely delicate at the same time.
"I love singing because it helps me communicate my feelings and I love the way the space transforms when I am playing the guitar, it is like everything, the voice, the emotions and the chords connect to do a beautiful melody," senior Ana Maestre said.
---
From playing the piano to practicing special effects makeup, Cavaliers cherish their hobbies as they help them cope during difficult times. While it may be nearly impossible to look deeper into the thousands of students at Gables, it is important to remember that there is more to every student than meets the eyes; every Cavalier has a passion they live for.