A Minute with Gregoire Winston: Student Reporter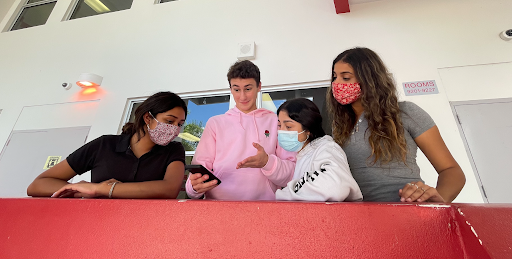 In an age where people have to undergo various measures in order to find quick and reliable news, Coral Gables Senior High student Gregoire Winston saw a problem and knew he could come up with a solution that would give people easy access to news from a dependable source.
Winston's remedy was his creation of an information platform on Instagram, dubbed "One Minute Student News", in which he posts daily images about headlines from around the world.
In order to get these headlines, Winston scours a variety of diverse news sources in order to create unbiased updates that are easily accessible on the social media app.
In order to make a post, Winston picks out five news stories every night. He decides which ones to use by considering what relevant news students would find most interesting. Next, he writes a two sentence caption giving context to the images and presses the "Share" button. The captions are short but informative, keeping the information to just a minute long. Thus was born the name, One Minute Student News.
"I listen to a ton of podcasts. American podcasts, French podcasts. One French podcast I listen to posts daily crime facts, which was really my inspiration for starting One Minute Student News," senior Gregoire Winston said.
Winston has experience in spreading news, as the co-online editor of Highlights, he often has to come up with new and relevant ideas for the online segment of the news magazine. This experience has been the first step into creating his account. Established on Aug. 26, the One Minute Student News Instagram page has already amassed over 500 followers.
Winston credits his success to many things, one of them being consistency. He strongly believes in the worth of his idea and his passion for making information more accessible to the masses.
"I also owe my success to my mother, who has a lot of connections. She opened the door to many, not only Gables students, but people in general who seek lighthearted and carefully researched news," senior Gregoire Winston said.
"
I look forward to reading news from the One Minute Student News everyday. It keeps me connected to current events and helps me support a fellow Cavalier,"
— junior Mariam Galdo
In order to further advertise this account, Winston uses other types of social media such as Snapchat. He also reposts the posts on his personal Instagram story and asks friends to do the same, in order to garner more support and allow the account to have a further reach. Through One Minute Student News, Winston manages to relay information quickly and efficiently.
Currently, Winston is focusing on the account one day at a time as he gains motivation to continue from his supporters, through their likes and encouraging comments. He hopes to maintain this account throughout his senior year and potentially in college as well.
"It's all about helping others get a glimpse of the world around them in the most concise way possible and if I keep getting the same energy and love from my followers as I am now, I will definitely continue it for years to come," senior Gregoire Winston said.
Through One Minute Student News, Winston realized how passionate he truly is about journalism and news reporting, seeing that his account actually interested people. Winston hopes to continue to connect to others and expand his knowledge of the world around him through his creation.