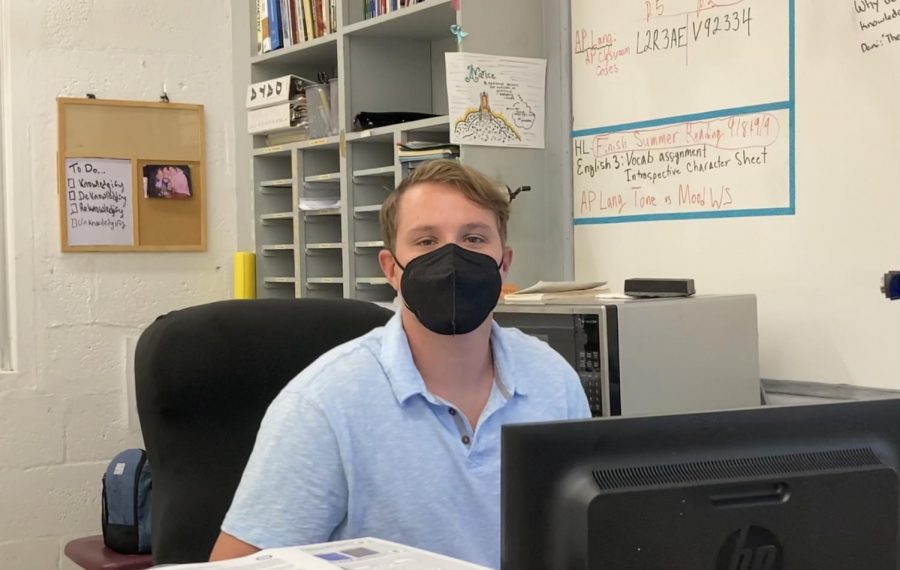 Maria Odio
Coral Gables Senior High has a distinguished reputation when it comes to Cavaliers who return to the school as staff. While a vast majority of students might only have the motivation to simply stop by and make a brief visit to catch up with their favorite teachers from the past, a special few make a return to the school as college graduates prepared to join the Cavalier faculty.
In the case of Mr. Maxwell Wood from the graduating class of 2014, the former student initially returned to the school as a water polo and swimming coach and a substitute teacher. As of the 2021-2022 school year though, Mr. Wood holds the official position as a teacher of English 3, Advanced Placement English Language and Theory of Knowledge.
During his time as a high school student, Mr. Wood was a member of the International Baccalaureate program. In this specific magnet, students are required to write a 4,000-word Extended Essay on the topic of their choice. English was always where Mr. Wood excelled so his decision to write an English-oriented essay on "The Lord of Rings" by J.R.R Tolkien was no surprise.
His love for the English language eventually turned into something he was extremely passionate about during his time at Gables. Some of his written works can be found in the Gables literary magazine, Catharsis.
"When I was in the IB program, English was where I thrived… I enjoy the analysis and the interpretations of literature," Mr. Wood said.
Mr. Wood was finally able to share his fondness for writing with others when he was presented with the opportunity to become an AP English and English 3 teacher. English is where Mr. Wood prospers and, in turn, it fuels his drive for teaching.
"I am very proud to teach and coach at my Alma Mater… My goals for myself this year are to grow as a teacher and to be the best that I can be. For my students, I hope that they can challenge themselves to be the best that they can be," Mr. Wood said.
Besides joining the English department, Mr. Wood is also a TOK teacher. This course encourages and inspires students to explore areas of knowledge in order to better understand the world around them. In his class, Mr. Wood encourages exploratory questions such as "How do you know what you know?", "Who is responsible for knowledge?" and "What does it mean to be a knower?"
"Theory of Knowledge was always an interesting course and required the teacher to be a facilitator of ideas. But given that the methodology of the course is in-depth discussions it's going to be an interesting and fun year. I am looking forward to the opportunity," Mr. Wood said.
While studying at Gables as a teen, Mr. Wood was also a member of the water polo team. When he first started swimming and playing water polo in 7th and 8th grade, he initially hated the sport, but the Gables coach at the time he was a freshman told Wood he was going to be the next star against a sea of seniors, which contributed to his falling in love with the sport.
"The coach, the teammates, it was an overall really good environment and we were all supportive, it was really fun. The coach was tough but it only made me stronger. Ultimately, it is why I stuck with water polo for so long," Mr. Wood said.
His passion for this sport later progressed in Gainesville, where he coached a water polo team for the first time. For Mr. Wood, coaching has always been a rewarding experience, as his athletes always push themselves harder each year with the intention to reach their fullest potential. He currently holds the position of head coach for the girls' swim team and coach for the school's water polo team.
Mr. Wood welcomes his first official year of being an English and IB teacher and coach at Gables with open arms. Prepared for what the new year has to hold, the Gables family embraces Mr. Wood, a Cavalier who has grown from a student, to substitute, to coach and now a teacher.