A Step Into Adulthood: Cavaliers' First Jobs
For many, high school is a period of time that calls for personal growth in preparation for the transition into adulthood. One of the first adult-like experiences a teenager goes through is working their first job, which brings about an abundance of learning opportunities. After a difficult year for many, several Cavaliers decided to step out of their comfort zones and begin working in a professional setting.
---
Senior Marianpaola Chacon
Marianpaola Chacon recently started her first job at Farinelli 1937, a casual pizza restaurant located in the heart of Coconut Grove. When asked about why she chose to work at a restaurant, Chacon explained that the fast-paced environment is exactly what she was looking for because she prefers the hustle and bustle as opposed to the monotonous desk job.
For high school students, it may be difficult to find a job because typically some work experience is required; however this was not the case for Chacon as the establishment didn't ask for any prior work skills.
The average work day for Chacon consists of taking phone calls, seating guests, scheduling reservations and occasionally helping her coworkers. Considering that she is often interacting with guests, she has run into conflicts where customers have behaved rudely and questioned her capabilities because of her age. However, thanks to her helpful management and supportive coworkers, Chacon has been able to overcome all difficult challenges she has faced.
"I've met amazing people from this job that taught me a lot about myself and I know I wouldn't have found that without them," senior Marianpaola Chacon said.
---
Senior Alexa Torres
As Alexa Torres strove for personal growth and an opportunity to gain independence, she stumbled across a job opening at Strada in the Grove and took a step into adulthood by taking up the offer. Working at a restaurant allowed Torres to interact with all kinds of people and work on her customer service skills, which can be useful in any field of work.
"Restaurant work is hectic and can be a lot to deal with, but it provides many benefits and pays well, especially for a high school student who does not have a wide variety of career choices when looking for their first job," senior Alexa Torres said.
Being a full time high school student and simultaneously having a very demanding job can be difficult at times. In order to deal with stress, Torres learned to pick up different time management techniques that helped her pace herself so she could get tasks done at a quicker rate and focus on one thing at a time.
With a new job, it also became difficult for Torres to meet with friends because her schedule was always filled up. As a result of this, Torres resorted to relying on her days off and the night time to maintain her social life.
---
Senior Rebeca Morejon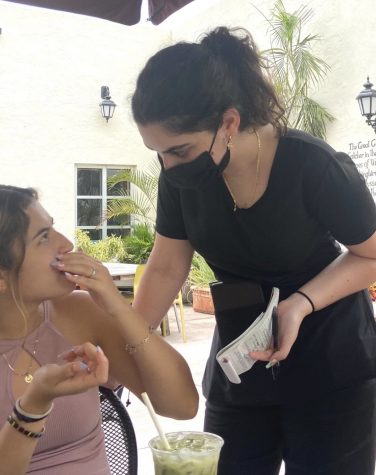 When the school year came to an end, Rebeca Morejon knew she would have a lot of free time in her hands over the summer break, even more so because the COVID-19 pandemic required everybody to stay at home. In hopes of doing something productive over the summer, Morejon decided to start working at a bookstore. The new job at Books & Books has not only taught Morejon how to be more patient around people, but also encouraged her love for reading.
"I've always loved to read and being in a place surrounded by books just seemed like the right choice," senior Rebeca Morejon said.
Like with any new experience, there were moments in which Morejon felt overwhelmed, especially when she had to work 10 hour shifts due to a lack of employees. Thankfully, the few coworkers she did have proved to be of great help.
---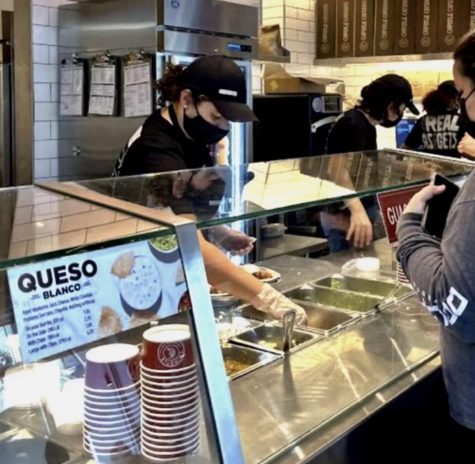 Senior Kylie Alvarez
The popular Mexican-inspired Chipotle was Kylie Alvarez's choice when deciding where to work over the summer. Her job has allowed her to improve her social skills, as she is required to interact with different people and all the different attitudes they approach her with.
Most students rely on summer break to socialize and hang out with their friends, which Alvarez found difficult to do since she spent most of her time working. However, she didn't neglect her social or work life, but instead learned how to manage her time more wisely.
"I was able to manage my social life and work life by planning ahead and asking my manager ahead of time for the schedule so I could adjust with my friends and still be able to go out," senior Kylie Alvarez said.
In the excitement of landing a new job, Alvarez found herself working more than she could handle. By reminding herself to relax once in a while and enjoy her summer break, Alvarez was able to overcome overwhelming situations and maintain a healthy work-life balance.
---
Junior Marcos Algeciras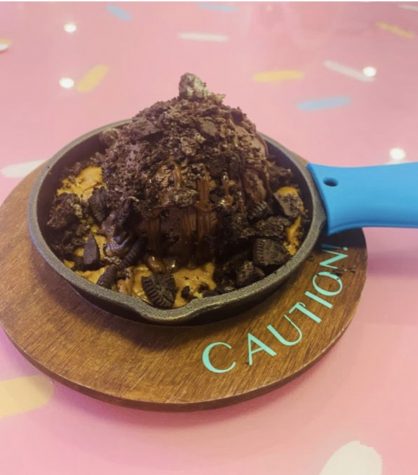 Marcos Algericas, like most high school students, had a goal in mind to reach a point of financial independence. Acquiring a job at La Glace, a small ice cream shop located in Coral Gables, allowed him to accomplish just that and improve his social skills.
One of the major reasons Algeciras chose to work at the shop was the fact that La Glace is a small owned, family-oriented business. In addition, it was a safe and trustworthy environment, considering that Algeciras' father knows the owner quite well.
A first job is an incredible learning opportunity, but it also comes with many challenges as a new environment requires you to adapt quickly. Algeciras often found himself dealing with difficult customers and struggling to memorize the menu. However, he was able to overcome these issues thanks to effective training from his coworkers and constant check-ins on his progress from the owner.
---
By gathering individual experiences working at a first job, highschoolers have taken the first steps toward adulthood and maturation. Although it may come with its challenges, working over the summer is a valuable learning experience that allows students to grow and prepare themselves for their future.