Pets: A Teacher's Best Friend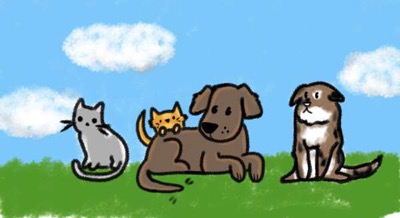 Every classroom has a teacher's pet, but sometimes forgotten are the real furry pets our teachers keep at home. Various teachers at Coral Gables Senior High are proud pet owners and look forward to the end of the day when they can race back home to cuddle with their four-legged friends. The following are some of the cutest pets from our Cavalier teachers.
Azabache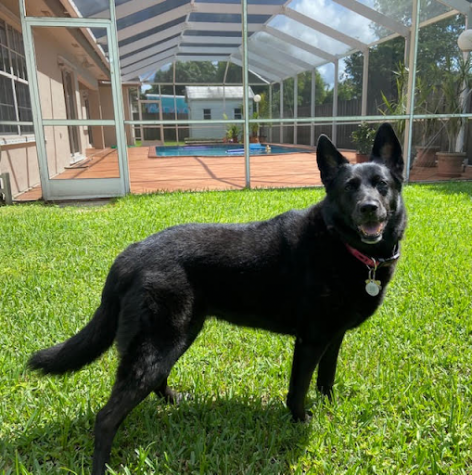 Besides being the International Baccalaureate psychology teacher at Gables, Mr. Nelson is also a proud dog owner. His dog, Azabache, is a Mixed Shepherd, which he adopted about ten years ago. Her distinct name came from the shelter where he adopted her; Nelson decided to keep the name she was first given.
The best thing about owning Azabache is the love she reciprocates. Although she can be expensive to take care of, the most memorable experience he has with her is how friendly and playful she was the first time he met her.
"She makes everyone believe they are her favorite," Mr. Nelson said.
Though she may be cute, Azabache is one of many animals that have won over the hearts of teachers at Coral Gables.
Bella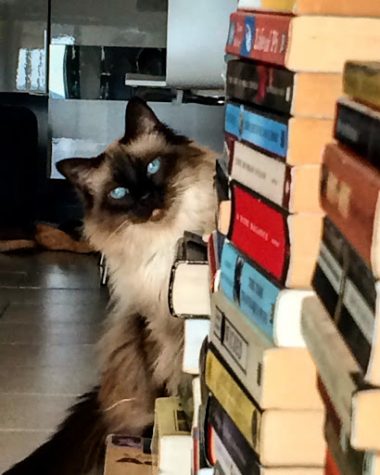 Ms. Valencia, Gables Advanced Placement Literature and Language and Theory of Knowledge teacher, has been a cat owner for over a decade.
Her cat, Bella Valencia, was named by her daughter when she was eight years old. A 14-year-old Balinese cat, Bella was purchased in the winter of 2007. The most endearing thing about Bella is the joy and laughter she brings to the family.
Even after 14 years, Valencia still remembers sleeping with Bella when she was a tiny kitten who still feared her new home. Being a pet owner provides a type of friendship like no other, and Valencia's love for her cat has taught her to respect all creatures and the environment and played a large role in her becoming vegan.
"The best thing about Bella is she is like a dog in that she loves being around people, and loves playing fetch. She is highly intelligent yet unlike most dogs, she is extremely delicate and gentle," Ms. Valencia said.
Rolie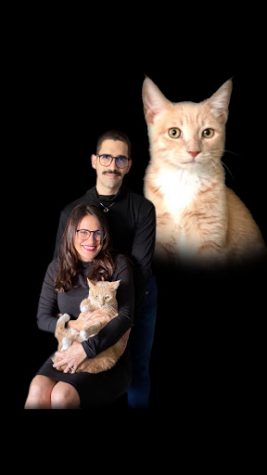 As the IB Chemistry teacher at Gables, not only does Ms. Kiely teach about atomic bonds in the classroom, but, at home, she has a great bond with her cat Aurelanio "Rolie" Buendia.
The feline's unique name stemmed from a character in the classic novel "One Hundred Years of Solitude" by Gabriel Garcia Marquez. An orange tabby, Rolie is one and a half years old.
One of Rolie's best attributes is that he greets Mrs. Kiely with gentle affection when she comes home. He jumps on her as he purrs, whines and begs for attention. Mrs. Kiely believes that the hardest thing about owning Rolie is leaving him at home. The most rewarding, however, is giving him the unconditional love he deserves.
As many pet owners make memories with their animals, some of Mrs. Kiely's favorite memories with Rolie include taking naps on the balcony after she finishes a workout and watching him catch bugs.
"Rolie learns no tricks. He is the master. I am simply a servant," Ms. Kiely said.
Sheila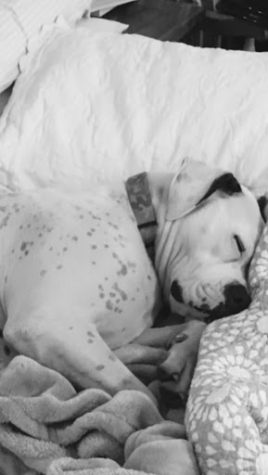 Ms. Cosgrove, the AP Human Geography teacher at Gables, has been a happy dog mom since she first adopted Sheila, an American bulldog, from the Miami Dade Animal Services. While at first she was skeptical about owning a pet due to the extensive care it requires, her kids were the ones to finally persuade her to introduce a new furry member to the family.
It has been five years since Cosgrove adopted Sheila, and she explains that she is a great family dog. Sheila's favorite thing to do is chase Ms. Cosgrove's cat and sleep. Cosgrove explains that while her pup knows no tricks, the most unique thing about her is that she does a vertical jump when she gets excited as if she were jumping on a trampoline.
"She is happier to see me every day than my own children are," Ms. Cosgrove said.
Students and teachers alike can bond over their shared love of these adorable animals. As staff members share their furry friends from home, they bring Gables together by adding pets to the Cavalier family.