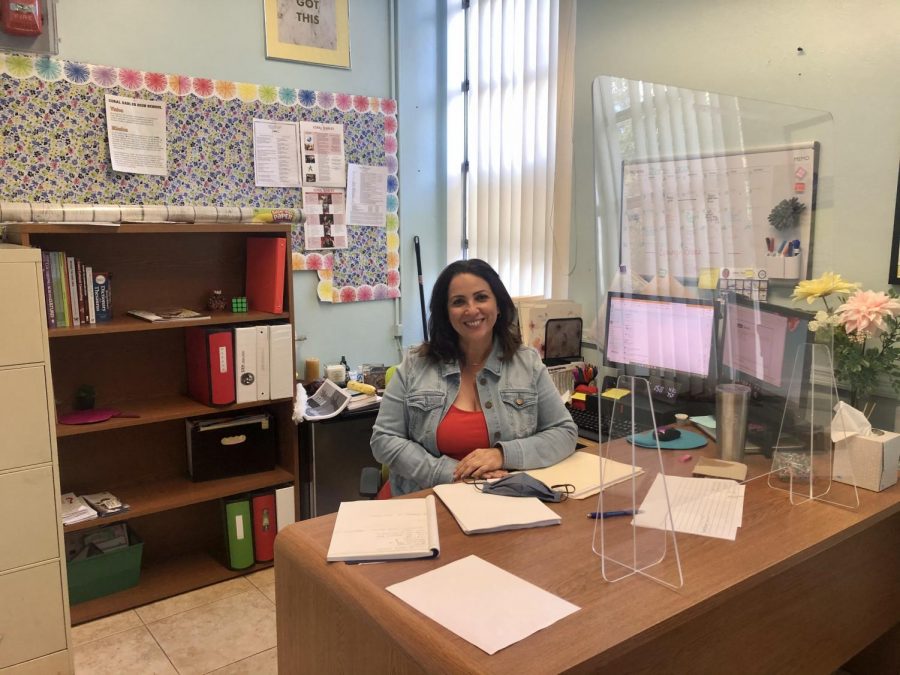 Arianna Hoyos
After 18 years spent living in Atlanta, GA, Ms. Perez was thrilled to return back to Miami and find her new home in the main office of Coral Gables Senior High School. Inside this brightly decorated room, the new counselor has turned her workspace into a safe haven where students part of the Design, Education and Hospitality program at Gables can seek both academic and emotional advice.
When Perez was young she hoped to become a child psychologist. After realizing that the career path was not for her, she decided that by becoming a guidance counselor, she would still have the ability to advocate for troubled students and aid their needs. She found a job working for Barbara Goldman as a College Assistance Program advisor, later finishing her education and becoming a counselor. Since then, she has been working in counseling for over 20 years.
A Miami native, Ms. Perez moved back to the city in order to feel closer to her family and continue her passion for student counseling. When the position at Gables opened, Perez jumped in as the new addition to DEH. While she enjoyed her time in Georgia, the new counselor feels happy to be back to her roots. She enjoys the Gables environment where teachers bond over shared experiences, make small-talk and share jokes that keep a light mood in the office. Most of all, Perez missed her "Cuban cafecito," a Miami staple that tired Cavaliers can vouch for as being a morning must-have.
After being away for so long, one may question if Ms. Perez feels that she is truly back at home. When asked if she could already feel some of the Cavalier spirit she gave an excited response.
"Oh my goodness, absolutely! From the time I got here, I just felt welcomed… I am very thankful and so proud to be working here," Ms. Perez said.
Wanting to "establish a rapport" with her students is one of Ms. Perez's main goals. Keeping students on track so that they can feel both academically and emotionally comfortable once they graduate and move onto the real world is her first priority as a counselor. Ms. Perez is fully prepared to take on the role of a mentor for the students in DEH.
A mutual struggle, the challenges created by the COVID-19 pandemic have been no easy task to deal with. Calling herself a "vibe person," Ms. Perez finds it difficult to understand what students are going through when conversing through a computer screen. She explains that behind the veil of technology, it is easy for students to hide their struggles as opposed to when they are face-to-face. Regardless of this obstacle, Ms. Perez is adamant about getting to know every Cavalier in order to foster the bond that is vital in an academic setting.
Always ready to welcome a new Cavalier, Gables hopes that Ms. Perez quickly feels appreciated in the team environment the school has fostered. Amidst the vast struggles the 2020-2021 school year has wrought, Ms. Perez is clear about tearing down the walls of virtual learning and getting to know all her students despite these boundaries. DEH and Gables are happy to have Ms. Perez as part of the Cavalier family.