Rachel Dopico: Gardening Guru
Gardening may seem like a mundane hobby to many, but one Cavalier has gone the extra mile to learn more about plants and how to take care of them. Junior Rachel Dopico developed a passion for gardening and maintains a thriving garden in her backyard, fostering a wide variety of fruits, vegetables and flowering plants. She is mostly self-taught as personal experience and trial and error showed Dopico essentially everything she knows.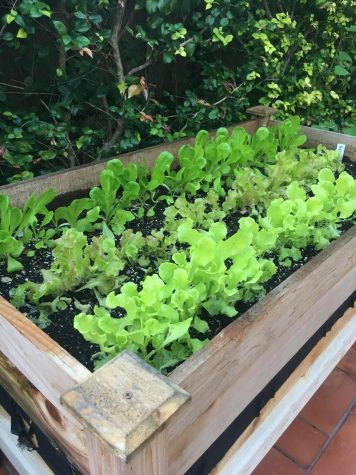 Dopico's love for gardening was first sparked by her grandfather and his large garden in Portland, Ore. which was complete with a greenhouse and blueberry bushes. Ever since she was young, she spends every summer aiding her family tend to the garden. Her step-grandmother has also been a source of inspiration, establishing a community garden in Portland in her grandfather's honor and serving as a mentor to Dopico. In her own home, she has always had at least one plant to take care of, but over the last year, she has been able to largely expand her garden thanks to the quarantine brought on by the pandemic.
"My step-grandmother has created a community garden in [my grandfather's] honor in Portland, and it is so inspiring to see how impactful gardening can be. I have learned a lot from her and, one day, I would love to start a community garden here in Miami," junior Rachel Dopico said.
In her garden, she grows many types of plants: herbs, fruits, vegetables and flowers, to attract pollinators. This year Dopico is growing, pickling and slicing cucumbers, cucamelons, two variations of cherry tomatoes, radishes, lettuce, sugar snap peas, sweet potatoes, katuk, pak choi, carrots, marigolds, zinnias, violas, parsley, thyme, cilantro, garlic chives, rosemary, oregano, dill, mint, basil and nasturtium. Her most recent addition has been a passion fruit plant, which she is looking forward to growing. Moreover, she grows flowering plants to attract pollinators and other helpful insects; her favorite flowers to grow are salvia and torenia. All her plants are grown in raised beds on her patio where her plants get plenty of sun and she has easy access to a hose. While the garden is entirely taken care of by Rachel Dopico, she occasionally receives help from her younger sister and her father helped build some of the garden's components.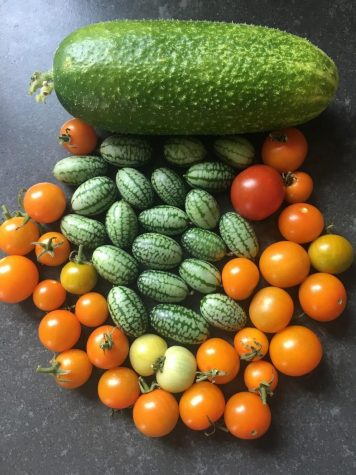 Dopico finds little difficulty in keeping up with garden tasks, so raising her plants is a thoroughly enjoyable experience. Tending her garden provides relaxation and a break between classes. Additionally, being able to harvest the food she grows herself is a highly rewarding experience. Growing her own fruits and vegetables also means she can try different varieties that may not be found in supermarkets.
As for her future with plants, Dopico sees herself going into an environmental or horticulture career as, besides having a passion for growing, she has a passion for the environment. She recognizes that food production and waste greatly contribute to the climate crisis and believes that growing some of one's own food or supporting local farmers are great solutions. Composting is another practice she believes in, as it helps minimize food waste and can be used on plants. Rather than using fertilizers or insecticides, Dopico uses compost to feed her plants.
"I feel so grateful that I have been exposed to the world of growing your own food, and I hope more people can realize how easy and gratifying it is," junior Rachel Dopico said.
Her advice to others interested in starting their own gardens is to just go for it; experimentation is a useful tool for learning according to Dopico, especially because it is how she learned most of what she knows about plants. She does not believe in needing a "green thumb" to have a successful garden. For beginner gardeners, she recommends growing herbs and flowers and, if growing plants from the seed is too intimidating, seedlings are a good option to start with.
Rachel Dopico clearly has a passion when it comes to growing plants. Her dedication and expertise certainly make her a special gardener, and her lush garden full of healthy plants only proves it.