Crocs Make a Comeback with Cavalier "Crocs Fridays"
The chalkboard-covered walls of Mr. Molina's Biology classroom, filled with colorful signatures of former students, have seen a lot over the years. Room 2207 has been the site of countless experiments, formaldehyde-coated organs, minor explosions and thousands of Poptart sales. Most recently, Molina's lab was the birthplace of an ongoing tradition that has come to be known as Crocs Friday.
The first mention of Crocs, the fashion sensation of the 2000s, came earlier this school year when senior Brayden Sanchez remarked to his Biology class that he was interested in buying a pair of Crocs online. 
"In early December, my favorite country artist Luke Combs announced his very own collaboration with Crocs and I just had to get them… the day they were released I waited in for over an hour to buy them. While I was waiting, I just happened to be in Molina's class," senior Braydon Sanchez.
The unusual task quickly became a class discussion, and Sanchez asked his classmates if any of them owned Crocs.                  
When several people responded in the affirmative, he suggested that the class begin a "Crocs Friday," and the sensation began. The tradition takes place when Gables' "odd day" 7th period falls on a Friday, which typically occurs every other week. 
A select group of seniors can be seen walking through the halls on these days, toting their brightly-colored, breathable (and even waterproof) footwear. The tradition may have seemed odd to onlookers until Molina published an explanation in the form of a tweet on his class page, @cavsibbiology.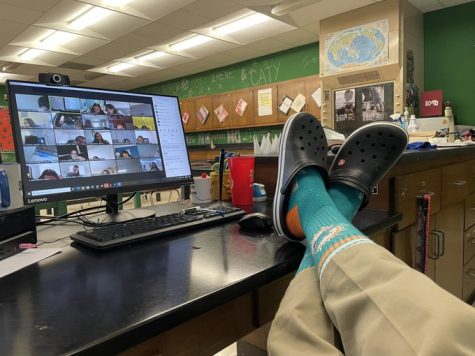 Since then, Molina has published photos and updates on the page, including pictures of his 7th period standing on the lab tables, eye-catching Crocs in full display. One tweet on the topic reads: "Making the pandemic bearable one #crocsfriday at a time." 
"I believe that the seniors are looking for anything to give them a memory of their senior year…wearing ugly Crocs and silly socks to school to take a social distance picture gives them at least a little taste of silly things they would have had if things were normal," Mr. Molina said. 
Since initiation, Crocs Friday has drawn members from outside of the 7th-period Biology class, slowly adding new members each week. The tradition is expected to continue throughout the second semester of the 2020-2021 school year, though Molina speculates that it will likely end when the class of 2021 graduates from Gables.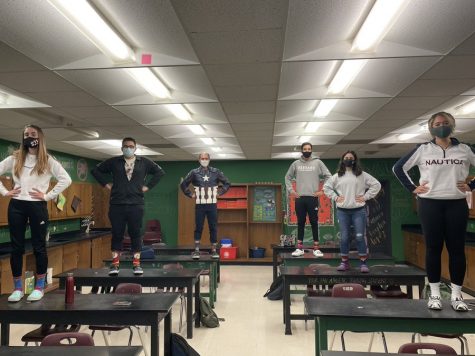 For now, Crocs Friday remains students' quirky way of bringing some joy into the COVID-19-safe routine that Gables has fallen into. As the school continues its hybrid model of education, typical senior events, such as Gradbash, Senior Picnic, Prom, and Graduation, appear to be out of the picture, at least in their traditional forms.  MDCPS's priority continues to be limiting the transmission of COVID-19, meaning extracurricular events throughout the county are typically limited and/or socially distanced.
The "new normal" that has arisen amid the school's pandemic protocols means that students may need to find less-traditional ways to have fun while continuing their high school education. For some, this may mean joining virtual clubs or picking up a new hobby, but for Molina's 7th period, it was as simple as coordinating days to wear colorful Crocs.
"I enjoy giving them anything that can give them any sense of normalcy.  It truly breaks my heart to look at students that I have known for two to three years and watch their senior year go by without any of the traditions they have had in the past.  If I can give them anything to remember it will be worth it," Molina said. 
Leave a Comment
Your donation will support the student journalists of Coral Gables Senior High School. Your contribution will help us cover our annual website hosting costs.
About the Contributors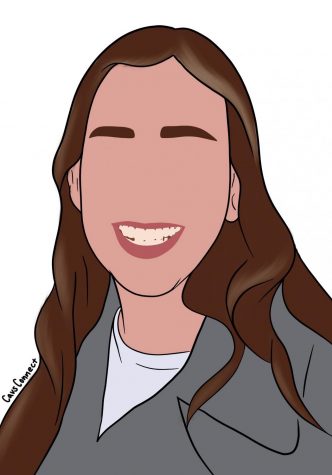 Chase Bagnall-Koger, CavsConnect Co-Editor-in-Chief
Chase Bagnall-Koger is a Senior in the International Baccalaureate (IB) program who is excited to be returning to CavsConnect for her fourth year with...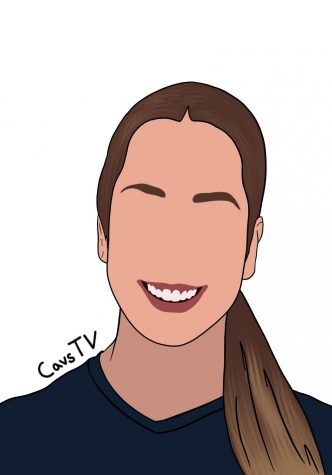 Natalie Abrahantes, CavsTV Co-Editor-in-Chief
Natalie Abrahantes is a senior in the International Baccalaureate (IB) program at Coral Gables Senior High. In her last year at Gables, she is extremely...