Mrs. Torres Closes Her Chapter at Gables
Our beloved English department head, Mrs. Torres, is officially saying goodbye to Coral Gables Senior High with the start of the 2020-2021 school year. After seven years of bettering our school, she has made the decision to move on in response to the uncertainty that surrounds school reopening during COVID-19. Students and staff alike will sincerely miss her and the contributions she made to Gables.
"I am devastated that she won't be there, but I have faith that the kids we taught, especially the kids in the Teaching Academy, will continue to excel and 'make good choices'. She would always tell them to 'make good choices' as they left each day. What makes her special is that she believes in her students. She believes they can do well. She believes that they need and deserve a little push and support as they work on achieving their goals," Mrs. Santamaria said.
Mrs. Torres was not just another educator– even the story of how she joined Gables' staff is certainly a heartwarming one. In 2008, she started working at our campus as a temporary teacher. She later left, but loved the experience so much that she jumped at the chance to become a full time teacher in 2013.
"I focus on creating relationships with my students. My students have always been my 'kids' and their well being, on all levels, has always been a top priority in my class. Students tend to use my room as their "safe space" and are able to refocus and keep moving forward," Mrs. Torres said.
Throughout her time at our school, Mrs. Torres contributed her skills in various ways. She taught English I, English II, English IV and Critical Thinking. Additionally, she sponsored the Florida Education Association and coached the varsity cheerleading team. One of her biggest achievements, however, was starting the Cavalier Teaching Academy in the 2017-2018 school year. This made it possible for the school to offer a pathway for those interested in becoming teachers themselves. In this way, Mrs. Torres was able to pass on her wisdom to future educators who would one day return to the classroom.
"Mrs. Torres taught me that you always need to work hard and never give up at what you want. She actually told me on the first week of school 'you're not going to be a lawyer, you're going to be a teacher like us.' I wanted to be a teacher, but I didn't really know until I met her and learned from her. The Teaching Academy taught me that being a teacher is not just about teaching. Being a teacher is about caring about your students and helping them as much as you can," alumna Keila Aguila said.
Through partnering and working with Miami Dade College, she made it possible for students to graduate with nine college credits already under their belt by taking the courses offered in the Cavalier Teaching Academy. The college credits even allow for these students to become substitutes while getting their college degree at the same time. By opening up these opportunities to those who never had access to them, she illustrated her determination to make positive changes that benefited those around her.
"She was not only an excellent and caring teacher, but someone who cared greatly about the school. She built our teaching academy program from scratch…stepped forward to become the department chair, and was an active member of our Curriculum Council and our Professional Learning Support Systems," assistant principal Dr. Diaz said.
Despite her clear focus on ameliorating programs at Gables to aid more students, Ms. Torres also enhanced the school's environment itself with her vibrant personality. She welcomed students of all kinds to her class and encouraged them to follow their passions while guiding them to success.
"The impact that she left on her students was to always be positive and kind to each other. Besides being my teacher, she was like a mother figure to me. She was always telling me when I'm right or wrong, always giving me advice, telling me what I needed to hear, and never failed to motivate me. Mama Torres you will be missed. I love you," alumna Nathalie Montano said.
"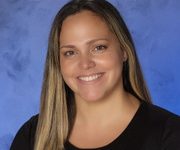 My students have called our class their "family" and we've created memories that will last a lifetime,"
— Mrs. Torres
Her classroom created a safe space for kids to grow and learn comfortably and became the go-to lunch spot for both students and teachers who enjoyed her company and the positive atmosphere she generated.
"Mrs. Torres poured her full heart, time and energy into her many roles at Gables. She left a lasting impact as a wonderful teacher, colleague, role model, humble leader and friend. Gables will not be the same without her. We will all miss her dearly and wish her nothing but the best," Mrs. Delgado said.
Mrs. Torres will be missed by students and staff alike once she makes her departure.  However, we know she will only continue to grow as a professional. She will dearly miss her time at Gables because of the impact it had on her. Although the decision to leave was sudden, she still plans to continue teaching English through Florida Virtual School as she starts a new chapter of her life.
"Thank you for giving me the privilege to be a part of your life, to teach you skills that will help you make decisions in the future, and for putting forth so much effort, especially on the days that you didn't want to. It has been my absolute honor! Make me proud! I will forever be rooting for you. Don't ever doubt that. I love you," Mrs. Torres said.
Leave a Comment
Your donation will support the student journalists of Coral Gables Senior High School. Your contribution will help us cover our annual website hosting costs.
About the Contributor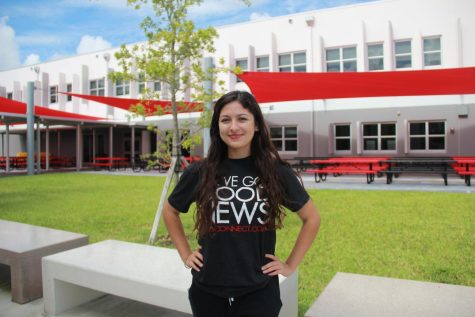 Sofia Cruz, Co-Editor-in-Chief
A rising senior in the International Baccalaureate program, Sofia Cruz is eager to start her fourth and final year as a member of CavsConnect. Returning...