TikTok Trends: Updated
As most of us are stuck at home finding a way to entertain ourselves, TikTok users have been participating in the most recent trends going around. Those who are used to this app know how these trends tend to vary around every week. Here are the most recent ones on people's "For You" page.
Make Your own Whipped Coffee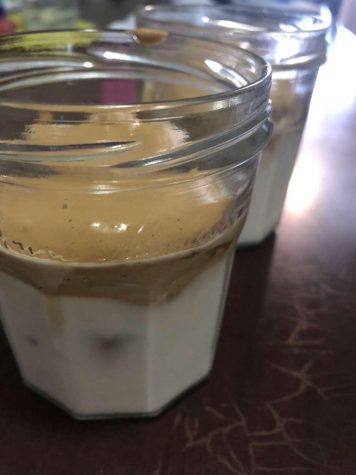 This three-ingredient drink has gained its popularity on TikTok over the last two months and eventually made its way through all platforms such as Instagram, Snapchat and Twitter. Whipped Coffee, also known as "Dalgona Coffee", consists of two tablespoons of instant coffee, sugar and hot water along with a dash of cinnamon. The second step is to whip all of the ingredients together until it turns into a consistency similar to whipped cream and then pour into a glass of milk. As people continued to make this drink and upload their videos, the hashtag #WhippedCoffee has gained around 1.7 billion views already. When this trend gained its' popularity, users began to realize how this form of whipped coffee was originally how Greeks regularly make their very own coffee.
"One of the most recent trends I have seen on Tiktok is people making their own whipped coffee. After seeing all of these posts, I am most likely going to try it out," sophomore Kevin Pedraja said.
Relationship Challenge 
This trend is known for couples asking each other various types of questions about their personality. For example, people ask what are five things you like about me, four things I like, three things I look pretty in, two things I say a lot, and one thing you would change about me. After screenshotting their lover's responses, they make it into a TikTok and post it. Some people have decided to mix it up and do it with their friends, siblings or other family members. With this trend, people have the opportunity to reveal their honest opinion towards a person or test how well they know one another which brings excitement into it.
Parents Dancing Unexpectedly 
This TikTok trend consists of people unexpectedly recording their parents' reaction to the song "50//50" by Vantage in the background. According to all the posts that have been uploaded, it is expected for parents to jam out and are deemed "uncool" if they do not. To this day, there are approximately 75.9K videos that have been posted with this song where most of the parents pass the test. Although the users on this platform consider the trends as modern and new, they are mostly all similar to old trends that come from our parents' generation. This song is known to have a rhythm of the songs they would listen to when they were teenagers which makes them want to move their feet.
Workout Challenges 
Due to quarantine, people have had a lot of time to improve their physical health by working out. Thankfully, people on this app have created videos of their workout routines and exercises to help others reach their goals. One specific trend is the "Chloe Ting's 2 weeks shred challenge" that was devised by a famous YouTuber, Chloe Ting. She is known for makeup tutorials, beauty tips, vlogs and her workouts. People have been posting their reactions and results on TikTok which has led the hashtag #ChloeTingChallenge" to 125.8 million views. Along with this famous challenge, there have been various people posting their personal exercises and captioning their posts with "Quarantine Workout" hoping to help others who wish to develop a workout schedule. Most of these focus on the entire body and include simple exercises such as jumping jacks, fire hydrants, burpees, mountain climbers, push-ups and curl-ups.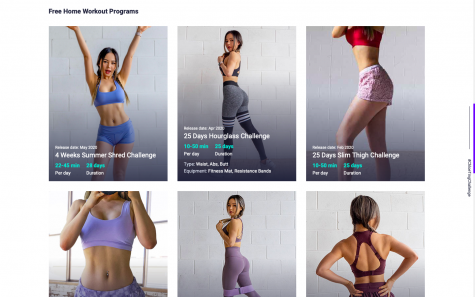 "With all of this time in hands, I have used TikTtok more than ever and I have seen all of these workout routines that people have posted. I actually decided to start trying out one of Chole Ting's workout plans and see how it goes for me," sophomore Leonela McLean said.
"I can tell that we are going to be friends" 
Nowadays, with a combination of social distancing and quarantine, people have not been able to see or spend time with their friends in person. In this trend, people become nostalgic and go back to when they began their friendships with the people in their life. The idea is to record a pretend conversation of how they first met and continue it with pictures or videos of when they were younger to how they are at the moment with the song "We are going to be friends" by the White Stripes in the background. Some people have switched it up and have done it with their relationships and show how they first met.
TikTok is now one of the most used and famous platforms that maintain its users entertained with trends people make. Although these trends tend to almost change weekly, they are surely permitting adolescents and even adults to be creative and try new things.
About the Contributor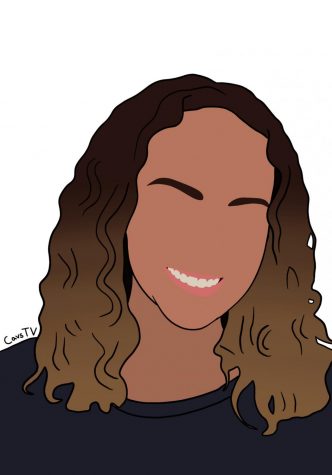 Nataly Leiva, CavsTV Staff
Nataly Leiva is a junior in the International Baccalaureate (IB) program at Coral Gables Senior High School. During her first two years of high school,...