Forever a Cavalier: Alumna Albany Muria
As a Cavalier from the class of 2017, alumna Albany Muria, was extremely involved and dedicated to her school and her studies. She could be found excelling in the classroom or running her heart out on the field. In addition to being on the cross country team, she was also apart of Student Activities and CavsConnect throughout all four years of her high school experience. Muria was Student Council President her senior year and was very involved in the International Baccalaureate Honors Society, where she especially loved creating Adopt-a-Freshman activities. She recalls one of her favorite memories being the fun times she had eating lunch with her friends and Ms. Kiely in Mr. Molina's classroom.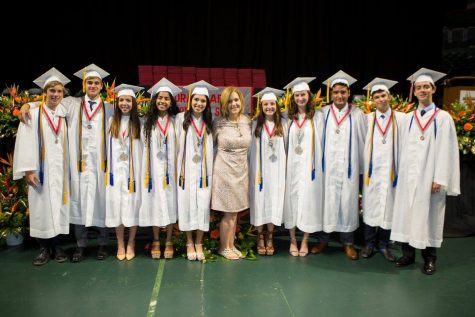 Though her time to say goodbye to Gables was saddening, she was quickly welcomed by her new school just five minutes away. She is currently a junior attending the University of Miami and believes that her Canes pride grows by the year. She is just as dedicated and involved at UM as she was during her time at Gables. She especially enjoys her role in helping out the new freshman in their Student Government positions. She is also President of the "Get Out and Vote" initiative where she applies her leadership experience from her role as president of the Student Council. As president of the program, she gets to work with a wonderful e-board team and volunteers to increase voter mobilization on the UM campus. This past year they have focused on voter registrations but now moving into the 2020 Fall elections, they are planning to work on both voter registration initiates and non- partisan voter education for all UM students. She also worked as a tour guide and student assistant in the Office of Admissions. Due to her various roles throughout school, she has the pleasure of working alongside many UM administrators who have been nothing but nice and welcoming to her.
"I think it is so inspiring that no matter where she is, Albany Muria continues to put forth maximum effort and even if she does not succeed at first, she keeps her head held high and continues to work hard in order to achieve her goal," freshman Isabel Donner said.
In her free time, she and her friends like to relax and craft. Muria is especially interested and talented when it comes to polymer clay. She loves to create jewelry with it and hopes to open her own business soon. Muria is currently safe at home with her family during this COVID-19 crisis. Personally she considers the quarantine to be a strange experience for her since she went from having days filled with fun activities to having no structure at all. However, she is enjoying this time and using it to relax and work on her polymer clay passion.
"You could tell from when she was here at Coral Gables that she would grow to be an amazing role model and leader, and has clearly done so by becoming the President of the "Get Out and Vote" initiative. Her leadership skills and experience will definitely take her far in life," freshman Grace Urbita said.
Muria approached Gables as just a young girl and has ever since grown every day to become the successful leader she is today. Gables has taught her to be persistent, focused and to learn from the situations life throws at her. It is clear that anywhere she goes she will flourish, succeed and grow.