Lia Sanchez: Ready to Soar like a Blue Jay
Senior Lia Sanchez has just passed a huge milestone in her life. She recently committed to her dream school, Johns Hopkins University. Sanchez has worked very hard her entire academic career since her first day of kindergarten till now and fortunately, all her work has paid off.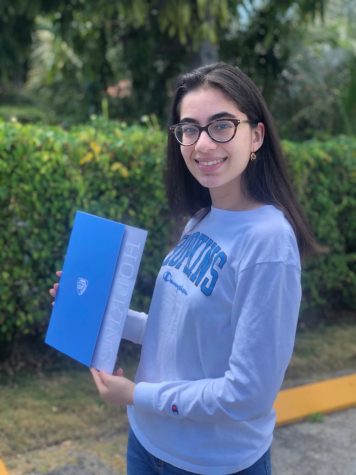 Sanchez was also accepted into Duke, Emory, University of Michigan, University of North Carolina at Chapel Hill, University of Miami, University of Florida, Temple University, Auburn University, and FIU. However, her heart is set on attending Johns Hopkins and she will, soon enough, become a Blue Jay. She met some of the current students during their fly-in program in Oct. 2019. The experience she had during that three-day trip and the people she met had such a positive effect that it made Sanchez love the college even more.
"I stayed in contact with current students I met at that program, and they are always available when I need help," senior Lia Sanchez said.
Hopkins first caught her eye with its amazing pre-medical track. Lia has always dreamed about pursuing her passion in Molecular Biology and Hopkins gives her the opportunity to do so. She is most excited to be able to attend a school that has so many other students that have such a big passion as she does in the STEM track. She is looking forward to being challenged and pushed by her new classmates. Sanchez is also thrilled to be surrounded by so many great research opportunities and the awesome extracurricular activities are soon going to be available to her.
"Listen to your heart and pick the school where you feel most at home. Finances are definitely important, so if you rely on aid look into schools that meet full-demonstrated need. You will thrive wherever you go if you put in the work." senior Lia Sanchez said.
Sanchez has been very dedicated to her studies and is not only great on paper but in personality. She is always open to helping out her classmates and has all the qualities of a true Cavalier. There is no doubt that Lia Sanchez is ready for Johns Hopkins, but is Hopkins ready for her?