How to Make the Most Out of Distance Learning
In light of all the chaos going on in the world due to the coronavirus pandemic, everyone's daily lives are being affected. From stores and restaurants shutting down, to sports events being cancelled, to schools being closed, everybody is being affected by this outbreak. On Tuesday, Mar.17, Florida governor Ron DeSantis announced that all Florida schools will remain closed until at least April 15th and, depending on the situation at that moment, they will later decide whether or not to reopen schools. All schools have transferred to online schooling until further notice.
On Mar.13, Gables students met with all of their eight period teachers to discuss the forms of communication specific to each class. Teachers have used a variety platforms such as Edmodo, Google Classroom, Zoom, the Coral Gables Senior High website, Microsoft Teams and Remind as ways to teach and assign work to students.
The reality is that distance learning is not as easy to adapt to as one would think. Seeing a teacher through a screen and typing a question is not as interactive as being able to raise your hand in a classroom. Math and science classes specifically can be harder than other subjects due to the lack of visual and auditory components instructors use in a classroom, of which they cannot convey through a screen. So the question is, how can students make distance learning better for themselves?
1) Organization
The first step to improve your online learning experience is organization. Because different teachers are using different methods, it is important to keep an eye on every application. The best way to keep track of all your different classes is to make a to-do list. Start by going in order of your periods, checking every platform to list your assignments and their due dates. It is important to keep track of online quizzes or Zoom conferences because those are only available for a specific amount of time, so make sure to include those on your to-do lists too.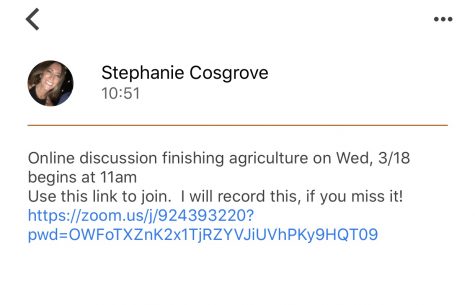 "On the first day of online learning I made a to-do list and it has made everything easier because I can keep track of what each class is asking and when they are asking for it," junior Fredy Bustos said.
2) Making a Schedule
Making a schedule will make your day much more productive. Giving yourself deadlines and time to complete your assignments takes a lot of self discipline, but if you make a daily schedule, it will make everything go much smoother than expected. Usually, teachers will assign work and it will be due two days after it is assigned at a certain time. If you make plans to do it the day it is assigned, or the day before it is due, you will not have to stress about it on the due date. This will give you a great sense of responsibility and independence, and will be a good way to practice managing your time in a healthy way. This will also give you more time to do things you enjoy, such as exercising, reading, watching television or baking.
"I have so much more time to work on school and non-school related activities. It is unfortunate that we all have to stay home but we might as well make the best of it, and work on ourselves academically and mentally," sophomore Mia Calderon said.
3) Using Your Resources
As far as content goes, it is challenging to learn behind a screen, but not impossible. There are many resources right at your fingertips that can help you. Being in touch with your teachers is key to success. Just because your teachers are not at school does not mean that they are not available to help you and answer your questions beyond their online "classroom." Be mindful that all teachers have different office hours, so it may be helpful to write them all down so you know when to contact your teachers. They can be reached through email, or even the platforms they use to assign work. On your student portal, there are textbooks and interactive lessons, depending on the class. For math, everyone can use Khan Academy, or they can look up specific problems or lessons on YouTube. For those taking Advanced Placement (AP) classes, College Board is currently  figuring out a way for students to have free online lessons and to be in touch with top AP teachers around the country that will be available to help through review sessions before the exams.
---
Although distance learning is different and new to teachers and students, we are all still able to keep in touch with each other through technology, so it is important that everyone uses it to their advantage. Being organized and responsible is the most important thing right now because your education is in your hands entirely. Make sure to set goals for yourself, academically, physically and mentally, to make the best out of your days away from campus.