Our Official Cavalier Yogi: Ms. Kiely Becomes Zen-tified
Jana Faour, Reviews and Copy Editor
February 18, 2020
A school-wide fan-favorite chemistry teacher leading the charge in the science department at Coral Gables Senior High, Ms. Kiely is an extremely popular name on our campus. Although the style of her classroom teaching provides her with enough recognition around campus, Ms. Kiely is also known for her constant support and acceptance towards all of her students; she is a teacher who always goes the extra mile to ensure the success of her students, genuinely caring for each and every single one of them.
As a science teacher in the International Baccalaureate Program, Ms. Kiely is constantly seeing students drowning in the pressure of academic demands. After having the same sight for days on end, she made it a personal mission to find a way to help ease the rapidly moving minds of her students. She aimed to teach them a healthy coping mechanism to relieve them of their many high school stressors – yoga.
"
I thought yoga was just about silence and stretching. I was very surprised to learn how powerful of a workout it was and how it really ends up being both a physical and mental workout"
— Ms.Kiely, IB Chemistry Teacher
Kiely began promoting this personal passion of hers while completing her master's degree: a time where she simultaneously participated in triathlons. However, after a brutal hip injury, she had to stop participating in the athletic activities she loved. Determined to maintain her high activity levels, she sought for other ways to remain active without the pain her injury would cause. Yoga was the solution to a lot of her worries.
Initially, Ms. Kiely was uninterested in yoga because she thought it would be nothing more than stretching in silence, but then realized it was both a physical and mental workout. She began with simple videos on YouTube, then found a studio named Casa Vinyasa Miami in 2012. Ms. Kiely instantly fell in love with the studio's atmosphere. She has been practicing there since and has only found a deeper passion for this expressive and intense form of art.
Kiely, with the help of some of her students, began introducing yoga sessions after school. In the past, sessions were offered to some of our student-athletes with the intention of bettering their mental and physical health, but now there are classes available to all students, regardless of their grade, academy or extracurriculars. As the sessions became more popular, the team decided to improve the club by coordinating for the class to be taught by a certified specialist.
"I am on the football team and, when we first started the yoga sessions, everyone joked about them and did not take them seriously. After a while, we realized how helpful they actually were and we actually started looking forward to them," sophomore David Kuper said.
After realizing how powerful this exercise is, she became driven to empower others to provide themselves with the skills necessary to improve their mental health. She then decided it was in her best interest to become a certified teacher.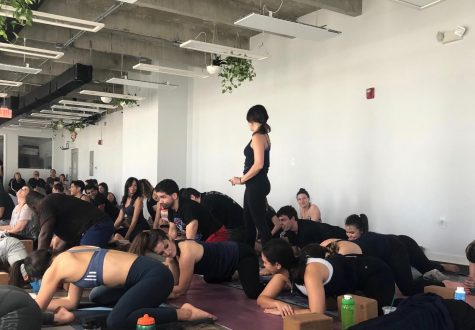 The process to certification included six full weekends of educating a class on anatomy and physiology, assist students growing into poses, taking responsibility and integrity while leading others. The biggest obstacle she faced was self-doubt and criticism, but she worked to change her mindset and allow herself the space to grow through self-acceptance and a deepened confidence in herself.
Ms.Kiely now enjoys teaching large groups and the process of receiving her yoga teaching certification has allowed her to ripple the effects of yoga throughout Coral Gables Senior High.
"Yoga being offered on our campus is a huge step towards awareness and acceptance. It is relaxing and helps with my mental health and relieves stress from school," senior Maria Cardona said.
Ms.Kiely finds it vital to offer this new technique to relaxation on campus because of the light it shines on physical and mental health. With everything a student balances, from school life and stress to health and frantic emotions, providing a space for this art without financial and transportation issues is extremely valuable. She fell in love with yoga because of the serenity and relief it has brought her, and her introduction of it to Gables has been a welcome surprise for all.
About the Contributor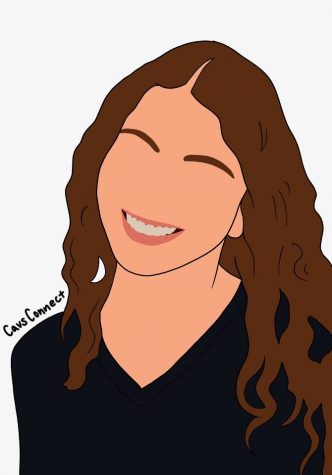 Jana Faour, CavsConnect Copy Editor
Jana Faour is a International Baccalaureate junior at Coral Gables Senior High who is entering her second year of CavsConnect. One of her many passions...