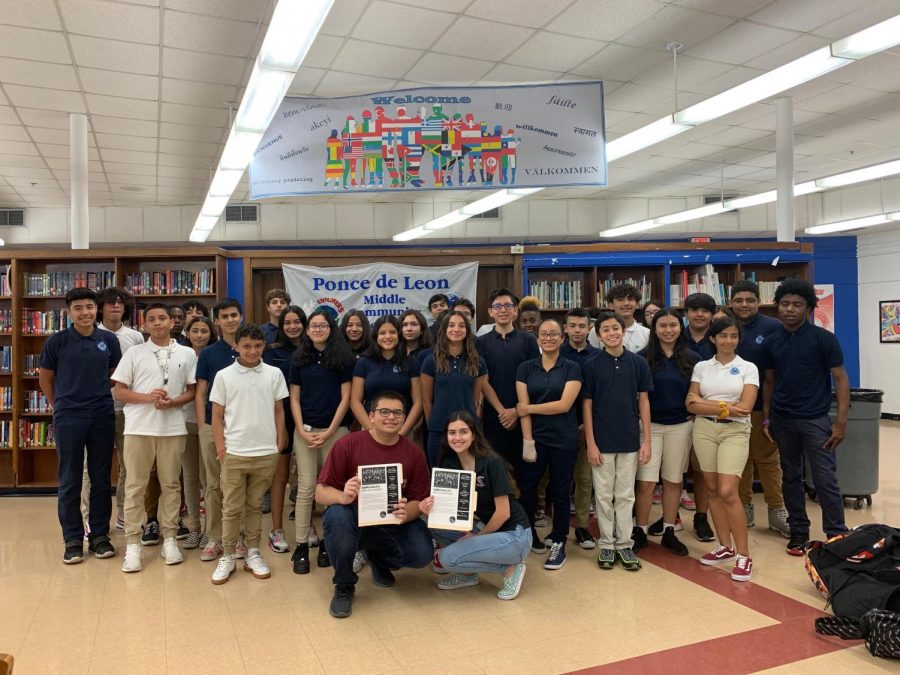 Daniel Fernandez
As many graduating eighth grade students begin to search for a new home throughout their four years of high school, there are some students who struggle to gather all the information from the opportunities that are offered to them. Usually, new students will join clubs and extracurriculars their freshmen year to see where they best fit in. However, a lot of this information is publicized through magnet program recruitment. Students in magnet programs are usually more encouraged to be involved around the campus, leading to a large number of students that are not in the magnet programs to never find what they are passionate about and make the most out of their high school years.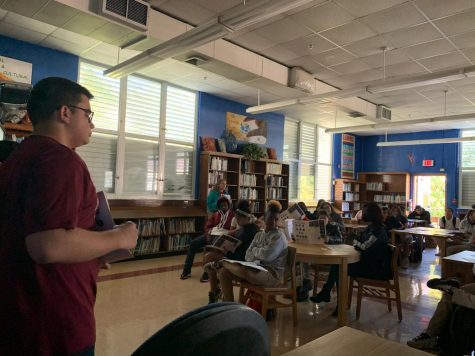 Juniors Michaela Torres and Daniel Fernandez came up with a project that introduced all that Gables has to offer in a way that non-magnet students can be more open to pushing their limits and ease their worries when they come to Gables. They both went to their old middle school, Ponce De Leon Middle, and created booklets with included information on the staff, academies, subject selection, and even a questionnaire about their personal preferences. They even used the answers in that questionnaire to determine which academy would be best for them. Further, they gave a PowerPoint presentation about everything that Gables has to offer, alongside a fun recruitment video.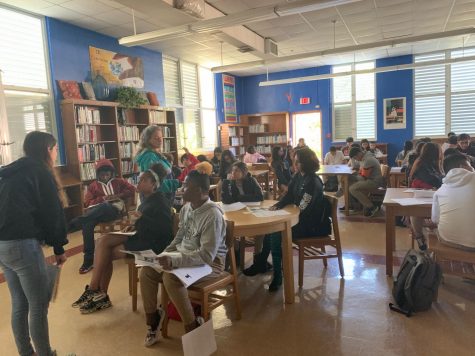 They were mainly inspired for this idea because, when they got to Gables, they realized that a vast amount of freshmen, especially those not in magnets, did not know about certain clubs or sports and opportunities they had until they got to their sophomore year. Fernandez and Torres made the decision to work with Ponce first because they noticed that many students in their programs came from there, and this could change the next class that comes into Gables.
"The whole goal of the 'IAmGables' project is to help these students start off strong at a great school. That is the impact we are trying to make, and hopefully this influences their high school experiences for the better," junior Daniel Fernandez said.
In their attempt to prepare incoming freshmen for their future opportunities at Gables, they were received with open arms at Ponce De Leon. The staff was very supportive and understanding of this project.
"I think it is an honor that the teachers and staff have let us become to involved in their students' lives. Of course, it is a little nerve-wracking, but I think we can really make a difference with these kids," junior Michaela Torres said.
Lessening the divide between magnet students and non-magnet students, these two juniors have taken a big step towards an increase of involvement at Gables. They hope to expand their work and direct more middle school students in the path that will make their years at Gables more enjoyable. Regardless of this project being so young, they still hope that one day they can get to other schools within the community.