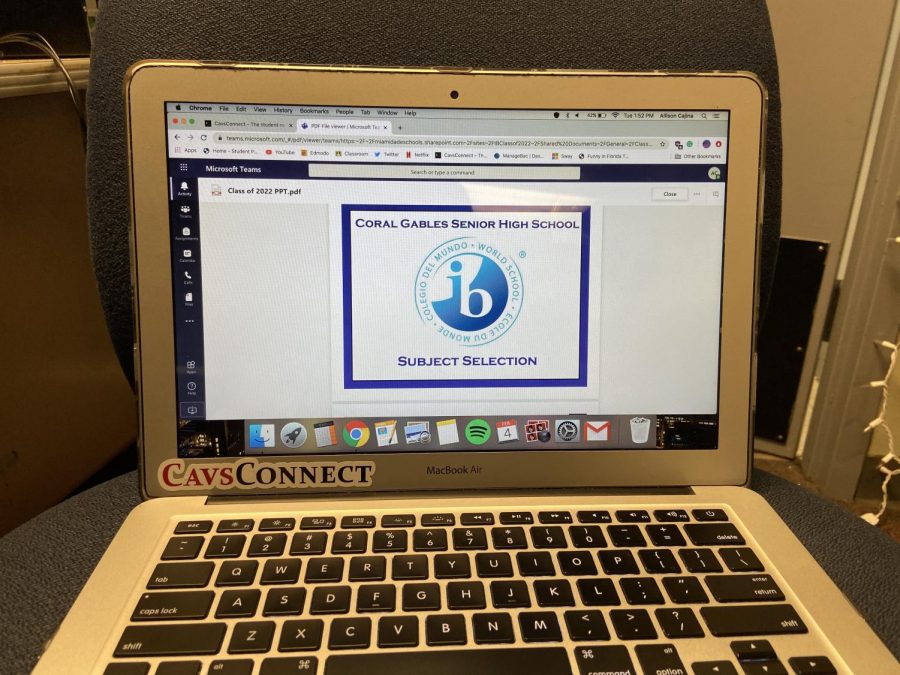 Allison Cajina
Subject selection is starting up again as counselors begin preparing students' schedules for the 2020-2021 school year. Cavaliers need to start planning out what classes they want to take. The forms are due on Feb. 12, but counselors advise that students turn them in by Feb. 10 to avoid any issues that may arise. In order to help Cavaliers plan out their schedule in the most effective way, they can get advice from other students. The following is a list of students they should consider when selecting their classes if they are part of the International Baccalaureate program.
Seek Guidance 
Before submitting the subject selection form, students should first talk to others who already have experience with different classes at Gables. By asking upperclassmen what they should know, they can get key knowledge that will allow them to make better, more informed choices. Students can also ask teachers about classes they are interested in. By hearing about the benefits, drawbacks, workload, curriculum and difficulty of a course straight from the professional that is teaching them, they will know whether or not it is the best opportunity for them. If kids are still unsure of how the whole process works, they can visit their assigned counselor to ask any remaining questions they may have.
Plan 
Make sure to plan out your ideal schedule. Make sure you are aware of the core classes you have to take, whether they are regular, Advanced Placement, Honors, Standard Level (SL), Higher Level (HL) or any other degree of work classification. By making a list, it makes it easier for future you, when you are officially selecting classes and submitting in the online form. Gables has an extensive list of electives, so choosing a few out of the many can sometimes be overwhelming. To avoid facing any uncertainty, it can be helpful to enumerate the pros and cons of certain classes. This way students can compare them easily and decide which one would be the most rewarding based on their interests.
For Current Freshmen:
Although they have barely had a taste of what high school is like, ninth graders have to use the knowledge they have gained in order to pick their classes for the upcoming year. Since they are still exploring the different aspects of Gables, it is helpful to receive tips from older students. Make friends this year that will help you as you grow in high school and get your questions answered. Depending on what science you are currently in you have different options. For those in Biology, they will move into Pre-IB Chemistry next year. However, for those in Chemistry this year, they can choose which science they would like to focus in: Physics, Biology, or Chemistry.
For the IB freshman class, students fill out this form.
For Current Sophomores:
It is vital to prepare for junior year ahead of time. This year has many deadlines that you must be aware of and opportunities that you need to look out for. Many students consider eleventh grade to be the most difficult year of high school. Formerly Pre-IB, Cavaliers will be officially joining the International Baccalaureate program in junior year. This means students need to prepare for projects such as their Extended Essays, which is a  4,000-word research paper on the topic of their choice. They also have to consider the fact that they will have to start choosing classes along the paths that they plan to SL or HL in. They should also make sure that they will do well in all the classes they sign up for because many colleges look at students' grades in junior year when considering applications and acceptances.
"Make sure that when you are picking your classes you are ready to manage the workloads combined. Realize that you make like individual classes, but take into account the fact that they might still be difficult when added to other advances classes. Junior year is stressful so you need to put in a lot of effort, and find a balance between easy and tough courses," junior Nicolas Cruz said.
Current Juniors
Future seniors have a lot to think about when it comes to their subjects. Twelfth grade comes with Standard and Higher Level classes, so they must pick which classes they will take at what level according to their skills and interests. It is imperative to remember that colleges may withdraw previous acceptances if a student's grades drop, so the standard of excellence students set for themselves must be upheld.
 "Since this is senior year, try to keep your schedule as rigorous as it was in previous years so colleges can see that you are maintaining the effort. I know it is cool to have friends in your classes, but choose your courses first, then them. You might get drawn to pick an easy class but pick something that you actually like," senior Luis Gonzalez said.
"If you know what your major is going to be, make sure you do your research for universities. If there are classes you want to get credits for Advanced Placement or IB, take them in senior year if you did not take them before. If you have the chance, take some classes you have never taken before to branch out," senior Braulio Gonzalez said.
If students have any additional questions they can refer to the powerpoints prepared by counselors, or they can also speak to the counselors themselves. During their free time, Cavaliers may be able to visit Ms. Lezcano in room 1114 for last names A through K, or Ms. Bergouignan in room 1109 for last names L through Z. They can also speak to the school's IB Coordinator Ms. Van Wyk for any additional issues by finding her office in room 2122. Students access their forms through the Teams application, which can be downloaded onto phones or located under the Microsoft Office section of the student portal.