Cavalier Globetrotters and Their Adventures During Winter Break 2019
During the 2019 holiday break, students hoped to relax from the academic rigor they faced during the first half of the school year. Everyone anticipated the joy that holidays ultimately bring, with some students even celebrating early by sporting very cheerful holiday sweaters and socks around the school. While some Cavaliers enjoyed this time at home, others anxiously awaited for the vacation plans they and their families would soon embark upon. The Cavaliers featured below spent their winter break traveling around the globe. 
---
Freshman Massimo Aguila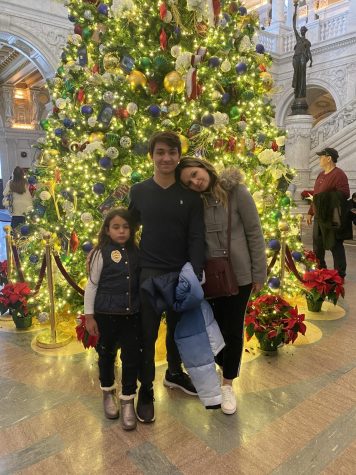 Massimo Aguila traveled to Washington D.C. and visited most of the popular tourist locations, such as the monuments, government buildings, and museums. He saw many historical buildings and structures that represented the freedom that makes this great nation a wonderful place to live in.
Aguila sees himself as a very patriotic person, and having the opportunity to visit the Capital only fueled his passion for the United States. His father, sharing the same patriotism, figured it would be a good place for a short trip over the winter break and Aguila agreed. With his family, Aguila visited museums that displayed culture, art, science, and aeronautics, while also visiting important government buildings, describing them as extremely busy with overcrowded groups of people. 
"My favorite thing about it is simply the beauty of the freedom given by the society in which the U.S. government and people ensure and the ambiance that surrounds that in the city. At the heart, you see the power of the different monuments and buildings like Capitol Hill and the Washington Monument and the mark they leave on you," freshman Massimo Aguila said.
Although he did not necessarily try anything new, he did note the layout of the city is different from Miami and other places he has visited. Aguila's favorite memory was spotting the snipers which lay on the top of the White House. He believes they represent the beauty and power found within the Capital and sees the true strength of the nation through their presence.
Sophomore Mark Snyder
Mark Snyder, alongside his family, enjoyed a trip to Spain. While passing through the famous cities of Barcelona, Madrid and Sevilla, Snyder experienced a happy, outgoing and life-filled culture that left him in awe. He loved the amount of socialization between the people and admired the way they all spoke with kindness.
Snyder's palette also expanded as he tried several local dishes. His favorite was a new local dish called Boquerones en Vinagre, a delicious appetizer which includes fresh anchovies marinated in vinegar and seasoned with garlic and parsley. His favorite memory is getting lost in Barcelona, which awarded him his own small adventure trying to figure out the metro system to get back to the hotel, seeking to reunite with his mother. Although he visits every year to visit his family that lives there, he greatly wants to visit again in the future.
Sophomore Lea Bergeot
Hearing that it is a beautiful place to visit, Lea Bergeot and her family decided to take a vacation in Rome, Italy and Rotterdam. The opportunity to visit ancient Greek sites excited Bergeot and she personally viewed the trip as a very eye-opening experience.
In Rome, they visited the Colosseum and the Pantheon, and they walked on many ancient roads, with her favorite thing about Rome being her visit to the aqueducts where she learned about the Romans' rich history.
In Rotterdam, a major port city in the Netherlands, Bergeot cycled through the towns looking at the different tourist sites and the modern architecture that has taken over the cities. Bergeot firmly believes she will return to Rome one day,as she feels there is still so much more to learn from the capital city of Italy.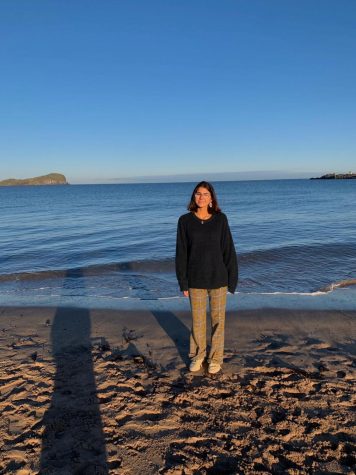 Senior Sara Zamora
Sara Zamora flew to Scotland with her parents to visit her family over the holidays: a trip she frequently takes over the holidays every two years. 
During their time in Scotland, Zamora and her parents went to beautiful beaches and dropped by the center of Scotland, Edinburg, where they visited museums and the local theater. Her family also made a lot of traditional foods like Haggis and black pudding which she has not only missed, but has learned to love.
Zamora's favorite part of her trip to Scotland was seeing her family, as well as experiencing something that is so different compared to where she lives. As she becomes older, she appreciates each trip more and more as she learns more about Scotland's culture every visit. 
"Miami and Scotland are very different in a lot of ways, but the culture specifically is very different to Miami. People are much nicer and there is a big focus on community," senior Sara Zamora said.
Senior Denise Cuevas
Denise Cuevas flew to visit her family in Nicaragua. She was left in true awe after witnessing the beautiful nature that makes up her country, and was able to appreciate the historic sites greatly. Cuevas brought in the New Year with her family. She was also able to attend a birthday celebration of her second cousin, which brought her great joy.
During the trip, she claims to have loved the feeling of disconnect from her normal, day-to-day life, and feels grateful for the time she spent with her cousins since she does not have much family in Miami. With her cousins, she visited parks around her family's neighborhood and even enjoyed riding her bike around, a skill she just recently learned and was able to enjoy with her family. Cuevas claims one of the things she noticed on those bike rides is how diverse and accepting of other cultures Nicaragua's culture is. The colors, food and personality of the Nicaraguan people all left her wanting to spend more than a couple of weeks there.
"There are people who come from all over the world to come to stay here. I ran into a woman from Switzerland in the small town that I stayed in called Jinotega. I have always felt connected with my culture due to my mom always spreading it with me in Miami," senior Denise Cuevas said.
Cuevas's favorite memory came on the night of Dec. 31, where she was surrounded by family, waiting to bring in the New Year together. After the clock struck 12:00, Cuevas felt immense happiness to have people that she cared about all around her. She is impatient to visit again and is already planning a trip back during spring break. Cuevas and her mother love to visit Nicaragua.
---
Traveling has the power to teach many about a country's culture, while allowing them to be transported to a whole new environment, as demonstrated by the experiences of our various Cavaliers. It allows one to experience how people with different customs spend their day-to-day lives and communicate with one another, further allowing them to broaden their own perspectives of the world around them. Most importantly, however, it gave them the opportunity to reunite with family during one of the most festive times of the year.