Expression Beyond the Classroom: Hidden Talents of Gables
Coral Gables Senior High is the proud home of over 3,000 students, many of whom carry unique talents with them that are not always up for showcase in their academic classes. By exploring these interests outside of school, they have found an activity that serves as their own. Below are some exemplary students that volunteered to provide their talents to CavsConnect, demonstrating how Gables offers multifaceted individuals with remarkable potential.
Sophomore Jasming Senel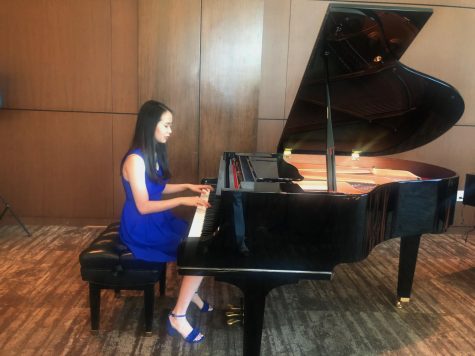 Jasming Senel is a musically talented 16-year-old who has learned to effortlessly play the piano. At the age of four, she was inspired to begin practicing by her best friend who had already begun to learn; twelve years later, she has not been able to put it down.
Not only does Senel practice on her own time, but she also teaches younger students how to play. She uses this time to also practice her own techniques. If she has truly learned the piece, she will be able to teach it to other students with little-to-no mistake. In August, Senel traveled to Los Angeles, California to acquire a Yamaha piano certification, which allows her to professionally instruct others. She was successful, and she is now able to instruct at any Yamaha music school now. Senel does not know how this learned skill will tie into her life's path later on, but for now, she enjoys the peace and serenity she feels when her fingers glide across the keys.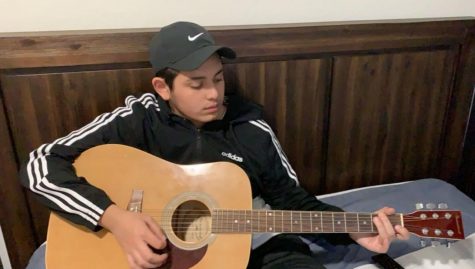 Sophomore Lenny Roque
Lenny Roque proficiently plays different instruments like the violin, drums and guitar, deciding to pick up the guitar after learning to play the violin. Roque still gives himself goosebumps when recalling the day in 2015 when he played at a venue for the first time. When he was 11 years old, a teacher of his suggested he showed off his drumming abilities, particularly remembering being a "nervous wreck" before, during, and after his performance. However, having others onstage performing beside him helped comfort his nerves to a certain extent. Roque plans to continue enhancing his instrumental abilities with the instruments he knows now, as well as learning to play other instruments.
"I kind of messed up, but no one else really noticed, so I just continued playing. Apart from my nerves that day, it was an overall great experience," sophomore Lenny Roque said about his first recital.
Junior Candela Perez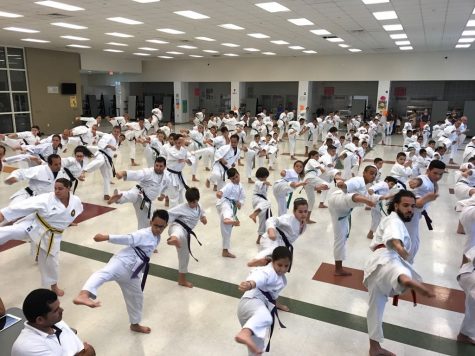 Besides housing musicians, Gables also has talented martial artists.  Candela Perez has been kicking and punching for as long as she can remember. Aside from developing a fondness for the discipline herself, Perez's parents believed it would be beneficial for her to master the art of defending herself and greatly encouraged the idea. Another member of her family who encouraged her choice was her grandfather. Perez believes this influence derived from her grandfather's years living in Japan.
Karate developed into a part of Perez's daily routine while growing up, yet she became quite serious about it as a teenager. Receiving her first-degree black belt was her biggest achievement; seeing her hard work finally pay off meant a lot to her. Today, Perez continues to find joy within the safe space found in her dojo community and is grateful she can now participate with the other trainees at her studio in a more constructive manner.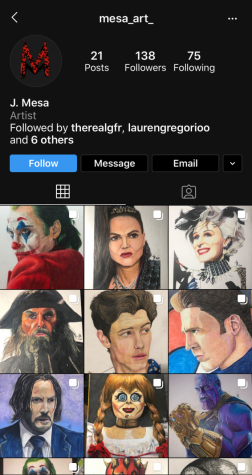 Sophomore Julian Mesa
Last, but certainly not least, sophomore artist Julian Mesa is a true connoisseur with the paintbrush. Mesa has been drawing since he was a young child, always finding something interesting to lay his eyes on and transform into his vision for the piece. The reasoning behind his love for art stems from his attendance in the photography magnet program offered at his middle school, prompting him to practice his skills quite frequently. Over time, Roque has been improving his skills. He believes this is a skill he has refined over time, rather than one he was born with.
When drawing, Mesa's artistic side prefers to use colored pencils to do a good job. He begins by creating an outline of his image and then proceeds to add color by layering various hues on top of each other. Mesa applies different pressures around the canvas while coloring and shading different areas to fully blend the different colors.
His favorite drawing is his most recent piece where he featured the main character of the new film "Joker". Mesa claims to enjoy drawing human portraits the most, remarking that he constantly challenges himself to make his drawings as realistic as he possibly can. Mesa believes he gets this perfectionist gene from his father, who, too, is an artist. Having previously been an art teacher, Mesa not only looks up to his father but appreciates all the kind, inspirational words he has given him throughout his years.
"I have an Instagram page dedicated to my art. I show my process and the final product for those who are interested to see the stuff I do," sophomore Julian Mesa said.
---
The students mentioned above have spent numerous hours practicing and honing in on their skills, all while staying on top of their classes to perform up to the standards expected by our school. From musicians to martial artists to visual artists, Gables is truly a diverse, multitalented, welcoming space for all.