Have Yourself a Merry Little Florida Christmas
As December rolls in and the holiday season begins to unfold, Floridians might have a bit of a difficulty to find Christmas spirit. With sunny days and weather not passing below the 50's, its hard to feel like it's Christmas time at all. Although this might be true, there are many different types of locations and events that will give off the perfect hallmark experience.
Santa's Enchanted Forest
Every year Santa's Enchanted Forest is assembled in Olympia Heights, right next to Tropical Park, from Nov 1 to Jan 6.  The holiday theme park features over 100 rides, shows, games and attractions. With friends and family, anyone can enjoy a night filled with fun through winning prizes and eating the vast range of food options that it holds. The park's entrance is lined with a red and green tunnel of lights, leading visitors into a long night of activities. With calm yet enjoyable rides like the merry-go-round or the Ferris wheel that will let visitors get a glimpse at the city lights. If that is not enough for the night, visitors can face thrilling rides like the Mega Drop, to help give the ultimate adrenaline rush, or rollercoasters like Crazy Mouth or Windstorm. Chicharrones, the fried strips of pork skin, along with elephant ears, a large circle of deep-fried dough with cinnamon, powdered sugar, chocolate and caramel, are two of the most popular treats sold at the theme park
City of Miami Holiday Tree Lighting Ceremony
For a more tranquil place, the City of Miami holds a tree lighting ceremony every year. On Dec. 6 from 5 pm to 10 pm you can join the City of Coral Gables across from Coral Gables City Hall, 405 Biltmore Way, for the lighting of the holiday tree. You may also find enjoyment in other activities that the even will offer like musical entertainment, pictures with Santa, face painting and arts and crafts. After the tree lighting ceremony, the park will still be opened and Santa will still welcome families for pictures.
Tchaikovsky's Nutcracker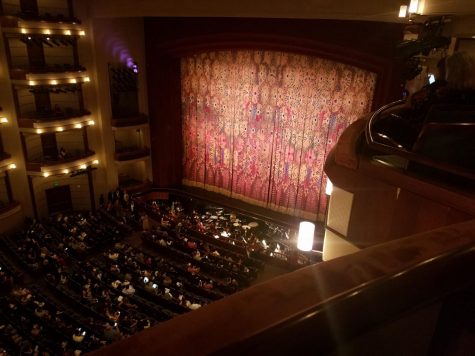 Miami City Ballet organizes the Tchaikovsky's Nutcracker opera-ballet filled with enchanting dancing toys and magical scenes. It takes place every day in the Arsht Center from Dec. 19 to Dec. 24. This wonderful tradition holds a night filled with orchestrated music and affects will create the perfect winter wonderland. The ballet takes us through a visual story of a little girl named Marie and have us follow the Nutcracker into a magical land as we meet toy soldiers and battle the Mouse King.
"The dancing was extremely well practiced, especially the synchronized parts that were mostly in act. 2. The scenery was also really pretty and the orchestra did a fantastic job playing the whole time as well and it was really touching too. The costumes were also colorful and different to each scene," sophomore Elizabeth O'Meara said.
Zoo Lights at Zoo Miami
Made just for zoo lovers, Zoo Miami becomes fully decked out in Christmas lights. Various animals like structures are well decorated with Amoled lights and real sound technology. 3D glasses are handed out to the visitors to experience the full effect and may other special features are organized. The event will take place on Dec. 22 and will be from 8:30 to 9:00 pm. During the time spent there, you will be able to enjoy animal encounters, snowman River Boat Rides, Panetone by Bauducco sampling, hot chocolate and cookies and photos with Santa. As well as  holiday Shopping at the Zoo Gift Shop. These activities will full on give a different view of the holidays, while happily seeing and spending time with nature and animals. A different routine like this one will be highly needed, especially in a non-stop city like Miami.
Bayfront Holiday Village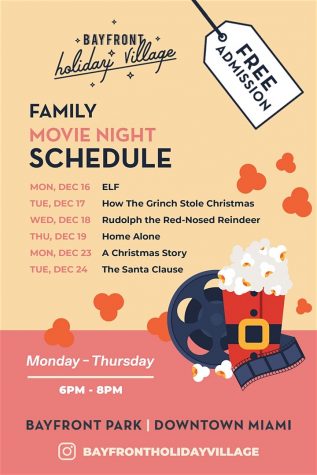 From Dec. 6 to Dec. 22, Bayfront Holiday Village transforms Bayfront Park into a great entertainment destination during the holiday season. The shops in that area will allow an enjoyable shopping spree, all while getting a glimpse of the 50-foot animated Christmas tree which sits in the middle of the Park. Bayfront Holiday Village also holds activities for young children as well. Bay Skate allows for children to strap on roller-skates and glide around the Christmas tree. The North Pole Express Post Office allows kids to sit and write their letters to Santa and mailing it to him in addition to taking a photo with Santa. Other activities include the Gnauty Gnome Scavanger Hunt and family movie night each day.
Although there won't be a thick sheet of snow awaiting for us Christmas morning and iceskating won't be the usual daily activity, there's something more to the holidays aside from all of this.
"Spending time with family and with the people you love is what I feel to be the best way to find spirit in the holidays here in Miami," sophomore Princesa Madriz said.
About the Contributor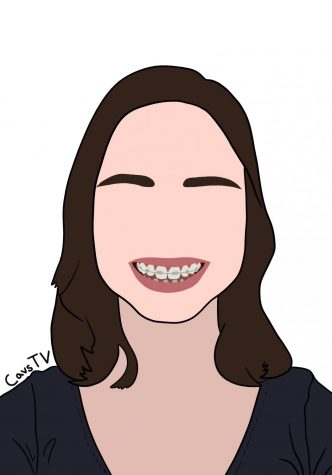 Amanda Perez, CavsTV Staff
Amanda Perez is currently a sophomore in the International Baccalaureate program at Coral Gables Senior High. This is her first year as a staff writer...