Sofia Sanz de Acedo: The Journey of Dance
After Sofia Sanz de Acedo finishes the week surrounded by her eager students and literary essays, where she teaches English at Brownsville middle school, she trades in her pens and paper for pom-poms to cheer on the sidelines of the Dolphin's stadium.
To others, this contrast may be surprising, but to Sanz de Acedo, it is as simple as continuing to be involved in a committed relationship with her life-long love: dance. The class of 2015 Gables alum first involved herself in the art of dance at five years old, twirling in ballet classes with hopes of imitating her older sister.
As her expertise in the sport developed, Sanz de Acedo dove into the world of the Gablettes and co., who pushed her to improve her technique and leadership skills, along with balancing the dance aspect of her life with the academic. In addition to regular school performances, the Gablettes dance team danced competitively and won the National Dance Alliance National Champions in both 2013 and 2015.
"Gablettes completely transformed my high school experience. My life would be completely different without it. I am so grateful for that program and everything it has done for me," alumna Sofia Sanz de Acedo said.
Though performances with the Gablettes may have been Sanz de Acedo's first experiences in the national spotlight, her dance career was just getting started. After graduation, she attended Florida State University to study English Literature and Education and cheered on the FSU cheer team, dubbed the "Golden Girls".
Upon graduating from college, Sanz de Acedo realized, although she was ready to start her career in Education, she was not ready to give up dance. So, in April of 2019, she attended her first audition for the Dolphins professional cheer team.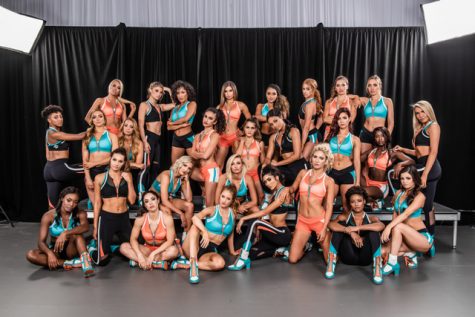 Over the next few months, the initial pool of 70 candidates withered down to 35 as the audition process, which included a week-long boot camp, four dance routines, and an interview went on. The remaining girls went through a summertime training camp to learn dances and cheers, Dolphins' techniques, and everything they would need to prepare for game day.
As the practices became a part of Sanz de Acedo's weekly routine, she adapted to the hot summer days, complex choreography, and strict schedule. However, nothing could prepare her for her final practice as a candidate, where, upon arriving at practice, she was informed that she would have to pass a comprehensive football test in order to be further considered for the position.
To the relief of the cheerleaders, the exam was a hoax. Instead, they were surprised with balloons and champagne and welcomed onto the official Dolphins' cheer team.
"I have never known her to not want to dance. I did not know she was trying out to be a Dolphins' cheerleader but I am not at all surprised to see her there," teacher Eric Molina said.
Practices immediately commenced, taking place three evenings a week from 6:30 to 10:00. The nearly four-hour practices helped the team perfect their performance for weekly Dolphin games, community events, and their own dance show called "Unir" which will showcase the diversity of the team's dance style.
Though they practice at a variety of venues, Sanz de Acedo is drawn to the high energy of the seasonal football games. Under the fluorescent lights of Hard Rock Stadium and surrounded by the cheers of thousands of enthusiastic fans, Sanz de Acedo feels that her art can truly thrive.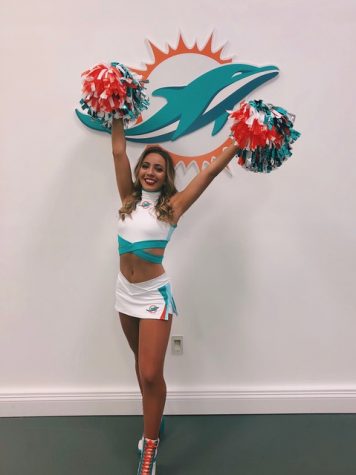 "My favorite part is performing at all of the games. Getting to do what I love in front of so many people is a truly indescribable feeling," Sofia Sanz de Acedo said.
Of course, with such thrill comes the struggle of balancing two demanding careers. Like any first-year school teacher, Sanz de Acedo is tasked with getting to know her students, developing lesson plans, and preparing classes for end-of-year exams, all of which is complicated by four-hour cheer practices, but Sanz de Acedo would not have it any other way.
"I love a challenge and I work better with a busy schedule," Sofia Sanz de Acedo said.
In fact, she hopes to continue dancing for as long as possible. In the future, she aspires to coach a high school dance team and give back to young dancers in the community. The Gablettes proved critical to developing her passion for the sport, she says, and she hopes to inspire teenagers in the same way that her Gablettes coach did.
To the young dancers interested in pursuing dance or cheer professionally, Sanz de Acedo emphasizes the importance of persistence and hard work: the same qualities that have brought her from the hallways of Gables to the national spotlight on the sidelines of professional games.