Time to Show That Gables Pride
With homecoming week less than a month away, students are readying themselves for the week-long, school spirit celebration leading up to the annual homecoming football game on Nov. 1st and the Homecoming Dance on Nov. 2nd. During these 6 days, students will be coming together to show off theirGables pride.
"
Spirit week is about getting everyone excited for the big football game on Friday while having fun dressing up to different concepts on the days before the game."
— freshman, Victoria Montalvo
The 2019-2020 Spirit week schedule goes as followed:
Monday – American Monday
Tuesday – Superhero/Disney Day
Wednesday – Blast From the Past
Thursday – Jocks vs. Nerds
Friday – Color Wars
 American Monday
American Monday is a day where students get to show off their love for America, and there are many ways one can do so.
On this day, one can sport an outfit inspired by America's official colors; Red, White and Blue. For example, a simple outfit would be a red shirt, blue jeans and white shoes or socks. Another thing you can also add to this simple patriotic outfit would be red, white and blue accessories (hair ties, bandanas, bracelets, necklaces and earrings).
For those who would like to try something a tad more spirited, maybe some camouflage clothing will spice up your look and one could never go wrong with some hunting gear and boots either!  To top off the day's look, you can add a bandana as well.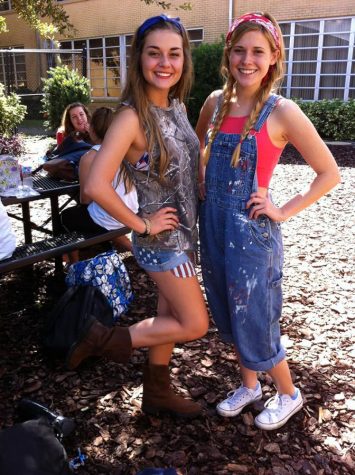 Superhero/Disney Day
Superhero/Disney Day will be the day to show off your inner child once again. It's time to dress up as your favorite superhero, villain, cartoon character and Disney character.
Once again, for this particular day, you can choose to do a simple representation of this character or go all out.
The simple approach to this day would be a shirt with the character's face or logo on it. Another thing would be a character inspired outfit. For example, if you want to be Minnie Mouse, your outfit could consist of a white shirt, jean jacket, polka dot skirt or jeans, red shoes and some Minnie Mouse ears. It's fairly simple to design an outfit around a specific person or character, especially if you have some inspiration from sites like Pinterest, Instagram, Tumblr and We Heart It.
For others who'd rather do a little more for Superhero/Disney day can either come with the Halloween costume of the character or they can even rock a character onesie!
Blast From the Past
Throwback time! Today's the day to let loose and wear all those vibrant and nostalgic items from the '70s, '80s, '90s and the '20s.
Whether it be a certain era's style or their bands that you like, an outfit will be simple to choose from.
Any tie-dye shirt paired with some bell-bottom jeans could be one outfit, while your favorite vintage band tee paired with some jeans could be another.
It is common to see many people dressing up as greasers on these days as well. For guys to pull it off all they would need are some black pants, a white shirt, a leather jacket and slicked-back hair. For girls to become greaser girls, they would need some black pants, a black and white or red and white striped shirt, a leather jacket, a bandana tied around the neck and teased ponytail.
Some other fun things one could add to the throwback look include:
Gogo Boots
Clout goggles
Jumper dresses
Swing coats
Floppy hats
Hippie glasses
 Jocks vs. Nerds
Whether you like to play sports after school or you like to read books during your free time this day is perfect for you.
Jocks
The students who would like to sport the sporty look you could pair any type of basketball shorts or biker shorts with a sports tee, though you could also add sweatbands, baseball caps, letterman jackets or muscles tees.
Nerds
Now, a pair of khakis with any button up shirt could be the base of your nerdy outfit and can be amped up by adding a bowtie and some thick rimmed glasses with some tape around the nose bridge of the glasses.
Color Wars
Before getting into any ideas for Color Wars, here are each grade level's representative color:
Seniors – Red
Juniors – White
Sophomores – Grey
Freshmen – Black
Now there are endless possibilities for what one can do for Color Wars. Of course, the monochromatic outfit is a must, but there are certain things you could add to show even more school spirit.
Face Paint 
Whether it be the lines under your eyes, lettering or handprints, face paint is sure to make you stand out.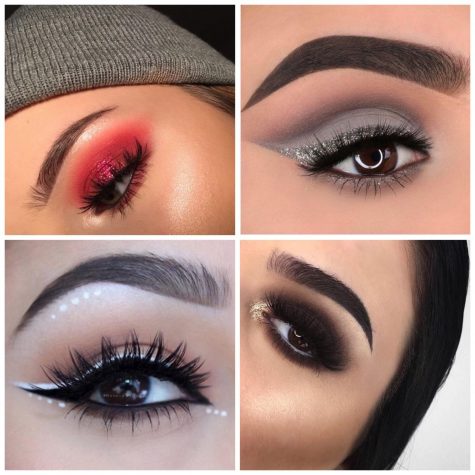 Makeup
If you're feeling up to it, you could base the day's makeup from your grade levels representative color. This lets you put an artistic twist to Color Wars as you can be as crazy or simple as you want with your makeup.
Spray-on Hair Dye
This is a cute and simple way to show some additional school spirit. Just spray some of the dye onto your hair in the morning and you've got newly dyed hair to show off for the rest of the day.
About the Contributor
Jeannette Perez, Staff Writer
Jeannette Perez is a freshman in the International Baccalaureate (IB) program at Coral Gables Senior High. She looks forward to joining the Lady Cavalier...