A Tribute To Our Sisters: Carolina Alvarez and Emily Simon
As everyone starts to settle into the 2019-2020 school year and ready themselves for the challenges that the school year may bring, the 2019 Coral Gables Senior High graduates are doing the same as they enter the next phase of their lives; all are ecstatic to start the college chapter of their lives. Many are pursuing joining a sports team, others are focusing more on their academics. Regardless, they all have begun to chase their dreams. Two of the CavsConnect team's recent graduates were recently interviewed – by their very own sisters – about their new beginnings. Aside from sharing their stories, they have also shared a few tips on how the graduating class of 2020 can more efficiently handle their college applications.
Carolina Alvarez 
Carolina Alvarez, former President of the Math Club, Treasurer for the Senior Board, a CavsConnect Copy Editor and a star player on the Lady Cavalier Soccer Team left Miami a few weeks ago for Massachusetts, where she will be attending Mount Holyoke College. Alvarez, through great academics and extracurricular activities, earned a full-tuition scholarship to the all women's college.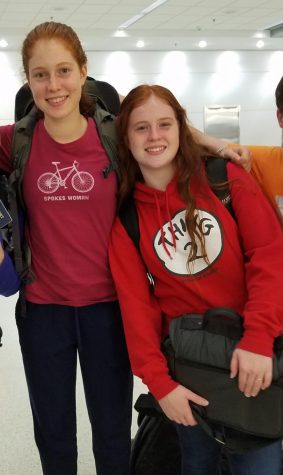 Although her classes did not start until Sept. 4th, Alvarez went two weeks earlier to try out for their soccer team. Fortunately, she qualified to join the varsity team, and she is very excited to have the opportunity to represent her college by doing what she loves most. By going a few weeks earlier, Alvarez was able to move in and get organized before the rest of her undergraduate class. Alvarez was also able to learn the layout of the campus in her spare time. Thankfully, her transition into her new home and school was easy.
"There is a very strong sense of community and people have gone out of their way to make sure that the other freshmen and I have a fun and smooth transition," alumna Carolina Alvarez said.
Now being settled in and prepared for her first year as a college student, she is mainly looking forward to starting the classes that correspond with her major. Alvarez is majoring in biochemistry with a minor in math and her Freshman Seminar for Mount Holyoke is the Exploration of Mars.
Alvarez said that she would not be where she is now without the help of former College Assistance Program (CAP) Counselor Mrs. Stack and the CAP office. She also noted how the International Baccalaureate program at Coral Gables Senior High helped prepare her for college life and the responsibilities she will soon be facing.
"Do not fixate on one college or university in your search because there is a chance that you may not be able to attend. Plus there are countless amazing schools out there that are just as good," alumna Carolina Alvarez said.
Emily Simon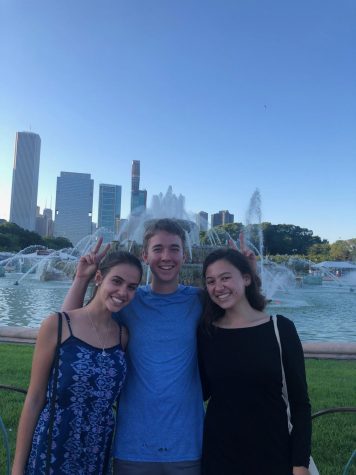 Emily Simon was the former president of the International Baccalaureate Honor Society, Co-Editor-in-Chief of CavsConnect, Vice-president of the Art Club and a member of the Coral Gables' girls soccer team. Simon is now a freshman at the University of Chicago; she plans on majoring in economics and is looking into a possible second major in public policy. She has received two scholarships – the Odyssey scholarship and the National Hispanic Merit scholarship – and is leaving Miami on Sept. 21st to officially settle into her new home at the university.
However, over the summer break, she spent seven weeks engaging in core level course work as a part of the Chicago Academic Achievement program. Because of this, she is quite familiar with the campus and is excited to officially start attending full-time. Simon is currently soaking up all the Miami sun she can get before heading to the freezing cold weather in Chicago, Illinois. 
"In my seven weeks at UChicago, I met many brilliant and passionate people. Going over the summer was an amazing opportunity because it allowed me to connect with my peers, my university, and the greater city of Chicago," alumna Emily Simon said.
Simon understands how stressful the college process can be, and she has many tips for this process. She is the first to remark that when applying to college, you should definitely get help. Throughout her college applications, she got a lot of help from her friends, family and, of course, the CAP office. One thing that is a must is making your supplement essays unique and unforgettable.
So far, Alvarez and Simon enjoyed the couple of weeks that they have lived in the college life and cannot wait to get back to it; their new homes are awaiting their return. These two astounding alumni are just a small part of the great class that was the graduating class of 2019, and we can only hope they are all doing just as well in their new homes.