Tips and Tricks to Guide You Through Fundraising Season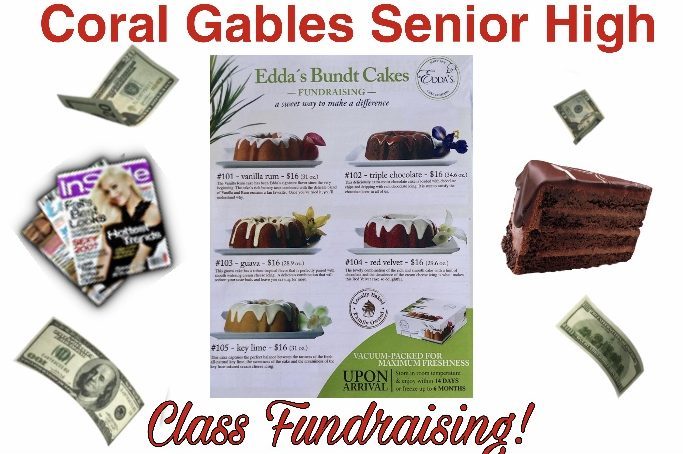 As the time left for the Coral Gables Senior High class fundraisers tick away, some students are wondering how to sell the products; this year, they are magazines and bundt cakes. Others may be confused about the purpose of this fundraiser, or what they will get in return. To get a better grasp of what is going on and why it is happening, here are a few tips and explanations:
---
How to Register
For those still wondering how to access the fundraiser, simply go to the American Publishers website. Once the site is reached, students can click on the "Register" button and input their class code. Depending on what grade students are in, their class code would be "CGHS", followed by the last two numbers of the year that they are expected to graduate in. For example, a sophomore's class code would be "CGHS22". One can also choose the "Find your school" option and select Coral Gables Senior High School just in case there is any confusion with the code. Once this is done, students need to register and create a profile. If students leave the page, they can log back in by clicking the "Register" button again, but this time choosing the "Login" button on the next page.
How to Fundraise
Once an account is set up, all students have to do is send their campaign to prospective customers. This means emailing any family, friends, neighbors or even acquaintances that may be interested. There are many tips on how to make your offer seem more enticing. By explaining the purpose of the fundraiser, and how it will benefit students in Gables, people will be more inclined to help out. It is also important to try to have established a relationship with potential donors; people are more motivated to help friends out rather than strangers. Another piece of advice is to market the product well; in this case, cakes and magazines are the selling items. You must also be sure that the items sound appealing when you describe them to others.
"I managed to sell all my items for the fundraiser by getting help from my family members. There were a couple of problems I faced such as some of my relatives couldn't buy the products or they couldn't reach the website," said freshman Alberto Rodriguez.
What is the Point?
There are many benefits to meeting the sales goal for the cakes and magazines. First and foremost, the money earned will support Gables and help the school pay for extra costs throughout the year,  in addition to minimizing the prices of activities. Meeting the goal will also give students the advantage of being able to go on their class trip to Universal Studios or Islands of Adventure, being allowed to go to homecoming, participating in treat days and other special privileges. All in all, it is important to be involved in school and help out, especially when there are awesome rewards. For those in ninth through eleventh grade, each individual student must raise at least sixty dollars. Seniors, on the other hand, must collect a total of at least one hundred dollars.
"The freshman fundraiser is between 60 and 70 dollars. For seniors, it is a little bit more because their incentive is to get extra graduation tickets. The senior class trip is a little extra, where they stay overnight at a hotel. They go up on a Thursday, and they do one of the parks, which is Universal or Islands. In the evening, we have a party for them, and then the next day, we go to the other park. Then, we go home," Mrs. DePaola, the senior class sponsor, said.
"
All the money given to the school always goes back to benefit us. I really want to participate in all the activities the school provides for us throughout the year"
— freshman Michelle Raudez
Who to Ask
If students have any questions, they can ask quite a few people for help. Cavaliers can see Ms. Suarez, the Student Activities Director, in building nine. If they want specific help and information about their grade level's responsibility, students can speak to their class sponsors. First-year students and seniors can visit Ms. DePaola in room 2164, sophomores can see Mrs. Monzon in room 3132 and juniors can talk to Mrs. Noval in room 9319.
Details
The first deadline for sales was Monday, September 9, and the winners of the first raffle were already announced. The second and final deadline is on Sunday, September 15, at eight p.m. Those who reach their sales goal by then will be able to participate in all of the aforementioned activities and all future treat days, in addition to having a great start to the 2019 – 2020 school year.
About the Contributor
Sofia Cruz, CavsConnect News Editor
Sofia Cruz is a sophomore in the International Baccalaureate program and is a second year staff member, returning to CavsConnect this year as News Editor....