History Is Made On An Epic Night
For the first time in Mr. Coral Gables pageant history, two students took the title home. Seniors Alfredo Wolfermann and Juan Toranzo were the chosen winners for this year. Although two students were not expected to win, the candidates demonstrated their extraordinary personalities, making it difficult to narrow it down to just one winner. This plot twist left the crowd crazed with excitement as they were witnessing Cavalier history being written.
---
Juan Toranzo
Toranzo remained positive, maintaining a good attitude throughout his journey throughout the pageant world. At first, Toranzo admits to the experience being scary and new; however, through hours of practice and preparation, he knew he would leave it all out on stage. At the end of the night, he was happy to share the title with his friend. For hours on end, pageant participants would rehearse, make mistakes together, but then laugh it off. This became an enlightening experience for him as they all worked towards one common goal: a night of excitement and laughs. Needless to say, Toranzo quickly became a fan favorite. When the final winners were announced, it came to no surprise he was one of them, even though Toranzo did not expect to make top five.
Through the eyes of the other contestants, Toranzo remained humble and genuine throughout the competition. When asked, Toranzo says he believes that everyone was extremely talented and worked very hard to make the night as great as it was. Having the honor to share the title of Mr. Coral Gables is definitely a milestone, not only in his high school experience but for the Junior Reserve Officer Training Corps (JROTC) program. He never thought that he would participate in this event, more so win. The experience has taught him to get out of his comfort zone and to take every opportunity that crosses his path. This performance was an unforgettable experience for Toranzo, and he would do it all over again if he could. Toranzo performed a rifle spinning routine coordinated with music to show the attention to detail the drill team uses when performing in competition or drill meets. Toranzo wanted to represent JROTC as it has been his home while attending Coral Gables Senior High. 
"Earning the title Mr.Coral Gables not only represents me but all of the students in JROTC. They were my motivation," senior Juan Toronzo said.
---
  Alfredo Wolfermann
Going into the competition, Wolfermann was just hoping to do his best and have fun. He had experienced this thrill last year and just remembered how fun practices and rehearsals were. Wolfermann became close to his fellow contestants because of all the practices they attended together, especially seniors Juan Toronzo and Thomas Harley. This whole experience made him love Gables High even more. Although he has been through this before, he was not sure what to expect. Having not been able to perform his routine in last year's show, Wolfermann was determined to leave it all out on the stage.  Wolfermann's dancing skills, however, took a lot of training to develop. Nevertheless, Wolfermann very happily and humbly, thanked the Gablettes for all their hard work, from being constant motivators to being patient with all the dancing mistakes made in the process. For the talent portion, Wolfermann chose to play the guitar as it is something that he loves doing and he wanted to be as genuine as possible for his performance. Wolfermann is very glad he participated in Mr. Coral Gables as Mr. Activities this year, and he is even more happy about having been able to perform his musicals talents he has been acquiring for years, leaving the audience in awe of his skills.
"I was motivated to participate in the show because I know it is a very fun experience, but also because I knew it would be an honor to win and be able to represent my school as Mr. Coral Gables. In the end, I did end up winning and in retrospect, I am super grateful for the experience, it was amazing," senior Alfredo Wolfermann said.          
For those in attendance, they will always be able to take claim to their seat as history was made when two winners were announced. However, winning is not the only prize that contestants took away from the entire experience. They also took away new friendships, expanded comfort zones and newly discovered talents. This experience, as tiresome and dedicated as it may be, is worth it. In years from now, while looking back at your high school days, make sure you made every moment count, whether it be from the audience or from the big stage. Stay on the look-out for next year's Mr. Coral Gables!
About the Writer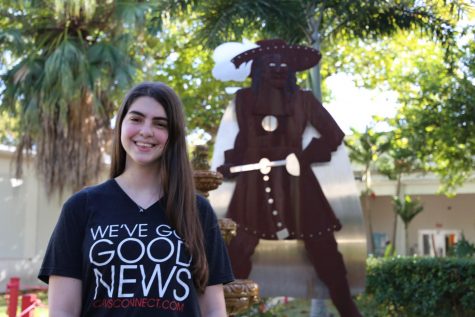 Melanie Estrada, Managing Editor
Melanie Estrada is an International Baccalaureate (IB) sophomore at Coral Gables Senior High who really loves to be a part of CavsConnect as the site's...