Catching a Cav with Character: Inquirer
An inquirer can be described as someone who possesses the enthusiasm to learn and grow throughout their educational, professional and personal life. The ambition to improve and develop investigative skills allows an inquirer to nurture their curious personality. The qualities of an inquirer have been particularly outstanding in some of our very own Cavaliers: Victor Zaharia, Edwin Bermudez, Alexander Sutton and Martyna Kwiatkowska.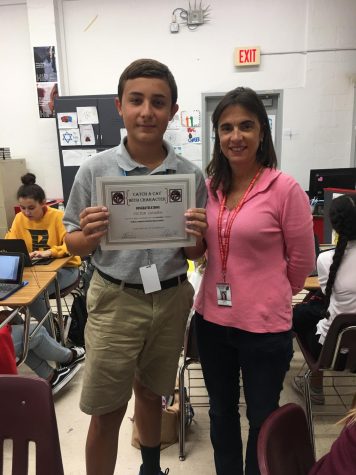 Grade 9: Victor Zaharia
Zaharia has demonstrated an immense curiosity in the classroom, which has led him to continuously improve as a student. It can be difficult to overcome the transition from middle school into high school, but his passion to learn has facilitated this transition and allowed him to enroll as a student in the prestigious International Baccalaureate program. His biggest struggle was learning to navigate such a big campus, but he enjoys the new experience! Although his high school career has just started, Zaharia has already proven he is working hard to adjust to the high school standards. Zaharia stands out in the classroom with his ability to work independently and efficiently while aspiring to continue developing as an inquirer. 
"I think the qualities of an inquirer are seen in my passion for writing. Writing is a form of art for me. Ms. Delgado and Ms. Ramirez have both helped me improve my writing," freshman Victor Zaharia said.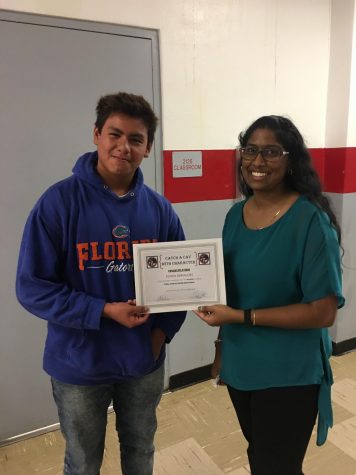 Grade 10: Edwin Bermudez
Bermudez has demonstrated the qualities of an inquirer by always yearning to learn more. Always seeking to further research a wide range of topics, he has become a highly skilled investigator. He is recognized by his teachers and peers as someone who is instinctively  curious and extremely dedicated to finding an answer. Bermudez's spirit of inquirty shines through his efforts to learn more about Biology and Algebra outside of a classroom setting. His passion for these topics leads him to ask questions outside of the scope of the class.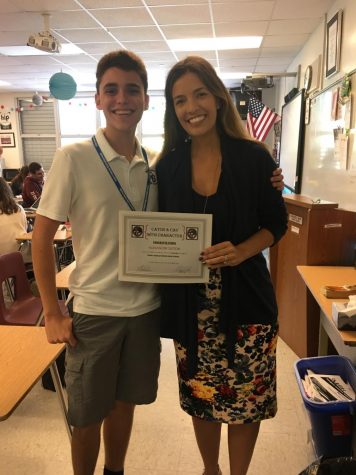 Grade 11: Alexander Sutton
Sutton constantly seeks to expand his knowledge both in and outside of the classroom. He is well-known among his peers and teachers for going beyond what is expected of him in class. Sutton demonstrates his passion for learning by not being afraid to ask questions and encouraging others to do the same.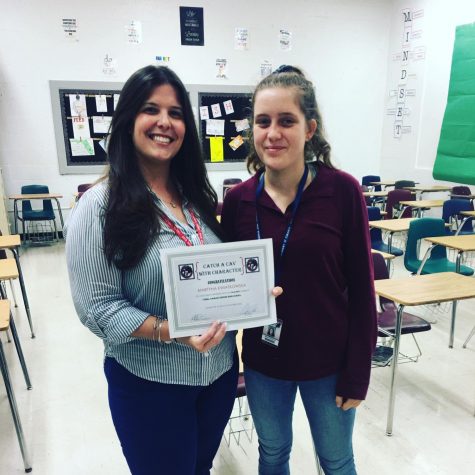 Grade 12: Martyna Kwiatkowska
Kwiatkowska's teachers acknowledge her active participation in her classes. She puts in a lot of effort to succeed in school and challenges herself by going beyond the scope of class material. She is open-minded about several of the topics discussed in class as she has the ability to think of differing perspectives in search of a final conclusion. Kwiatkowska is graduating early, which can be challenging, but she enjoys putting in work to pursue her goals
"Asking questions of different standpoints or viewpoints leads to a well-rounded individual which that is what I strive to do and encourage others to do," senior Martyna Kwiatkowska said.
These individuals are recognized for their academic excellence and passion for learning. Their desire and need to understand the full meaning behind concepts has led them to be more attentive to the small details in the lessons they learn. It is our deepest hope that they continue to flourish as a result of their inquisitive personalities. Congratulations Cavaliers!