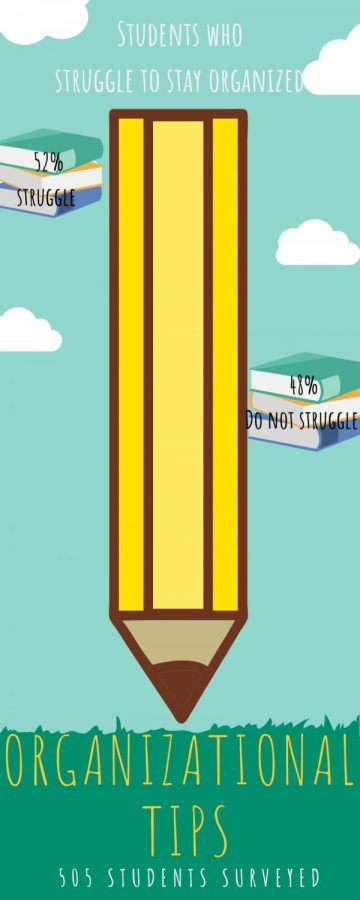 Gabriella Torna
As August approaches, most students dread the start of the school year as they say goodbye to their stress-free summer. For most, getting back into a routine can be difficult at first, but staying organized is an easy way to fix that! If you do not know where to begin, having a daily routine that you can follow can make your workload more bearable. If you are someone who does not like having a strict routine, here are some quick and easy tips that you can incorporate into your daily life to alleviate stress.
Tip #1: Planning your Way to Success with a Planner 
If you are someone who struggles to stay organized, then getting a planner is the easiest and quickest way for you to break the habit of being disorganized! Writing all your homework assignments, quizzes, tests and project due dates in one place allows you to manage your workload. Another great benefit of keeping a planner is that it also helps you balance your social life, school life and work life. With a planner, you can instantly know which days you have off and use them to plan time to spend with your family and friends — remember the key to being organized is having a balanced life.
"The best advice I can give someone who wants to stay organized is to get a planner and keep it updated, keep your priorities straight, and manage your time," sophomore Gabriella Serrano said.
Tip#2: Have a Family Support System 
Although this tip is very similar to the one previously mentioned, having a family calendar in a room where it is accessible to every member can easily improve your organization and time-management skills! One of the main struggles students have is finding a way to balance their home life and school life, making it common for students to choose their school responsibilities over spending time with their families. However, with a family calendar, you know when both you and your family members are free and can use this time to catch up. Also, even if your schedule does not allow for a lot of family time, giving your parents and siblings access to your calendar can make them feel more involved in your life.
Tip#3: Installing your way to the Top
Nowadays, there are many apps like "Pocket Schedule Planner" and "Planner Pro – Daily Calendar" that help students keep track of what they need to do, which is helpful for those who are constantly on their phones. A great benefit of using one of these apps is that they have timers that remind you when to start your homework and how long you should take before you have to move onto the next task on your to-do list, so there's no room for procrastination if you are strict about the reminders. Additionally, these apps are an excellent way for you to incorporate a strict daily routine in case your lifestyle requires a bit more structure than the norm.
"I usually get home at about 3:30 p.m. so I eat a snack and do what I need to do but once it's 4 p.m. and I have a reminder set to start all of my homework," freshman Maureen Mazloum said. 
Staying organized and focused are key concepts that everyone should apply in their lives, but especially high school students who are trying to succeed during these four years before heading out to college. Although staying organized can be difficult at first, you will find yourself feeling less stress and having more free time on your hands as soon as you get used to it! Just remember that you have to find a system that works for you and fits your personal lifestyle because what might work for others may not work you.