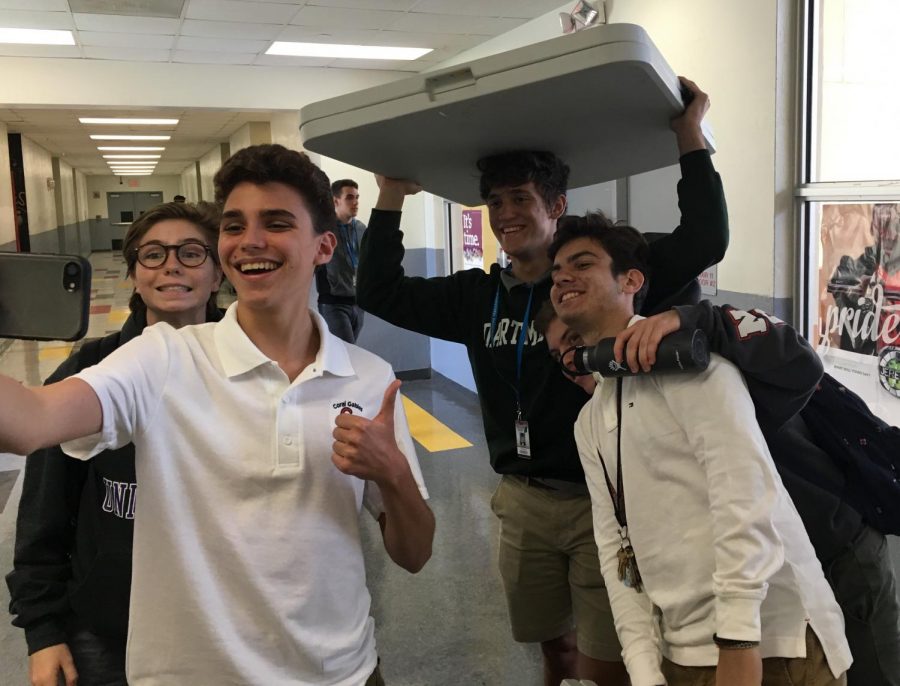 Daniel Toll
There is a common notion that New Year's resolutions are typically disregarded just weeks after their inception. However, that is not the case with Alexander Sutton, who, on Jan. 1, 2018, set his mind on beginning a project, the "Selfie a Day Project."
Sutton, a junior in the International Baccalaureate (IB) Program, started this project in an attempt to expand upon his social circle and to disregard the "self" in selfie, placing a profound emphasis on those who are around him when he takes his pictures. Notoriously known around the Gables Campus as the "Selfie Kid," Sutton did not have an Instagram account before his "Selfie A Day Project." However, he quickly became the subject of conversation around the school and the Gables community.
"I believe selfies aren't supposed to be just about the self. They should also be about the people who are around you," junior Alexander Sutton said.
Especially in recent months, Sutton's Instagram account has been growing at an exponential rate. Today, 240 selfies later, it has soared well beyond 800 followers. His selfies, Sutton assertively states, serve as a bonding link between himself and his classmates, teachers and other people he encounters in his community. Through selfies, Sutton hopes to bring people together, enhance his personal connections and feature both new and familiar faces on his account.
Despite the project's origins primarily being centered around his friends and acquaintances at school, Sutton has taken it to new heights. In addition to teachers and school administrators, he has also come into contact with the superintendent of Miami-Dade County Public Schools, Alberto Carvalho and several politicians running for office, capturing great moments and sharing them with the public.
"One of my most memorable selfies was when I went to the governor's debate in Naples and got a selfie with people running for governor. I've taken a selfie with Andrew Gillum, who, on Aug. 28, became the Democratic nominee for governor. I got a selfie with him back in June, when he was coming in the last place in the polls. I've also taken a selfie with Gwen Graham, who was in the United States House of Representatives, and also with Donna Shalala, who just won the Democratic nomination to be in Congress," junior Alexander Sutton said.
Despite his many selfies with renowned individuals, Sutton vividly recalls his most memorable selfie of 2018. Claiming it to be his "most populated selfie of all," the selfie captured over a hundred of Mrs. Landsea's nervous sophomores on the afternoon before the Advanced Placement European History Exam. Using his selfie project as a means of lightening the reasonably tense mood, he took a selfie with all of his peers huddled together in the hallway of the first floor of the Ralph Moore building.
Nevertheless, the impact of this selfie project has been nothing short of life-changing for Alexander Sutton. It has given him a reason to interact more with the people in his community, with the people that surround him and even with strangers that enthusiastically agree to share a humorous, light-hearted moment with him. With just over 100 days remaining on his project, Sutton hopes to continue using his Instagram account to enrich his social circle, and believes that a selfie a day really is the greatest way.
[powr-instagram-feed id=6f0b4096_1535562550317]