Great Meals: With and Without Meat!
Cooking meals can be a hassle, but it is significantly harder when eliminating key ingredients because of a lifestyle choice in one's diet. Cooking does not always have to be an inevitable chore, especially with easy recipes that are designed to make time in the kitchen easier.
A traditional breakfast consists of waffles, pancakes or eggs, but another classic is the breakfast burrito. Typically, a breakfast burrito consists of eggs and sausage, but vegetarians don't eat sausage, and vegans eat neither sausage nor eggs. An alternative meal for those with these dietary restrictions is provided below.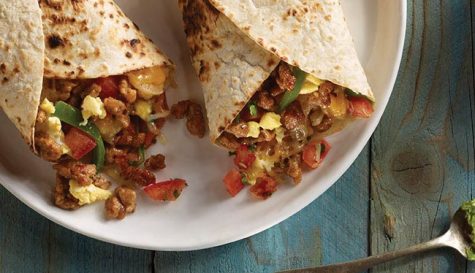 Meat Lover's:
Ingredients (for two servings):
1/2 cup of sausage, crumbles
2 tbsp of green bell pepper and onion
2 eggs
2 flour tortillas
1/4 cup of shredded cheese
2 tbsp of salsa
Directions:
Cook and stir sausage, green pepper and onion in medium nonstick skillet over medium heat for approximately 5 to 6 minutes.
Add eggs; cook and stir for another 3 to 4 minutes.
Spoon half of the mixture down center of each tortilla
Top with half of each of the cheese and salsa.
Fold in opposite sides of each tortilla, then roll into a burrito.
Veggie Delight: 
Ingredients (for two servings):
1/2 cup cooked black beans
juice of 1/4 lime
1/4 tsp cumin
1/8 tsp paprika
2 eggs
1 tbsp milk
Pinch of salt and pepper
1/4 tsp olive oil
2 medium-sized tortillas
arugula
1/4 avocado, sliced
goat cheese or cotija cheese, crumbled
salsa
Directions:
Sprinkle beans with lime juice, cumin, and paprika and stir to combine. Set aside.
In a medium-sized bowl, whisk together the eggs and milk with a sprinkle of salt and pepper.
Heat a skillet over medium heat, add olive oil, and pour in egg mixture. Cook for about 2-4 minutes. Do not forget to stir!
While the eggs are cooking, heat tortillas, either in a microwave or toaster. Keep covered until ready to serve.
Time to put it all together! Assemble the burritos, layer tortillas with arugula, bean mixture, scrambled eggs, avocado, cheese, and salsa.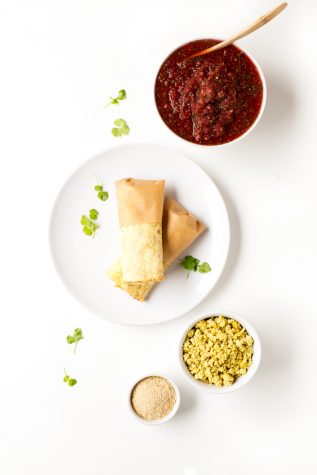 Vegan Eats: 
Ingredients (for four servings):
4 tortillas
Red onion, chopped
Tofu scramble
4 tbsp nutritional yeast
Simple restaurant-style salsa
Avocado, diced
Tofu Scramble:
5 oz. firm tofu
Extra virgin olive oil
¼ tsp ground turmeric
Salt and Pepper
Directions:
Place the tortillas in a skillet over medium heat and cook them for about 30 seconds on each side.
Add the ingredients (red onion, tofu scramble, avocado, salsa and 1 tbsp nutritional yeast per burrito).
Fold ends in and roll up.
For the Tofu Scramble:
Crumble the tofu into bite-sized pieces.
Heat some oil in a skillet, add the tofu and the rest of the ingredients and cook the tofu (about 10 minutes)
America's favorite meal could be described as a pizza pie. Pizzas are diverse, topped with almost anything from pineapple to anchovies to pepperoni. Variety makes this meal a great alternative for meat eaters, vegetarians and vegans alike.
"I've tried vegan pizza before and it's actually pretty good! The cheese is creamier than normal cheese, so it doesn't feel the same, but overall it's very good. I've also tried pizza without cheese and, personally, I like it much more. This option is only bread with sauce and toppings, which for me tastes great," sophomore Sofia Villarroel said.
Mega-Meat: 
Ingredients (for one pizza):
1 ball of pizza dough
1/2 cup pizza sauce
2 cloves garlic, minced
1 – 1 1/2 cups shredded Canadian mozzarella
8-10 slices pepperoni
1-2 slices of ham, cut into small squares
2 slices of crispy bacon, cut into small pieces
1 link spicy sausage, removed from casing and browned
1/2 cup browned ground beef
Directions:
Preheat oven to 500°–550°F.
Lightly oil a cast iron pan and shape dough into a circle until it is fairly thin.
Spread on the sauce almost to the edges and sprinkle on the garlic.
Top with mozzarella, followed by all the meat toppings
Place in the oven to bake for 12-15 minutes, or until the crust is crispy.
The Valued Vegetarian: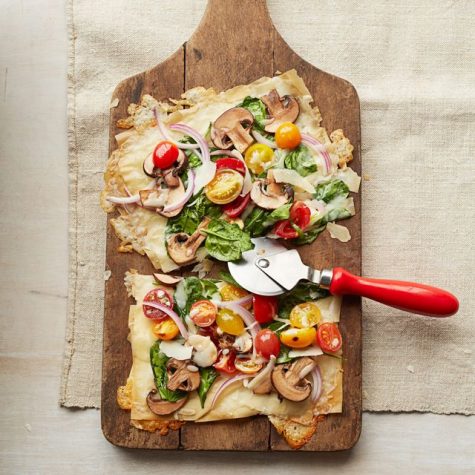 Ingredients (for one pizza):
1 ball of pizza dough
4 cups baby spinach
2 cups halved cherry tomatoes
1 cup sliced mushrooms
½ small red onion
2 tbsp. olive oil
½ tsp. salt
1 cup shredded part-skim mozzarella cheese
Directions:
Preheat oven to 450°F.
Roll out pizza dough until it is a thin circle.
Toss baby spinach, halved cherry tomatoes, sliced mushrooms, red onion, olive oil, and salt in large bowl.
Divide mozzarella cheese and vegetable mixture among crust evenly.
Bake 3 to 4 minutes or until cheese melts.
Vegan Pizza: 
Ingredients (for one pizza):
Crust:
1 tsp active yeast
½ cup warm water
1 tbsp flour
1¼ cup flour
⅓ tsp salt
1 tsp olive oil
½ tsp dried oregano or other herbs
Pizza toppings:
Red Pizza sauce of choice
Sliced bell pepper
Sliced red onion
thinly sliced white mushrooms
sliced zucchini or other
sliced veggies of choice
sliced kalamata olives
2 cloves of garlic, finely chopped
1 tsp extra virgin olive oil
fresh basil
vegan Parmesan (or use any other vegan cheese recipes for mozzarella, cheddar)
Directions:
In a bowl, mix warm water, yeast and 1 tbsp flour. Let it sit for a few minutes to activate.
Add 1 cup flour, salt, herbs and garlic and olive oil and mix in. Add another 3 tbsp flour and mix in. Get your hands in there to mix and knead for a few seconds into a soft slightly sticky dough. Add another tbsp flour if needed. Gather the dough into a ball and let it sit for 15 minutes in a warm place.
Add a ½ tsp oil over the dough and spread with your hands. Gather the dough into a ball and place on parchment lined sheet.
Use a bit of flour to spread the dough into a 13-14  inch size oval. Spread it depending on how thick or thin you want the crust to be. Keep the edges thicker than the center (see video). Let it sit for a few minutes.
Preheat the oven to 435 degrees F.
Spread the pizza sauce on the crust. Distribute the sliced veggies, mushrooms and olives evenly.
Mix chopped garlic with a tsp of olive oil and a pinch of salt and oregano. Sprinkle over the pizza.
Salt the veggies. Sprinkle meltable vegan cheese on the veggies if using at this point.
Bake the pizza for 17 to 18 minutes or until golden on the edges. Sprinkle toppings of your choice.
Vegetarians and meat-eaters combine forces when it comes to desserts! Both diets share a recipe for baking brownies, while a quick vegan hack makes baking this sweet treat simple for those who do not eat animal products such as eggs.
The Original Brownie:
Ingredients (makes about 24 brownies):
1 cup (2 sticks) butter or margarine
2 cups sugar
2 teaspoons vanilla extract
4 eggs
3/4 cup cocoa
1 cup all-purpose flour
1/2 teaspoon baking powder
1/4 teaspoon salt
1 cup chopped nuts (optional)
Directions:
Heat oven to 350°F. Grease 13x9x2-inch baking pan.
Place butter in a large microwave-safe bowl. Microwave at medium for about 2 minutes.
Stir in sugar and vanilla, eggs one at a time, and then add cocoa.
Add flour, baking powder and salt and stir in nuts, if desired.
Stir well. Pour batter into prepared pan.
Bake 30 to 35 minutes.
Cool completely in pan on wire rack.
Cut into bars.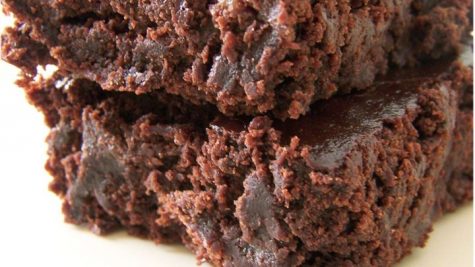 Very Vegan: 
Ingredients:
2 cups of all-purpose flour
3/4 cup unsweetened cocoa powder
1 tsp baking powder
1 tsp salt
1 cup of water
1 cup of vegetable oil
1 tsp of vanilla extract
Directions:
Preheat oven to 350°F.
Stir together the flour, sugar, cocoa powder, baking powder, and salt.
Pour in water, vegetable oil, and vanilla.
Mix until blended, then pour into 9x13in baking pan.
Bake for 25-30 minutes.
Let cool for about 10 minutes before serving.
Many argue that not eating meat can be a difficult and expensive dietary commitment. Sophomore Brianna Curran disagrees.
"Since becoming a vegan, I have been able to have a first hand look at how recipes can be made vegan friendly with the replacement of few ingredients," Curran said.
These recipes provide insight that any meal can be spun in a way to serve these lifestyles!
About the Contributor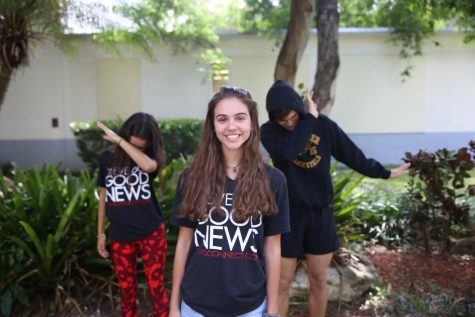 Emily Simon, Editor-in-Chief
Emily Simon is a senior in the International Baccalaureate (IB) program at Coral Gables Senior High. Serving as both the Features and Student Life editor...