Meet your Varsity Soccer Captains!
After years of dedicating themselves to their crafts, seniors Amy Perez, Kiayra Arnold, Carolina Figueroa and Amy Ransom have the honor of fulfilling the roles of soccer team captains. Only a few athletes are given the opportunity to lead their team through wins and losses and push their peers to do their best on and off of the field.
Amy Perez: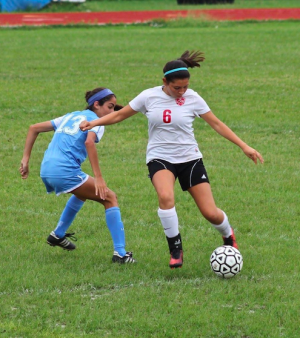 Amy Perez has been playing soccer since she was eight years old, allowing her to perfect her game over the course of 9 years.
"My dad came into my room one day and handed me a pair of cleats and the soccer registration to my first club team. I'm grateful he did that because since that day, soccer has become a huge part of my life," Perez said.
Perez has used soccer to relieve any stress she might have. To her, a wave of peace and calm washes over her every time she steps on the field. It also helps that she has always been talented, winning her first tournament at age nine, only a year after she began playing soccer.
She draws inspiration to get better from her favorite soccer team, FC Barcelona.
"They might not be the strongest or biggest players, but they play with all their heart and play with such confidence and speed," Perez said.
As one of this year's captains, she hopes to motivate her team to grow as players and instill the idea that you should never give up. She feels being captain will be an amazing experience. She looks forward to having the opportunity to carry the team on her shoulders and be there for them no matter what.
Carolina Figueroa: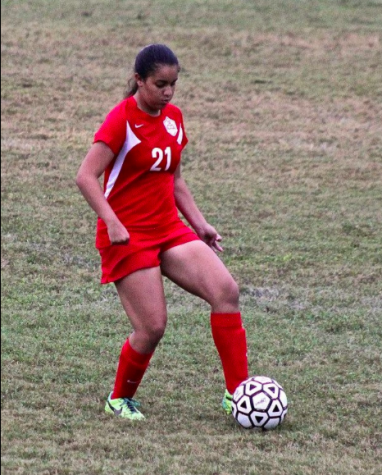 Carolina Figueroa has been playing soccer for as long as she can remember, beginning at the young age of four years old. Figueroa began playing soccer because she was inspired by her dad, who played soccer throughout his youth and is grateful she started playing herself, as the sport has introduced her to many of her closest friends.
Thanks to her hard work and dedication, she is this year's captain and is excited to take up this role. Her vision for this year's season is to ensure her teammates are focused, avoid losing the ability to have fun, and of course, win games.
A player whom she feels is truly inspirational is Lionel Messi of FC Barcelona because he is a legendary player with a lot of heart. Unlike Messi, Figueroa is a defender, but that does not stop her from trying her hand at taking shots on goal.
"The one and only goal I ever had was a penalty kick, and it's important to me because I'm a defender so I don't get a lot of chances to score goals. I will always remember that goal," Figueroa said.
Amy Ransom: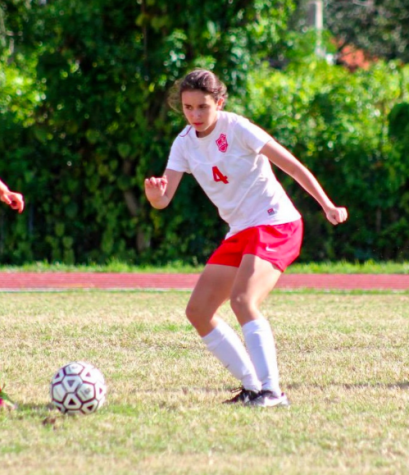 Amy Ransom has been playing soccer for a total of 11 years, only taking a short break the years before beginning middle school. She began playing because of her brother, who also had a passion for the sport. In the beginning, she enjoyed soccer because it gave her the ability to run around but now she loves scoring goals and sharing good moments with her teammates.
She has shared many positive memories with her teammates, including a game against Miami Beach Senior High School two years ago. At a loss going into halftime, the Gables team came back and beat Miami Beach by a few goals. Another good memory in disguise was when the team lost 2-1 to Our Lady of Lourdes Academy last season, marking their closest game with their rivals. Although these are some of the highlights of her time here at Gables, bonding with her teammates is high on the list, ranging from afternoon practices to lengthy bus rides–she cherishes it all.
Ransom is inspired by the women who play for the United States National team, because they are skilled and creative, aside from being some of the best players in the world.
"I also like [the U.S. Women's National Soccer Team] because they go against sexist stereotypes of women being bad athletes by showing how women can be incredibly talented at sports," Ransom said.
She admits to being nervous about the responsibility of being team captain, hoping to encourage positivity among her teammates. Her main goal as this year's captain is to beat long-time rivals, Lourdes Academy. Her plan to beat them is by instilling confidence in her teammates, enabling them to play strong against their opponents.
Outside of life on the field, Ransom is also passionate about creative writing and literature, taking part in the literary magazine here on campus as a staff writer.
These four teammates are ready to lead their team to many victories this season. Make sure to stay updated on the girl's soccer team and their record as the season progresses!