5 Super Foods to Include in Your Daily Diet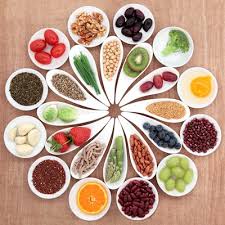 Summer is around the corner, and many of us are aiming for that perfect summer body. With that in mind, simply working out may not be enough; having a healthy diet can solve this problem. Changing your complete diet from one day to the next can be hard, so here are some super foods that you can include in almost any meal and be one step closer to showing off your six pack!
1. Berries: If you want to eat more fiber, berries are the perfect thing to try. Raspberries have the most fiber, at 8 grams per cup- and also contain anti-cancerous properties. Blueberries contain half of the fiber raspberries have but are loaded with antioxidants, which can keep your mind sharper. Strawberries don't have nearly as much fiber but have vitamin-C, perfect for making your skin smooth and shiny. A quick a tasty recipe for a berry smoothie will fuel you up for school.
2. Eggs: A high-quality source of protein, eggs can keep you energized and focused throughout the day. Not only do eggs keep you moving, but they also leave you feeling satisfied. If you're not craving eggs for breakfast, simply hard boil two eggs and add it to a salad! This tiny yet powerful superfood, will keep you focused throughout your day! Here is a fueling egg salad that you can try. 
"
"Almost every morning I have a chia pudding since it keeps me satisfied throughout the day, as well as having beans for lunch since it gives me the right amount of protein I need.""
— senior Charlotte Leforestier
3. Beans: Beans are a good plant-based source of iron (up to 13 mg per 3/4 cup)! Beans also contain loads of fiber: 1/2 cup of cooked navy beans packs a up to 7 grams of fiber, while the same amount of lentils and kidney beans provide 8 and 6 grams. You wont regret making this mouthwatering bean salad.
4. Spinach: Spinach is filled with important nutrients: vitamins A, C and K—in addition to fiber, iron, calcium, potassium, magnesium and vitamin E. You can add spinach to almost any meal, such as eggs, sandwich, or salad! Here is a delicious yet nutritious recipe that will leave you feeling great. 
5. Chia Seeds: You can never go wrong with chia seeds since they provide a tremendous amount of nutrients with very few calories! Simply one ounce of chia seeds contains 11 grams of fiber and 4 grams of protein. If you're every craving something sweet but you're trying to stay healthy try this unique chia pudding!
These 5 super foods will leave you feeling happily satisfied and energized. Try to include one of these foods into you daily diet, getting you one step closer towards having that summer body!