Around the World with Ms. Cosgrove
Ms. Cosgrove, AP Human Geography teacher, is known for informing her students on interesting world issues such as the negative effects of underdevelopment in Africa or the problems with the food industry right here in the United States. She always provides an interesting perspective on topics that students can relate to and always keeps them interested through the use of captivating pictures and videos.
Q: How long have you been teaching at Coral Gables?
A: I have been teaching at Coral Gables Senior High since 1993 but I have been teaching since 1990.
Q: Where did you grow up?
A: I grew up here in Miami. I went to Miami Killian Senior High School and for college I went to the University of Florida. Go gators!
Q: What did you major in college?
A: I majored in finance. I was a finance major until the end of my junior year at which point I decided I hated it. At the end of my junior I switched colleges and I went to the College of Journalism and Communication where I got a degree in Public Relations. I went back to school to get my master in social studies education.
Q: Why did you decide to teach?
A: When I graduated college I was interviewing at public relations firms and while I was interviewing I started to substitute teach for a teacher for 3 weeks. She had fallen and broken her arm and she was an older lady. I loved it. It was fun it was exciting, I loved the topic I was teaching, it was in social studies, and so I thought "Oh! I think I'll be a teacher!"
Q: What is your favorite and your least favorite  part about teaching?
A: I think probably my least favorite part is starting school at 7:15. Too early. But my favorite part is being with my students and teaching the subject that I teach and it's fun!
Q: Do you have any plans for the future?
A: I take one day at a time.
Ms. Cosgrove is dedicated to her job and ensures that her students are not only prepared for the AP test, but also better informed about the world. Her students always finish her course with a more wholesome understanding of the world and the problems that exist within it.
About the Contributor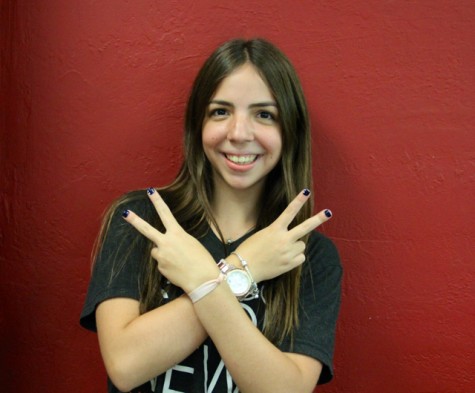 Olivia Pelaez, Reviews Editor
Olivia Pelaez is a senior in the IB Program at Gables. She loves the CavsConnect family and is excited to be an editor for the site. She is a part of...