Happy National Sandwich Day!
It's time to let go of the ham and cheese and give sandwiches the ingredients they deserve! Nov. 3 marks National Sandwich Day and in celebration of this revolutionary food, that gave greater meaning to bread, here are some outrageous, and quite weird recipes that will change sandwiches forever. Goodbye bread, hello ramen noodles.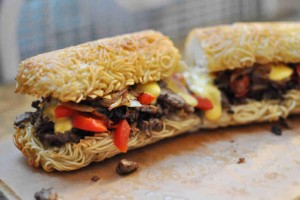 "When my friend and I were in middle school we tried the gross sandwich Zac Effron eat in the movie 17 Again. It was mayo, Nutella, chips and spray cheese. We wanted to see how gross it was and we both actually threw up. It was a funny experience, but looking back it was pretty gross," senior Cassie Gill said.
It's important to remember that it is sometimes great to try new things, and what better way to do it than with food! So, celebrate National Sandwich Day with these strange sandwich ideas that surpass expectations and might just change the meaning of sandwiches forever.