Start Your Mornings The Healthy Way
There is a right and wrong way to do breakfast, and this is the right way. Everyone knows breakfast is the most important meal of the day, but not many people live as if they knew. In fact, there are three types of people: those who eat a whole hearted breakfast, those who eat a quick snack, and the few who don't eat at all. No matter which one you are these quick and easy breakfast ideas will swap the unhealthy with the healthy.
"A healthy breakfast will fuel your body and mind to be active and working at its full potential. breakfast is like sauce, if you ain't got the sauce you're lost," junior Kaylin Sanchez said.
Health.com


Oatmeal is a good source of energy, protein and good dietary fats.

Oatmeal: Oatmeal is an easy and simple way to get all the neccessary nutrients for a hectic school day. There are many ways to eat oatmeal and with fruit, nuts, and yogurt are just a few. For more ways to eat oatmeal checkout this article.

YummyHealthyEady.com


A yogurt and granola parfait is a great source of protein and calcium.

Yogurt and Granola Parfait: With just some yogurt and granola your set. This tasty treat cannot only be made in a couple of minutes but is a delicious and calcium filled breakfast.

Fruit Salad: It can't get simpler than this. All it takes is a couple of chopped fruits, a cup and your done. This is a great breakfast option for those people who prefer not to eat breakfast. It's a quick and delicious way to renergize your body after a long rest, and it's filled with vitamin A and B.

cookingmatters.org


Fruit salad is a sweet and vitamin filled breakfast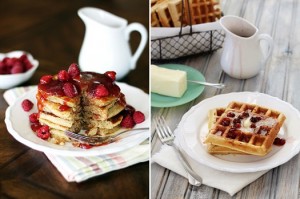 goodlifeeate.com
Waffles vs. Pancakes: Some people like pancakes and others like waffles, but you can never go wrong with either. Their not only quick and easy, but a great and fulfilling breakfast. Add bacon or fruits to the mix and your set for a highly nutritious and delicious breakfast.
The Always Tasty Cereal: There are a large viariety of cereals to choose from, some are healthy and some are plain sugar. Cascadian Farms brand cereals, Cheerios and Kix are a few quite healthy cereals to try.
"Breakfast is the definitely the most important meal of the day. I always try to eat either turkey and cheese or pb&j with orange juice to wake me up," sophomore Christian Brown said.
Breakfast might not always seem like a necessity, but its the meal that your body most depends on throughout the majority of the day. With the right foods you can have both a delicious and energizing breakfast that can set the start to a good day!