Make your Life App-tastic!
With the millions of applications that are available with a simple touch of a button, it can be difficult to find apps that can actually be useful in day to day life. To help keep you in the loop, here are seven apps to keep the flow going in your daily routine:
At least once in everyone's life, they end up leaving that one paper that is worth half their grade at home. Google Drive is a great place to upload your backups to. You can also share endless documents with people and they can edit, leave comments or simply view them! It's also a great place to keep photos/videos, so you can never lose them.
Price: Free
"It's easier to share and save information…while you're working on [Google Drive], your information and documents are safe," freshman Harrison Bradish said.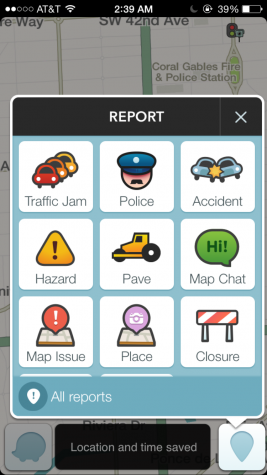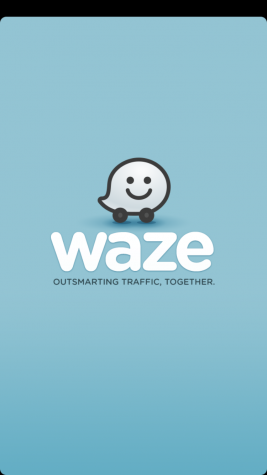 For those that drive, this app is a must have. Nobody likes to stay sitting on the expressway watching the clouds pass by. Waze helps find the shortest, fastest route to your destination. While driving, this incredible app tells you where police cars are hiding, if there's a red light camera approaching or where the flow of traffic is the heaviest. With a whole community of people using the app, it's sure to help you avoid any hazard.
Price: Free
Sometimes, people want to keep up with what's going on in the news and around the world, but usually there's no time to sit down and read those long news articles. Wildcard provides you with a quick description and briefing of what's in the news today. No matter how much time you have on your hands, Wildcard will always give you something new to read to keep you updated with anything and everything.
Price: Free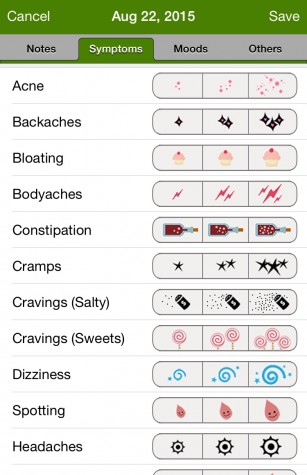 When you don't want to stain that $60 Victoria Secret underwear, this app sure is helpful especially with a countdown to help you know when the dreadful day is upon you. Period Tracker also has different features which lets you record your symptoms, such as, neck pains, backaches, etc. This app is simple and easy to use and can save you from any embarrassing moments while you're out and about!
Price: Period tracker lite is free, but does include in-app purchase to upgrade to the deluxe version.
Uber is basically the same luxury as having a private driver. All you need is a credit card and the app; and the drivers will be at your doorstep in a matter of minutes ready to take you anywhere! All you have to do is set up where you are and where you want to go, and Uber will send a driver to you. If you cannot afford Uber, Lyft is also an affordable mode of transportation. Just like Uber, Lyft will send a driver to you in a matter of minutes, that can literally "Lyft" you anywhere.
Price: Free. With your first ride being free, Uber charges you for the distance that you drive.
"Uber is like having a cheap chauffeur taking you wherever you want to go. If you don't have a license or your parents can't take you someplace, it's an easy and reliable way to go anywhere," junior Thomas Martinez said.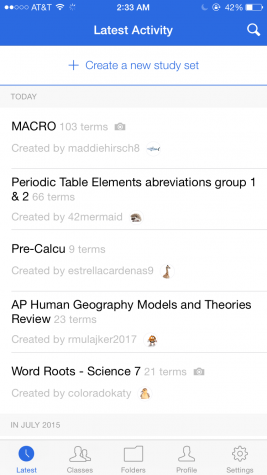 When you have a test in five minutes and you are trying to eat lunch, Quizlet is your go-to app. With Quizlet you can make flashcards, study them and quiz yourself. Another helpful feature includes looking for other study sets made by other users, as well as sharing the set with friends.
Price: Free
If you're wondering if that little bistro in the corner is any good, just check the Yelp app. The Yelp app helps you get reviews on hundreds of businesses all over the world. The app provides the user with photos of businesses, reviews and great deals offered by anyone in your area. You'll be able to look at pictures and see reviews of that little bistro on the corner, and see if you want to check it out for yourself!
Price: Free
With so many apps available, its easy get lost in what apps are useful and which are a waste of time. But these seven apps are a great start if you just got a new phone, or if you're looking to make your life much easier and carefree!
About the Contributor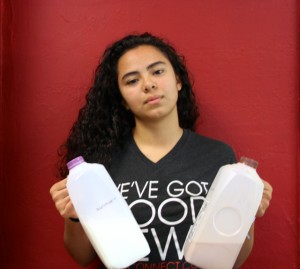 Kelsy Pacheco, Sports Editor
Kelsy Pacheco is a junior in the IB program at Coral Gables and cannot wait to see what this year awaits. She is happy to once again join the CavsConnect...