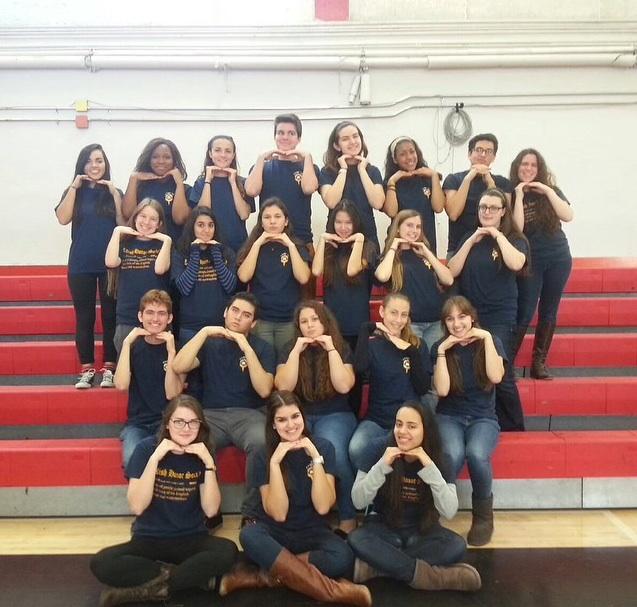 Olivia Field
In the few years since its revival, the National English Honor Society (NEHS), has reached new heights under the previous guidance of Mrs. Vidal, and under current sponsor Ms. Armentero. In the upcoming school year, NEHS will experience yet another change in leadership as Sophomore Olivia Field takes up Maggie River's position as club president.
Q: How did you become involved with NEHS?
A: I'm involved in Highlights and since that's a publication, we do a lot of writing, obviously, so a lot of the people in highlights are in that club. So my freshman year, I was walking around the club fair and I saw them, and they called me over and asked me to join, so that's basically how I involved. After that I became a pretty involved member.
Q: What motivated you to become NEHS President?
A: Other than the fact that I love English, it's my favorite subject in school. Finding a school that actually shows love for that and and tries to spread that love for literature and appreciating that art, and that was really amazing to me and I wanted to get more involved with that. So the club's been really intimate this year and I feel like I have some good ideas to make it a little bit more widespread and a little bit more involved in the school community.
Q: What is the club's mission?
A: So the club's mission is to spread the love of English, and make sure that it's integrated in the school community. For everyone to be aware of how important and how interesting literature is and enjoy that.
Q: What has the club done to achieve this goal?
A: One of the main things that the club does is that we hold poetry slams after school. This is an opportunity for all school students, not just members of the club, to come and participate. So after school we usually do it in the IB patio. People can volunteer to either read pieces of literature or works that they find interesting, and this spreads the love of literature, and people can come and appreciate it.
Q: What do you believe is NEHS's biggest achievement?
A: The biggest achievement is getting people involved in the poetry slams, because, like I said, the clubs been pretty intimate for the two years that I've been in it. So I guess, getting other people to come and watch it. Also we do a lot to try and help the school, so its not necessarily just English. We've sold coffee for people who are testing, or IB testing, so that helps the school community. We've also donated for bridge for peace this year, so we're also active members in making sure the school is successful as a whole.
Q: What changes would you like to implement in the upcoming school year?
A: I would really like to make events for NEHS more occurring throughout the school year, which I think is something that we didn't do the best at this year. I want to make sure that we have a lot of more events happening throughout the school year, not just poetry slams, which are main thing. I'm gonna try and get more author events, not only for members, but for English students in general, so they could notice the appreciation. I wanna do more book drives, to, again, help spread English, again, not only in our school community but in our outside community. I also want to create an outlet for the talented students at this school and be able to tell them what competitions are happening in poetry writing, or whatever it may be that they are excelling at in English. To give them an opportunity to participate in that environment.
Q: What are your expectations for next year?
A: I am extremely excited for next year. I have an awesome board working with me and I think we can get a lot done. Like I said, I wanna make sure that we get more members to participate, and make sure that we have events that captivate the whole student body, and spread a love for english.
Q: Do you have anything you want to say in behalf of NEHS?
A: Everyone join next year! It's gonna be a lot of fun, and I hope to see you at our first meeting.
Even though NEHS has not been around for much time, the club has not failed to make itself recognized among the various other clubs here at Gables. For more information about NEHS, check out their previous spotlight.