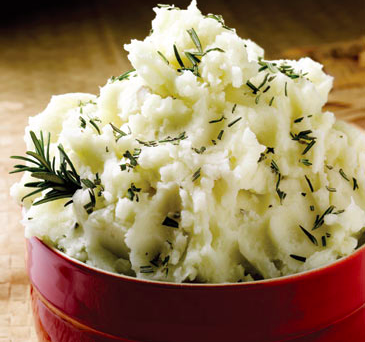 Tasty & Healthy Thanksgiving Meals
Thanksgiving is one of those holidays when the knife and fork are everyone's best friends. Everyone simply cannot stop eating all that turkey, stuffing, potatoes and other decadent dishes. This year, instead of making this holiday full of savory, yet greasy meals, consider changing it up a bit. Turn to healthier alternatives that will still leave your taste buds tingling, while not requiring you to hit the gym afterwards. Here are some delectable recipes that will surely make this year's Thanksgiving unforgettable.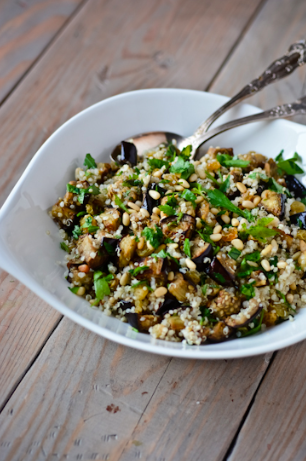 Quinoa with Garlic, Pine Nuts and Dried Cranberries: Impress your family and friends by cooking this light and nutritious appetizer, and serve it before indulging on a juicy plate of Turkey.
Serves 4 people
Preparation time: 5 min
Cook time: 20 min
1 cup quinoa, rinsed well
1/4 cup pine nuts
2 tablespoons extra virgin olive oil
2 cloves garlic, thinly sliced
1/3 cup chopped fresh parsley
1/4 cup dried cranberries
1 table spoon fresh lemon juice
Place the quinoa in a saucepan and cook over medium heat until nicely toasted, for about 2 minutes. Then, add 1 3/4 cups water and bring to a boil. Reduce the heat to medium-low and simmer, covered, until the liquid is fully absorbed (10-15 min). Remove from the heat and let sit, covered, for about 2 minutes.
Meanwhile, toast the pine nuts in a skillet over medium-high heat, stirring, until golden, for about 3 minutes; transfer to a plate. Afterwards, add the olive oil and garlic to the skillet and cook over medium heat, stirring, until golden, for about 2 minutes. Transfer the garlic to the plate, reserving the oil.
Fluff the quinoa with a fork. Lastly, add the pine nuts, garlic, oil, parsley, raisins and lemon juice. To give it a burst of extra flavor simply season with salt and pepper.
Enjoy!
Rosemary Mashed Potatoes: Leave the butter, milk and cream in your refrigerator, and enjoy this delicious vegan side dish with the rest of your favorite Thanksgiving foods.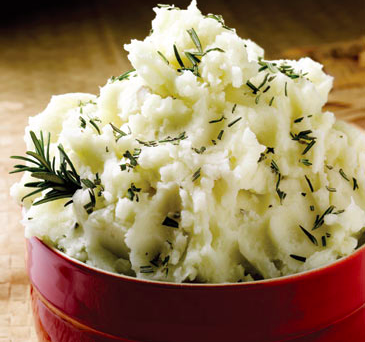 Serves 8 people
Preparation time: 2o min
Cook time: 20 min
3 pounds of Yukon Gold potatoes (medium)
1 tablespoon of salt
1 cup vegetable broth (warmed)
2 tablespoons of extra-virgin olive oil
1 tablespoon of chopped fresh rosemary
Add black or white pepper for taste
Peel potatoes, if desired, and cut each one into 2-inch chunks. Place the potatoes and salt in a large saucepan. Then, add cold water, enough to cover the saucepan by 2 inches. Afterwards, bring it to a boil. After a couple of minutes reduce the heat to a simmer, cover and cook until potatoes are very tender (10-15 min). Make sure you drain them well.
Transfer the potatoes to a large bowl. Mash with a potato masher, an electric hand-held mixer or by working through a ricer.
Stir broth, oil, rosemary and pepper into the potatoes.
Kale & Apple Salad with Figs and Walnuts: Add some freshness to your plate with this magnificent salad that will both leave you energized and leave room in your stomach for dessert!
Serves 12 people
Preparation time: 15 min
8 ounce bunch of kale, stems must be discarded and leaves should be finely shredded
1/4 cup of walnuts
2/3 cup of figs, each cut in half
2 apples, cut into matchsticks
Balsamic vinegar
Olive oil
Place all ingredients into a large bowl, then drizzle balsamic vinegar and olive oil.
Toss and enjoy!
Vegan Gluten-Free Banana Chocolate Chip Cookies: Indulge on these moist yet crunchy cookies that will leave you satisfied and guilt-free!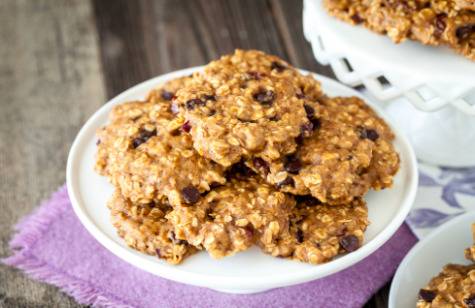 Serves 3 people
Preparation time: 10 min
Cook time: 25 min
1 cup of gluten- free rolled oats
2 bananas
1/4 cup of dark chocolate chips
Pre-heat oven to 350 degrees
Place the gluten-free rolled oats and the 2 bananas in a large bowl and mix into a thick paste.
Add the chocolate chips and stir.
Make a small ball for each cookie and place on a pan.
Place the pan into the oven for 15-20 min till cookies are golden.
Enjoy!
Thanksgiving is filled with happiness and unconditional love, while spending valuable time with your family and friends; but the best part is digging into all that mouthwatering food! Use this year's holiday to take a healthier, and an even tastier route!