Surprising In-School Study Spots
Without solely focusing on studying, it is extremely hard to achieve perfect grades. However, students are often unable to find suitable study spots at school. Sometimes home might consist of too many distractions and after school activities may require students to stay in school hours after the bell. Studying for the next day's test cannot be put off any longer!
"If I have learned anything from my time in high school is that you need to take advantage of every bit of study time that becomes available to you. My school day usually consists of several mini study sessions," senior Jessica Wang said.
Below are some school study spots that will surely help you ace that test!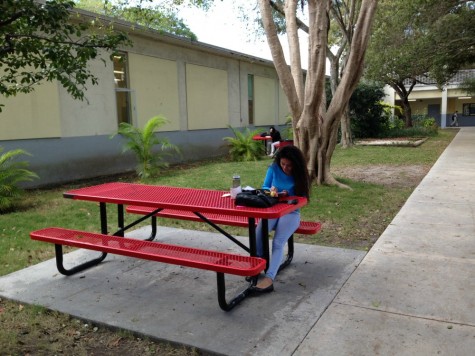 IB Patio: The IB Patio is the perfect place to study your notes. Surrounded by trees, lizards and a pleasant breeze, the IB Patio is the ideal learning environment for almost anyone. It is located outside of the acting room, and is open before and after school.
"The IB patio is nice and calm, and there are lots of trees and shade. It's a nice place to study, especially because there is a bit of sunlight," sophomore Juan Padron said.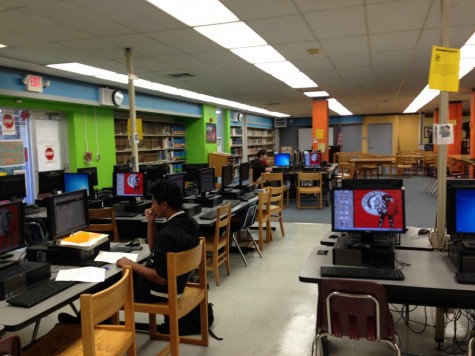 The Library: Quiet and bound by books, the library is a great place to do your homework. Complete with air conditioning and a plethora of computers, the library is a comfortable and convenient place to access the Internet and revise your notes. However, be aware of its business hours. Ms. Andrews, the Test Chair housed in the library, can inform you on whether or not you will be welcome on a certain day.
"I think the library is a great place to study since there is a quiet and peaceful atmosphere. Unfortunately it is often closed due to testing or other reasons, so it is not very accessible," sophomore Olivia Pelaez said.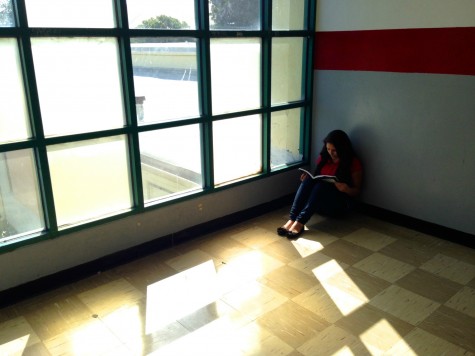 Science Hall: This study spot is a slightly more hidden one. It is located outside the science hall and is a small square with a large windows on the left. The "science square" has a great ambiance with natural light and air conditioning, making it a great place to have a study session with friends!
"The little space between the staircase and science wing is the optimal place to study. It's quiet which makes it easier to concentrate, and the wall is a giant window so it's well lit," junior Lady Del Castillo said.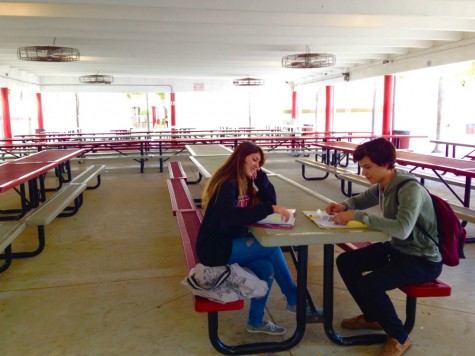 Pavilion after hours: The pavilion is known for its chaos, but what many people don't notice is its serenity after school hours. After everyone is dismissed, the pavilion is a quiet, sheltered place that is perfectly fit for studying.
"The pavilion is a very spacious and great place to have a group study session with friends. I also know several people that meet there to be tutored by other students after school," sophomore Guneet Moihdeen said.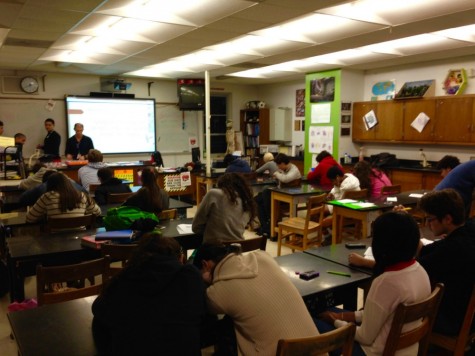 Favorite teacher's classroom: Probably one of the best places to study for a test is in your favorite teacher's classroom. Calm and homey, you will feel comfortable and relaxed in this study habitat. Just make sure you get your teacher's permission before you decide to stay in their room!
"When I go to my favorite teacher's classroom to study, I feel at home because I know the classroom and teacher well and the room gives warm, comfortable environment which makes it easier to concentrate," freshman Roberto Nieves said.
Gables is a huge school and there are bound to be unknown study areas hidden in its nooks and crannies. Sometimes you may not be able to go home to do your cramming, but now you have five suitable study spots at school that will help you get the best grade you can.