Starbucks's Secret Menu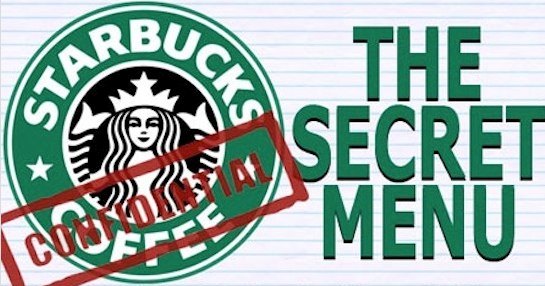 Whenever in desperate need of a caffeine-filled morning kickstart, or a sweet afternoon snack, people always turn to Starbucks. Starbucks has become the ultimate go-to coffee shop. While Starbucks sells millions of cups of coffee per day, customers often find themselves running out of options and resort to ordering their usual Cup of Joe. Most people may be unaware of this, but Starbucks has a secret menu created by dedicated baristas and enthusiastic customers. It is not officially listed anywhere by Starbucks, and most of the drinks are region specific. However, if you know the recipe, you can ask for these confidential beverages at any location.
Here is a list of classified refreshments from Starbucks's Secret Menu:
Starbucks's Twix Frappuccino: This is a richer and creamier version of the popular caramel frappuccino. The blend of mocha chips tones down the sweetness of the caramel frappuccino, while the mix of sweet caramel and smooth chocolate puts the Twix candy bar flavor over the top.
-The Secret: Caramel Frappuccino, 1-2 pumps of caramel syrup, 1-2 pumps of hazelnut syrup, Java chips and a caramel mocha drizzle.
"Twix is my favorite type of chocolate, and the fact that there is a frappuccino drink made out of it makes me so excited to try it!" freshman Nicole Morton said.
Skinny Mint: This refreshing drink not only tastes great, but is also super low on calories. Frappuccinos are a great treat, especially in conjunction with the hot Miami sun. Here's one you can have and not feel guilty about.
-The Secret: Green Tea Frappuccino with soy, Splenda and peppermint syrup (1 pump for a Tall, 1.5 for a Grande, 2 pumps for a Venti).
Harry Potter's Pumpkin Juice: Anyone lucky enough to have visited the Wizarding World of Harry Potter at Universal Orlando has probably also had the pleasure of trying the infamous Pumpkin Juice. Luckily, you can enjoy this festive recipe without traveling so far!
-The Secret: Pumpkin Spice Sauce (1.5 pumps for a Tall, 2 for a Grande, and 3 for a Venti), Apple Juice to the top of the cup's green line and the rest filled with ice.
Blood Orange Slush: This icy and refreshing drink is all you need to make a hot and humid day feel better! This citrus refresher is sure to cool you down while simultaneously stimulate your taste buds.
-The Secret: Valencia Orange Refresher filled to the cup's first green line, and water until the second. The rest of the cup should be filled with ice and then blended. Fill the cup with the slushy orange blended beverage leaving about 3mm of space on top. Ask for raspberry syrup (1.5 for Tall, 2 for Grande, 3 for Venti).
"I never really go to Starbucks, but since I found out about the secret menu, I think I'll try it sometime," junior Stephan Chamberlin said.
Now that the secrets are in your hands, it's up to you to decide which unique drink will serve as a substitute for your "usual."