Striving in Her New Home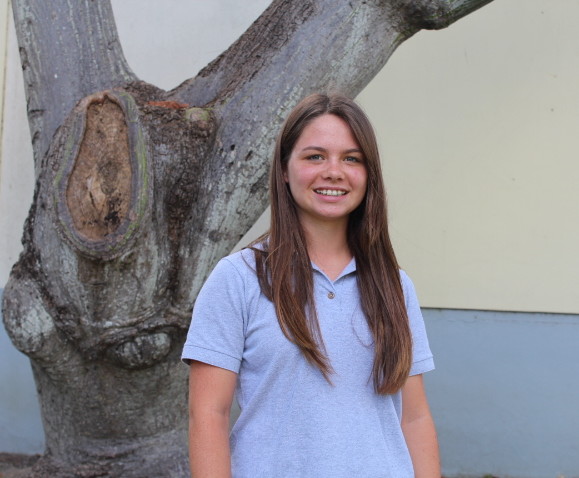 Being the new kid on the block can be rough; it can be intimidating leaving something old and comforting for something brand new. Still, that didn't stop junior Meghan Ballard from moving across from North Carolina to the sunshine state of Florida. She is now a new member of our Cavalier family, and is not only overcoming the culture sock and the obstacles that come with living in a new place, but she is also thriving in her new environment.
She was born in Syracuse, NY, but jumped living from North and South Carolina after her parent's divorce. Having to switch back and forth from the both states became very hectic, so Ballard made the decision to accept her aunt and uncle's invitation to live with them in Florida. In August, she made the big move from the Carolinas to down here in Fl.
"I just want to add that my aunt and my uncle are the best people alive. They are angels. I really miss my mom and my dad a lot," Ballard said.
Meghan has quickly adapted to her new school. Being new hasn't stopped her from taking a rigorous curriculum and trying to become more involved in the community. She is hoping to boost her already high GPA from a 3.9 to a 4.o by taking AP courses and hopefully DE courses the following year. Ballard hopes to become a more active member at school, and wishes to join more clubs and participate in extracurricular activities.
Ballard is also a budding softball star at school. Starting out new, she tried out for the softball team and made it in the team.Considering that she is new to the school, it is quite an accomplishment she made the team her first year here.
"I hadn't really played softball that much, but everyone wanted me to try out, and I made it. I didn't really think I would get in. I love the team. Even though I don't know everybody that well, I already feel like part of the family. It really motivates me to try as hard as I can. It can be really hard with conditioning and such; I really like it and I think it is really good for me," Ballard said.
Meghan Ballard has quickly learned to make new friend. Moving from North and South Carolina to Florida has proven to be a culture shock to her, but thanks to the immense diversity their is here in Miami, Ballard has quickly learn to adapt and strive in her new environment.