Nothing Vanilla About It: Ben & Jerry's Refreshing Flavor Review
After a long week at school, some students take the afternoon to relax with a delicious scoop of ice cream at Ben & Jerry's. With a location in the Gables, right off of Miracle Mile, it is a wonder the store is not constantly packed with students.
Not every brand has a mission as well-rounded as Ben & Jerry's ice cream. With a scoop of social justice and a pint of environmentally conscientious company policies, this brand is putting in the work to do more than manufacture and distribute incredible ice cream.
Ben & Jerry's holds progressive values that also include eco-friendly packaging and fair trade ingredients to reduce their carbon footprint. They source ingredients from all over the world where they pay farmers in these countries more than a living wage and invest in their communities through social service projects.
Now that we are aware of the positive environmental and social impact that the delectable ice cream company has, here are the flavor ratings so when going to support this brand and their employees, you can get the most out of your order.
Cherry Garcia
These ratings reflect the popularity of the delicious ice cream flavors at Ben and Jerry's. For this reason, Cherry Garcia is at the top. The cherry and dark chocolate combo seems to appeal to a plethora of ice cream eaters. Possibly the level of sophistication it offers, with the appealing mix of fruit and dark chocolate ensure an ice cream flavor that is the opposite of childish. No other brand has a flavor like this and perhaps that is how the flavor gained such popularity.
Rating: 8/10
Suggestion: This is the ideal order for someone who does not traditionally go for the more candy-like ice cream choices, a scoop of Cherry Garcia is perfect.
Strawberry Cheesecake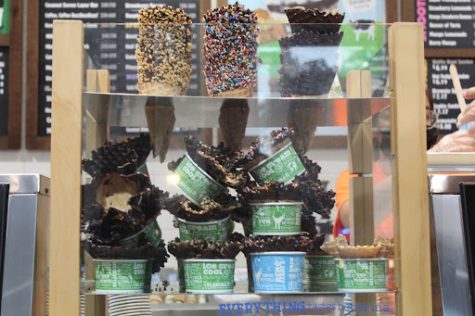 The younger, cheerier and sweeter sibling of Cherry Garcia, takes the (cheese)cake. When walking into a scoop shop, this flavor is always there to welcome you with its sweet and cakey goodness. Although some might be tempted to resort to the traditional strawberry ice cream, Strawberry Cheesecake provides a funky twist on this flavor that does not stray too far from the strawberry fan favorite.
Rating: 8.9/10
Suggestion: This is the best order when walking into a scoop shop on a 90 degree July day
"Ben & Jerry's is one of my favorite ice cream places. I always get Strawberry Cheesecake and another flavor to go with it. You should all frequent Ben & Jerry's," junior Sabrina Bonavita said.
The Tonight Dough
Named after the late-night talk show hosted by Jimmy Fallon, the Tonight Dough has notes of nighttime in the chocolate swirliness and vanilla base. Vanilla, like Jimmy Fallon, provides the perfect base for the other add-ons to shine, much like Fallon does on his talk show. An unproblematic flavor, unlike some Tonight Show moments, the balance of flavors in The Tonight Dough allows the caramel, chocolate, cookie dough and peanut butter to steal the show.
Rating: 9/10
Suggestion: When indecisive about which flavor to get on your late-night weekday ice cream run, go with The Tonight Dough.
Disclaimer: Contains peanuts
Half Baked
Chocolate and vanilla with "gobs" of chocolate chip cookie dough and fudge brownie is the description offered on the Ben & Jerry's website about this flavor. Not much more needs to be said. Anyone who enjoys a good chocolate moment in their ice cream would adore this flavor. It is not too complicated with other nutty or fruity add-ons but still not too boring to be deemed a traditional flavor. That perfectly sums up the vibe of this not-so-simple but classic scoop shop flavor.
Rating: 10/10
Suggestion: A scoop of this flavor is the cure for finals and AP testing stress
Disclaimer: While this flavor is amazing, it will not bring back the less stressful days of elementary school.
Mint Chocolate Chunk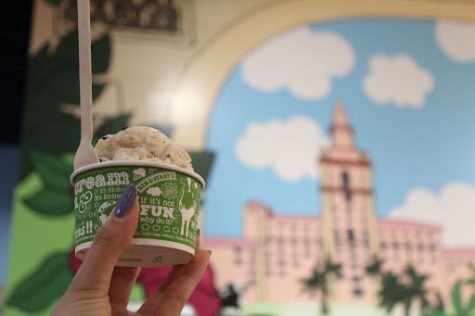 If you like mint, this is your jam. As Mint Chocolate is a classic ice cream flavor, one cannot go wrong making this a go-to order. However, something that should be noted is the extra treat of having larger chocolate chunks in the ice cream instead of little chocolate shavings. This flavor is the definition of organized because of the cleanliness of the mint and the simplicity of the overall flavor. The execution of this traditional flavor is on point as Ben & Jerry's ensures every scoop is the perfect balance of creamy and sweet.
Rating: 7/10
Suggestion: This flavor is refreshing and therefore an impeccable match for the many beach days of the upcoming summer.
"I really love ice cream and Mint Chocolate Chunk is my favorite flavor. The company has created a COVID-19 safe environment for me to work in and I 100% align with Ben & Jerry's values with social and climate justices," senior Chloe Grant said.
Honorable mentions:
Milk and Cookies (scoop shop flavor)
The Milk and Cookies flavor has a lot of popularity among the population of semi-chocolate lovers who want more than a Chocolate Chip Cookie Dough scoop but less variety than the Half Baked.
Core (pint only)
Cookie dough, peanut butter, caramel, cake batter. Any flavor with a "core" is a unique experience. These are sold in eco-friendly pints but sometimes the core is not always in the center, then it becomes a thick swirl.
Visiting the Ben & Jerry's Gables location is a must. With these flavor ratings and recommendations, the trip will be that much sweeter.