The Worlds Famous Cake that Lived Up to Its Name
Our Rating: A
Christina Tosi founded Milk Bar on Nov. 15, 2008 when she was only 27 years old. Today, Milk Bar is a world-renowned bakery worth over a million dollars. Milk Bar specializes in all things dessert offering a wide variety of pastries, but its claim to fame is by far the funfetti-esque birthday cake.
Tosi has made several appearances on Master Chef as well as other popular cooking shows, such as the critically acclaimed Netflix documentary, Chef's Table. Her desserts all have a distinctive taste and unique appeal, even when the flavor combinations do not sound like they would work together. Tosi defies dessert norms to bring a creative side to her menu, a big reason as to why she has been so successful.
"
I think Christina Tosi is great she has an amazing attitude on TV and I love watching her shows. By watching her I learned a little about how to bake. One day, I hope to try one of her cakes. She is my idol."

— Freshman Joana Ricalde

Another one of  Tosi's most famous creations is the crack pie. Tosi's easy-going personality and incredible creations make her an inspiration to many. Even though most of Milk Bar's main locations are in New York City, you don't necessarily have to live there in order to try her delicious desserts – Milk Bar's online store deliver across the country!

Many people love to watch cooking shows and watch Tosi make her famous desserts, and dream of the day when they will get to try her pastries, especially junk food lovers. When I first tried the Birthday Cake, I  knew the wait was worth it; the cake was one of the best I  have ever had. Tosi's cake was not only the sweetest cake I have ever tried, but also the most beautiful and simplistic with a perfect, yet simple decoration.

Her cakes exhibit the inner beauty of a cake, and it exceeded all of my expectations. The overall texture was pleasing since it wasn't dry like most cakes are; it was the example of what a perfect cake should look like. After having only one bite, both my family and I couldn't help but want more.

"Christina Tosi seems like an inspiring and dedicated woman on TV who has a great personality and strives to do her best to fill peoples lives with positivity by her many desserts. I would be love to try her pastries one day that she has put so much effort to create," freshman Lenny Roque said.

By admiring the cake I could just tell the amount of time it must have taken to complete it. The Milk Bar staff did an amazing job, and just the cake overall was incredible. One day, I hope to go to NewYork to try more of her delicious desserts. If you love cakes and dessert then I recommend you definitely try one of Tosi's cakes, you won't regret it. But I warn you, you will be left wanting more when you try it.

[powr-instagram-feed id=919b659c_1538327152837]
About the Contributor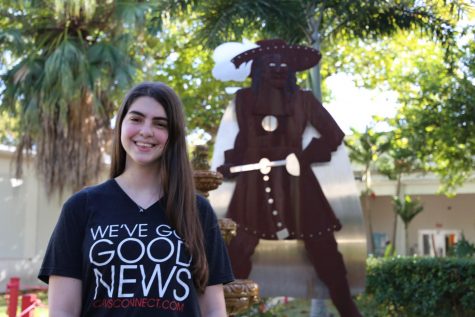 Melanie Estrada, Managing Editor
Melanie Estrada is an International Baccalaureate (IB) sophomore at Coral Gables Senior High who really loves to be a part of CavsConnect as the site's...