All Around Excellence: The Bagel Express
Our Rating: A++
There are few things in life that are as satisfying as having a fresh bagel in the morning. The pure joy of eating a toasted bagel is simply too great to even put into words. However, as with most foods, not all bagels are created equal. There is a drastic difference between bagels that are sold after days of sitting in plastic bags on supermarket shelves solely relying on their circular shape to even pass as bagels, and bagels that have just been pulled out of the oven by the expert baker who brought them into existence. Fortunately, Bagel Express understands this. The Bagel Express is the epitome of a great "bagelry," and offers nothing less than perfection when it comes to both bagels and also breakfast in general.
The famous "Gables bagels" sold in the mornings are well loved here on campus, but not many people know that those bagels are actually from The Bagel Express. While having the bagels at school is definitely a convenient and delicious way to begin the school day, Gables only offers plain un-toasted bagels. If you actually go to The Bagel Express, the whole bagel eating experience changes. There is a myriad of different bagel flavors to choose from; some flavors offered are cinnamon raisin, everything, poppy seed, egg, onion and sesame, just to name a few. Another reason to actually visit their locale is the variety of cream cheeses and additional egg and sandwich menus- real game changers. The cream cheese flavors allow one to have the opportunity to order different combinations of bagels and cream cheeses at each visit, a crucial step in one's journey to perfect and expand their bagel knowledge in the hopes of becoming a veritable bagel connoisseur. Although for the casual bagel eater, the many cream cheeses just give you more options which is still pretty nice.
"I really appreciate good bagels, and the Bagel Express definitely has the best," sophomore Emily Kay said.
As for the sandwich and egg menus, there are absolutely no complaints. The Bagel Express makes deli sandwiches with the highest quality meats and other sandwich ingredients (lettuce, tomatoes and onions), and uses their bagels as the bread- a simple concept, yet absolutely unparalleled. And for those of us who also believe that breakfast is the only meal of the day with any importance, The Bagel Express makes incredible omelettes. Freshly made to order, the omelettes are about the size of the styrofoam plate they are served in, the remaining space being for your bagel of course. However, sometimes you may want a sandwich and an omelette, and fear that you have put yourself in a less-intense Sophie's choice-type situation; but there is nothing to fear, for the Bagel Express offers omelette sandwiches. Impressive? I would say so.
"Good bagels are hard to come by. Luckily, I have [the Bagel Express], and never have to worry about buying stale, oddly soft, Thomas brand supermarket shelf bagels, unless it's an emergency because desperate times call for desperate measures," junior Karina Wu said.
When it comes to the restaurant itself, the Bagel Express is a cozy little restaurant offering seating both indoors and outdoors. The staff is helpful and friendly, and will deliver your meal to your table and make any modifications to it if necessary. In regards to pricing, the Bagel Express is not very expensive, and makes for an extremely satisfying breakfast or brunch without breaking the bank. Moreover, the Bagel Express also sells hot sandwiches like Philly cheesesteaks, sweet desserts like rugelach, salads and sides, and nova by the pound. And if you want to have bagels during the week, you can also take home bagels by the dozen along with a large container of cream cheese and tuna salad to accompany them.
All in all, the Bagel Express offers quality New York deli style bagels in this hot swampy marshland we so lovingly call Florida. And while many may not share my passion or enthusiasm for bagels, they will surely appreciate the overall greatness that is the Bagel Express. Bagel quality? Excellent. Service? Excellent. Sandwiches? Excellent. Eggs? Egg-cellent.
About the Contributor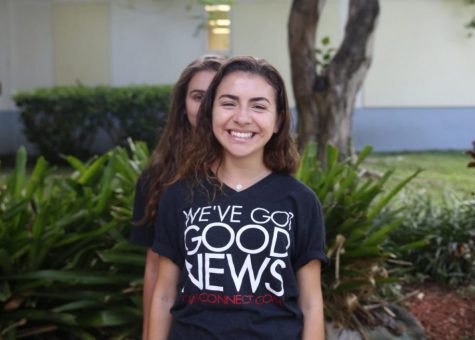 Natalia Rodriguez, Reviews Editor
Natalia Rodriguez is currently a senior in the International Baccalaureate (IB) program here at Gables, and is excited to continue editing for CavsConnect...