Ms Cheezious: Grilled to Perfection
Our Rating: A+
Ms. Cheezious, a food truck-turned restaurant, has reinvented the art of comfort food with a unique twist on the classic grilled cheese. Gone are the days of simply placing cheese between two slices of bread; this brand has turned grilled cheeses into culinary masterpieces with their creative additions to the classic American sandwich.  Co-founders Brian, Fatima Mullins, and M. Christian Dickens first brought their idea onto the streets of Miami in 2010, with a grilled cheese food truck that took the city by storm.  Since then, they have expanded their company to include two food trucks and two locations in the South Florida area.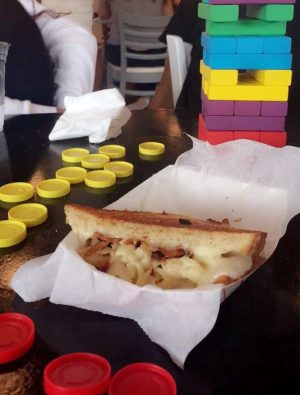 The company boasts an array of options for their eager clientele with over 15 mouthwatering flavors to choose from, not including, the option to build your own grilled cheese.  Ranging from their mac-n-cheese and bacon filled sandwich, to a croquet filled option, to their "S'mores Melt", there is something for everyone.  If none of their set dishes appeal to your palette, there is the option to build your own, which allows customers to pick their bread, cheese and any extra ad-ons they may want to include.  Not only is there an infinite amount of grilled cheese combinations, but they also have an assortment of sides and non-sandwich food options.  Vegan and vegetarians may also fall in love with this chain, thanks to their vegan cheese option. Mullins and Dickens have made sure that they have options that will appeal to their wide variety of customers, allowing for anyone who walks in to feel welcome.
"The food was amazing. I got the grilled cheese with mac and cheese inside and I honestly never expected it to taste as good as it did it; I'm definitely going to start going more often," junior Naomy Gamarra said.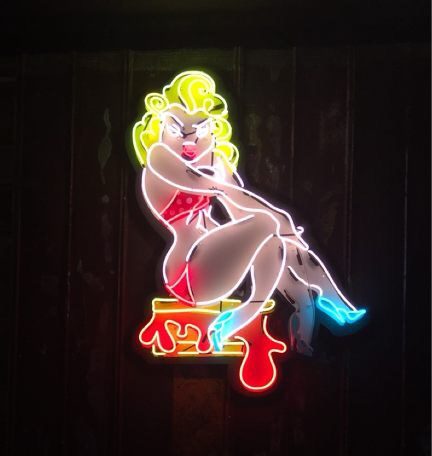 Their Ponce de Leon establishment, though hard to spot and plain on the outside, is lively and homey on the inside. The founders drew their inspiration for the company from the food that was made in their homes during their childhood. Upon entering, one is instantly greeted with jubilant music, enticing aromas, and a sense that you have just stepped into your own home. Not your typical sit down location, Ms. Cheezious provides various board games for its customers to enjoy as their taste buds do the same.  Complete with a neon sign lighting up the company's logo, the decor, music, smells and overall atmosphere allow for a safe space in which people of any age can have an unforgettable meal.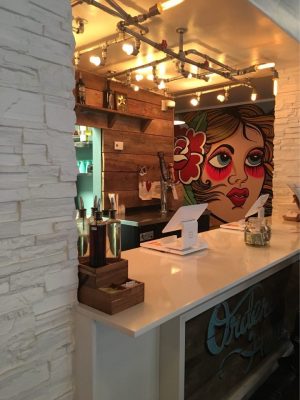 Customers love the retro vibe that is displayed in their neon sign which features their logo: a blonde woman in a red bikini with white polka dots, sitting on top of a sandwich with the cheese oozing out.
"It's also really cool how they have board games available for you to play with while you eat, like Cards Against Humanity, it makes the atmosphere a fun one," sophomore Brianna Curran said.
Although to say it's amazing would be cheesy, we simply could not hold back, and critics agree.  Referred to as "the Mecca of grilled cheese," Ms. Cheezious has been the recipient of several prestigious awards: Burger Beast Best Sandwich,"Best Food Truck" by South Beach Food and Wine Festival, Miami New Times and Burger Beast, along with Miami New Times Readers Choice Best Inexpensive Restaurant and many others.
If you're ever in the Coral Gables area, be sure to stop by and experience a little piece of home while treating yourself to perhaps the best sandwich you will ever have the pleasure of consuming.
About the Contributors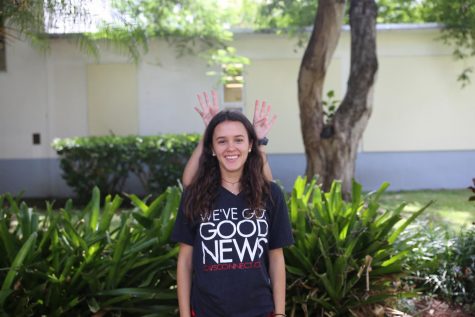 Natalia Torres, Copy Editor
Natalia,"Nati", Torres is a senior in the International Baccalaureate (IB) program and is very excited to continue at Gables as part of the CavsConnect...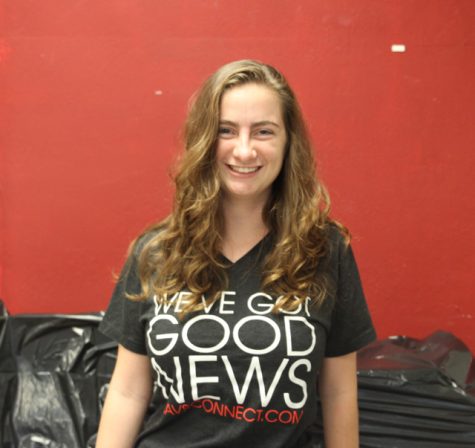 Lane Morris, Editor-in-Chief
Lane Morris is a senior in the International Baccalaureate Program at Coral Gables Senior High. She's proud to be a Cavalier and tries to be as involved...